#AceNewsReport – Oct.22: The new sober cover of the Economist, which is controlled by Lynn de Rothschild, Clinton's "loyal adoring pal" twitter.com/wikileaks/stat… pic.twitter.com/KuRRfEELLJ then take a look at this post and the name of the person behind grooming #HilaryClinton candidacy WASHINGTON: #WikiLeaks Email That Clinton Is A Roths-Child As She was Being Groomed Months Before She Launched Her Candidacy – @AceNewsServices
// Ace News Services
#AceNewsReport – Oct.21: Months before Hillary Clinton officially announced her bid for the presidency, the Rothschild family was hard at work helping craft her future economic policy. As Wikileaks reveals in the ongoing hugely-damaging release of John Podesta's files, Lynn Forester de Rothschild, who maintains an incredibly cozy personal relationship with the Clintons, was already […]
A leaked email thread from Hillary Clinton's staff and lawyers reveals that her team disagreed over elements of her #Benghazi testimony and sought to achieve the 'moral high ground' ahead of the hearing.
The email chain, released in the latest batch of leaked emails from her campaign chair John Podesta, began on October 16, 2015 and ended on October 20, 2015 – just two days before the former Secretary of State testified in front of the House Select Committee.
US Ambassador to Libya Chris Stevens, US Foreign Service Information Management Officer Sean Smith and CIA contractors Tyrone Woods and Glen Doherty were killed during an Islamic militant attack on the US diplomatic compound in Benghazi, Libya in 2012. Clinton was Secretary of State at the time.
The fatalities prompted a Congressional hearing into the incident and into alleged security lapses at the facility ahead of the attack.
RELEASE: The Podesta Emails Part 15 wikileaks.org/podesta-emails… #PodestaEmails #PodestaEmails15 #imWithHer #HillaryClinton
Emails released by Wikileaks on Saturday reveal Clinton staff debated how best to position Clinton's opening statement for the Benghazi hearing in October 2015.
In one email, David E Kendall from law firm Williams & Connolly advised changing the statement's description of the Accountability Review Board from "independent" to "non-partisan". He also suggested adding more numbers to back up the assertion that "diplomacy is dangerous".
Both changes were taken on board and appear in the final statement presented before the committee.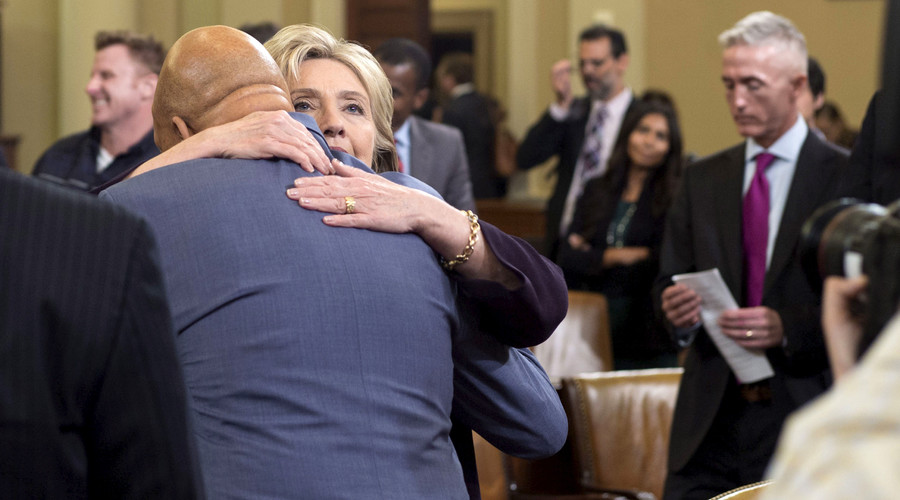 U.S. Democratic presidential candidate Hillary Clinton hugs U.S. Representative Elijah Cummings (D-MD)(C, back to camera). File photo. © Joshua Roberts / Reuters
Staff differed over the inclusion of the term, "backs of dead Americans". Mandy Grunwald from Grunwald Communications wrote that she didn't mind the term, "because we need a bit of moral outrage," while Clinton's speechwriter Dan Schwerin noted the line comes directly from Clinton's memoir, "so maybe a good idea to tweak slightly anyhow."
Grunwald, who serves as Clinton's media adviser, added in another email that it "seems odd to put the tributes to the four guys into this statement, since it is mostly the repackaged testimony."
"We can't overdo the tributes to them and I think they should be done in person," she said.
Legal representatives also emphasized the importance of questions about balancing risk, recommending that Clinton's answers show "that the known risks were being balanced with the reasons for being there" and risk assessments were regularly made with input from people on the ground.
This is #PodestaEmails14 here #WikiLeaks #PodestaEmails14 Releases 1,5000 and State Department releases 122 #HilaryClinton emails I know which l would choose to get to the #Truth #JohnPodesta @WLTaskForce – @AceNewsServices // Ace News Services
Editors Notes:
I would remind you that this blog is produced free for the public good and you are welcome to republish or re-use this article or any other material freely anywhere without requesting further permission.
News & Views welcome always published as long as NO bad language or is not related to subject matter.
To keep online information secure, experts recommend keeping your social media accounts private, changing your passwords often, and never answering unsolicited emails or phone calls asking for your personal information. Need help and guidance visit https://acepchelp.wordpress.com and leave a comment or send a private message on Telegram @Aceone31
Ace News Services Site Links Listed Here: