#AceNewsReport – Mar.31: Alexanda Kotey and El Shafee Elsheikh, from west London, were captured in #Syria in January: They are accused of being the last two members of an IS foursome dubbed 'the Beatles' because of their UK accents………..The pair also said the murder of IS hostages was "regrettable" In an interview with Associated Press from northern Syria, Elsheikh said the "illegal" withdrawal of their UK citizenship put them at risk of "rendition and torture". "Being taken to any foreign land and treated in any way and having nobody to vouch for you," he said………"When you have these two guys who don't even have any citizenship… if we just disappear one day, where is my mum going to go and say where is my son?"……..He said he could have "no fair trial when I am 'the Beatle' in the media" #AceNewsDesk reports
Reuters Alexanda Kotey (left) and El Shafee Elsheikh were captured by Syrian Kurdish forces
Murder of Hostages
US officials believe 'the Beatles' IS cell beheaded more than 27 Western hostages and tortured many more…………Kotey told the Associated Press that he "didn't see any benefit" to the killings……….."It was something that was regrettable," he said………He also said many people in IS would have opposed the murders "on the grounds that there is probably more benefit in them being political prisoners"……….The other two cell members – also from west London – were Mohammed Emwazi, nicknamed "Jihadi John", and Aine Davis.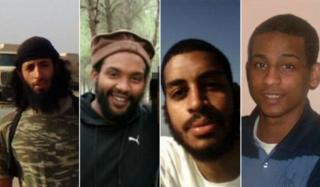 unknown/HO via Met Police, Kotey, HandoutLeft to right: Mohammed Emwazi, Aine Davis, Alexanda Kotey and El Shafee Elsheikh
Emwazi, who was the alleged ringleader and appeared in videos showing hostages being beheaded, was killed by a drone strike in 2015.
Davis was convicted of being a senior IS member and was jailed in Turkey last year.
Among the captives thought to have been killed by the cell were British aid workers David Haines and Alan Henning, who were beheaded.
Last month, Home Secretary Amber Rudd said the two remaining suspects in the 'Beatles' gang should go on trial.
She said the US and UK are in talks about what to do with the two men.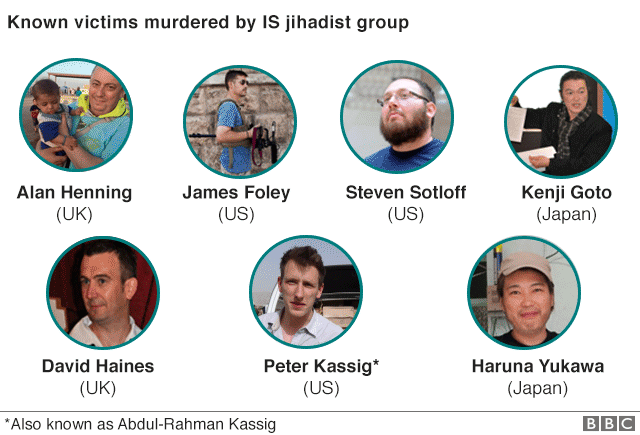 Both Kotey and Elsheikh are designated terrorists by the US, which says they have used "exceptionally cruel" torture methods.
UK defence minister Tobias Ellwood said he believed the men should be tried in an international criminal court.
The families of some of the victims also said the pair "should face trial".
Bethany Haines, David Haines' daughter, said she hoped they die a "slow, painful death".
Two British men accused of being in the Islamic State 'Beatles' gang say they will not get a fair trial: BBC News https://ift.tt/2E8q1Fm
Original story of their capture as reported in February: The American-backed Syrian Democratic Forces captured two notorious British members of an Islamic State (ISIS) insurgent cell commonly dubbed "The Beatles" and known for beheading hostages, a U.S. military official said Thursday: The official said that El Shafee Elsheikh and Alexanda Amon Kotey were captured in early January in eastern Syria……………..The two men are among four members of the ISIS cell that captured, tortured and beheaded more than two dozen hostages including American journalists James Foley and Steven Sotloff, and American aid worker Peter Kassig. The official spoke on condition of anonymity to provide details of the Syrian capture:
The State Department has imposed sanctions on both men: They are believed to be linked to the British terrorist known as Jihadi John, the masked ISIS militant who appeared in several videos depicting the graphic beheadings of Western hostages…………..Their capture was first reported by the New York Times.According to the U.S., Elsheikh traveled to Syria in 2012 and first joined al-Qaida's branch there, and then later joined IS. The State Department, in imposing sanctions on Kotey last year, said he likely engaged in executions and torture, including electronic shock and waterboarding, and recruited several British nationals to IS………………….According to military officials, the two men represent just a small portion of the hundreds of foreign-born IS terrorists from a number of nations that SDF fighters have captured or killed since October 2017.U.S. officials did not provide any other details of the capture, but said the U.S. government with its coalition partners on the disposition of detainees held by the SDF……………….They said those discussions are private and no additional information would be given.Sotloff was kidnapped in August 2013 after crossing into Syria from Turkey. He was killed on Sept. 2, 2014, and a video was distributed around the world documenting his death. Foley, another American journalist, had been killed a month earlier by the Islamic State. Kassig was an American aid worker captured by Islamic State militants in 2013 while delivering relief supplies to refugees in Syria: https://www.nytimes.com/2018/02/08/us/politics/britons-detained-american-hostages-syria.html
Editor says #AceNewsDesk reports & #Brittius says are provided by Sterling Publishing & Media News and all our posts, links can be found at here https://t.me/acenewsdaily and thanks for following as always appreciate every like, reblog or retweet and free help and guidance tips on your PC software or need help & guidance from our experts AcePCHelp.WordPress.Com or you can follow our breaking news posts on AceBreakingNews.WordPress.Com or become a member on Telegram https://t.me/acebreakingnews