#AceNewsReport – Apr.11: A delegation set to consist of 10 experts will soon head to Syria to investigate the alleged chemical weapons attack in Douma, the head of the Organization for the Prohibition of Chemical Weapons (OPCW) told Turkish media on Wednesday: Local sources and NGO's working in the area said that at least 70 people were killed and dozens of others were injured in Saturday's alleged chemical attack by Assad regime forces in the eastern Ghouta town of Douma near Syria's Damascus #AceNewsDesk reports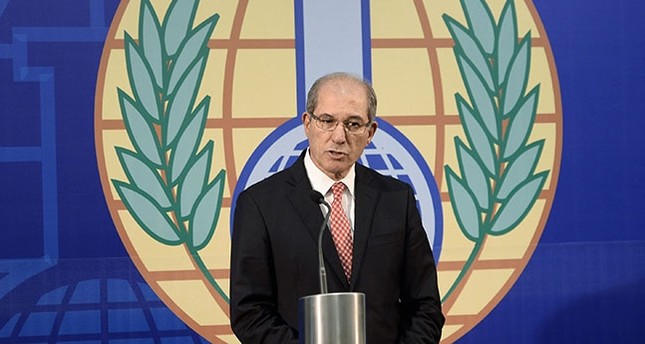 Organisation for the Prohibition of Chemical Weapons (OPCW) Director General Ahmet Üzümcü speaking during a news conference in The Hague October 9, 2013. (Reuters Photo) DAILY SABAH WITH DPA ISTANBULOPCW's Douma probe could take a month to materialize, chemical watchdog head says Published 22 hours ago
The results of the investigation could take a month to materialize, Ahmet Üzümcü, a Turkish career diplomat and the director-general of the OPCW, said in an interview with Turkish broadcaster NTV.
The experts on the mission will conduct interviews with the alleged victims and collect samples to be examined at the OPCW's laboratories.
Üzümcü said that the OPCW initially looked into the seriousness of the chemical attack claims after the attack and concluded that they are serious.
At first there were claims of chlorine gas use in the attack, and then allegations on nerve agent use emerged, Üzümcü said, adding that they have been setting up a team and preparing to ask for permission for a probe in the area when the regime invited them to Douma.
After the WHO says 500 patients showed symptoms of gas attack in Syria: The U.N. health agency says reports from its partners indicate some 500 patients showed signs of exposure to toxic chemicals following shelling on the Syrian town of Douma over the weekend: The World Health Organization says patients at health facilities showed "signs of severe irritation of mucous membranes, respiratory failure and disruption to central nervous systems of those exposed."
A WHO statement Wednesday did not confirm outright that a chemical weapons attack had taken place: WHO also cited reports about the deaths of more than 70 people who sheltered in basements, saying 43 of those people who died had shown "symptoms consistent with exposure to highly toxic chemicals."
Eurocontrol warns passenger airlines to exercise caution in the eastern Mediterranean region due to the possible launch of airstrikes on #Syria within the next 72 hours.— Haidar Sumeri (@IraqiSecurity) April 11, 2018:
Editor says #AceNewsDesk reports & #Brittius says are provided by Sterling Publishing & Media News and all our posts, links can be found at here https://t.me/acenewsdaily and thanks for following as always appreciate every like, reblog or retweet and free help and guidance tips on your PC software or need help & guidance from our experts AcePCHelp.WordPress.Com or you can follow our breaking news posts on AceBreakingNews.WordPress.Com or become a member on Telegram https://t.me/acebreakingnews