#AceNewsReport – June.05: Controversial plans for a third runway at Heathrow Airport have been approved by ministers: The government's economic sub-committee, chaired by Prime Minister Theresa May, backed the plans which were then approved by her full cabinet………Transport Secretary Chris Grayling said it was a "historic moment"…………….Announcing £2.6bn in compensation for residents and noise abatement measures, he said it would only proceed if air quality obligations were met."The time for action is now," he told MPs, insisting the decision was being taken in the national interest and would benefit the whole of the UK…………The scheme, he insisted, would be entirely funded by private investment and while the expansion was a "number of years away", he believed it could be concluded by 2026………MPs will be asked to vote on the expansion plans in the coming weeks………..A decision – finally? #AceNewsDesk reports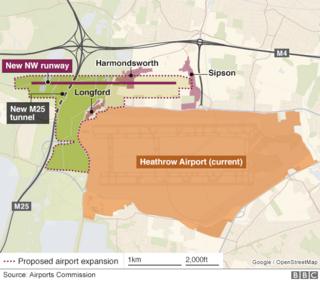 The debate on expanding Heathrow has been going on for nearly 20 years.
The last Labour government backed the idea, and won a vote on it in 2009, but that plan was scrapped – and the idea of expansion put on hold for five years – by the Conservative-Lib Dem coalition formed after the 2010 election.
But the idea of expansion was resurrected and has been subsequently backed by the Conservatives. Ministers approved a draft national airports policy statement in October setting out the conditions for a new runway, Parliament has yet to give its approval for detailed planning to begin.
Opponents have threatened a legal challenge while Mr Johnson, who is MP for Uxbridge and South Ruislip in west London, has vowed to "lie down in front of bulldozers" to prevent it.
With the Conservatives divided, Mrs May will be reliant on the support of Labour and the SNP to win the vote, which must take place within 21 sitting days of the statement's publication.
The BBC's assistant political editor Norman Smith said ministers whose constituencies would be directly affected might be given a "get out of a jail card" – by being allowed to miss the vote or even vote against.