#AceNewsReport – Aug.09: The filings did not provide further details about the alleged training. The makeshift compound appeared to have a shooting range on the property and loaded firearms were found on the property, authorities said: A foster parent of one of the children also said, "The defendant had trained the child in the use of an assault rifle in preparation for future school shootings," according to the court filings: If the defendants were to "be released from custody, there is a substantial likelihood defendants may commit new crimes due to the planning and preparation for future school shootings," the court documents said: Allegations against the suspects come in the wake of the discovery that 11 starving children had been living in a filthy compound in Amalia, New Mexico, that lacked electricity or plumbing #AceNewsDesk reports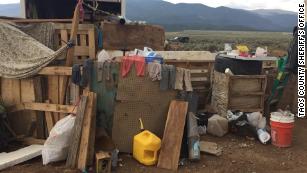 Authorities raided the compound on Friday as part of their search for Abdul-Ghani Wahhaj, a child with severe medical problems who was allegedly abducted from Georgia by his father, Siraj Wahhaj, about nine months ago.
A boy's remains were found at the compound on Monday, police said, although it is not yet clear whether the remains are those of 4-year-old Abdul-Ghani.
The five defendants — Wahhaj; his sisters, Hujrah Wahhaj and Subhannah Wahhaj, who are thought to be the children's mothers; Lucas Morten and Jany Leveille — were each arraigned Wednesday in a Taos, New Mexico, courtroom on 11 counts of child abuse related to the neglect and abuse of the children.
The five, who pleaded not guilty, have a pretrial detention hearing set for Monday, according to Aleksandar Kostich, a state public defender.
Family members of the suspects said they didn't know anything of the alleged training for school shootings.
Wahhaj's father, Imam Siraj Wahhaj, a controversial New York imam, said he has "no knowledge" of the alleged training, said spokesman Imam Al-Hajj Talib Abdur-Rashid.
The imam was the first Muslim to offer an opening prayer before the US House of Representatives, the Muslim Alliance in North America said: He was also a character witness for convicted 1993 World Trade Center bombing mastermind Omar Abdel-Rahman
Shariyf Muhammad, attorney for Abdul-Ghani's mother, Hakima Ramzi, said she "has no knowledge of any training for school shootings."
Ramzi has not been charged in the case. She reported her son missing to Clayton County, Georgia, authorities in December after the younger Wahhaj took their son to the park and never returned, according to a police report.
Police initially didn't file a child abduction report because Wahhaj and Ramzi were married; she filed for divorce in December, Clayton County court documents show. But a juvenile court judge in January issued an arrest warrant for Wahhaj for failing to let Ramzi know where he'd taken their son.
CNN's Hollie Silverman, Samira Said and Darran Simon contributed to this report. https://cnn.it/2M8Kx0G pic.twitter.com/Sr3F0mDj7s
Heavily armed' New Mexico extremists trained children to commit school shootings
Published time: 8 Aug, 2018 22:16 Edited time: 9 Aug, 2018 08:24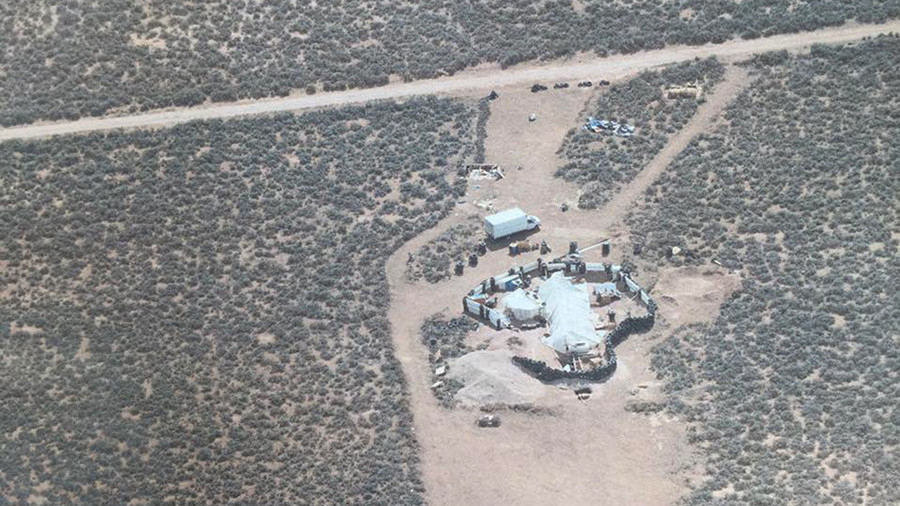 Siraj ibn Wahhaj, the son of a prominent New York City imam, was arrested at a "filthy" compound in New Mexico, where 11 children found there had been trained in how to shoot up schools, prosecutors said in court documents.
Ibn Wahhaj, 39, and four other adults were arrested on Friday and charged with 11 counts of felony child abuse. Ahead of a court hearing on Wednesday, prosecutors asked the judge not to grant him bail, saying he was training the children to commit school shootings, AP reported.
Another male, identified as Lucas Morten, and three women – Jany Leveille, 35, Hujrah Wahhaj, 38, and Subhannah Wahhaj, 35 – were also arrested at the compound.
Ya this is going to keep getting bigger I think.

A New Mexico Compound was raided where men were training kids on how to do school shootings.

Siraj Ibn Wahhaj in particular is being held without bail as the FBI are still sorting through the place.

— Oregon I.T. not IT (@OregonJOBS2) 7:54 PM – Aug 8, 2018
The five adults and the eleven children were found at the "filthy" makeshift compound in Taos County, near the border with Colorado. Wahhaj was sought on charges of abducting his son Abdul-ghani from Atlanta, Georgia last year. The authorities found the remains of a male child inside the compound and are still working to identify whether they belong to Abdul-ghani.
"I've been a cop for 30 years. I've never seen anything like this. Unbelievable," Taos County Sheriff Jerry Hogrefe told reporters on Tuesday afternoon. "These children were hungry, they were thirsty, they were filthy," wearing no shoes and only rags for clothing.
The only food found inside the compound was a box of rice and some potatoes, Hogrefe added.
Wahhaj was "heavily armed" when the police showed up, Hogrefe said, describing his arsenal as "an AR15 rifle, five loaded 30 round magazines, and four loaded pistols, including one in his pocket."
Whoa. Had no idea that one of the men arrested in the New Mexico compound is the son of well-known NYC imam Siraj Wahhaj. http://www.foxnews.com/us/2018/08/07/dad-arrested-at-muslim-extremist-new-mexico-home-planned-exorcism-tied-to-terror-linked-imam-report-says.html …

— Chuck Ross (@ChuckRossDC) 7:40 PM – Aug 8, 2018
He is the son of Siraj Wahhaj, imam of the Masjid at-Taqwa in Brooklyn, who was the first Muslim cleric to offer an invocation at the US House of Representatives, in 1991.Heavily armed' New Mexico extremists trained children to commit school shootings https://t.co/OQoN0fVzwV August 08, 2018 at 12:19PM
Editor says #AceNewsDesk reports & #Brittius says are provided by Sterling Publishing & Media News and all our posts, links can be found at here Live Feeds https://acenewsroom.wordpress.com/ Ace News Services Posts https://t.me/AceSocialNews_Bot and thanks for following as always appreciate every like, reblog or retweet and free help and guidance tips on your PC software or need help & guidance from our experts AcePCHelp.WordPress.Com or you can follow our breaking news posts on AceBreakingNews.WordPress.Com or become a member on Telegram https://t.me/acebreakingnews all private chat messaging on here https://t.me/sharingandcaring