#AceNewsReport – Sept.18: Israel says Syria is to blame for the deaths of 15 Russian aircrew shot down by Syrian forces after Israel launched an air raid on the city of Latakia: Israel "expressed sorrow" for the deaths but blamed "extensive and inaccurate" Syrian anti-aircraft fire: Russia initially blamed "irresponsible" Israeli actions, but President Vladimir Putin said on Tuesday it was "a chain of tragic accidental circumstances" Russia is supporting President Bashar al-Assad in Syria's civil war #AceNewsDesk reports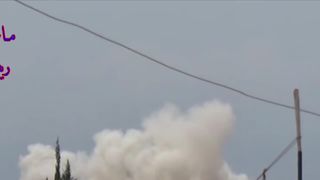 Russia-backed jets bomb Syria village
What has Israel said?
In a rare statement detailing its operations over Syria, the Israel Defence Forces (IDF) said: "Israel expresses sorrow for the deaths of the aircrew members of the Russian plane that was downed due to Syrian anti-aircraft fire…………………….."Israel holds the Assad regime, whose military shot down the Russian plane, fully responsible for this incident."
The statement also laid blame on Iran and the Lebanese Shia militant group, Hezbollah, two other allies of the Syrian government: The Israeli government is concerned by what it calls Iran's "military entrenchment" in Syria, as well as shipments of Iranian weapons to the Hezbollah………………….The IDF said its jets were targeting Syrian military facilities "from which systems to manufacture accurate and lethal weapons were about to be transferred on behalf of Iran to Hezbollah in Lebanon"………………..The statement also addressed a Russian allegation that Israeli planes had "used the Russian airplane as a cover", putting it "in the line of fire coming from Syrian air defence systems"…………..The Israeli military said: "During the strike against the target in Latakia, the Russian plane that was then hit was not within the area of the operation… when the Syrian army launched the missiles that hit the Russian plane, (Israeli) jets were already within Israeli airspace."
What did the Russians say had happened?
Russia's Tass news agency said the Ilyushin Il-20 reconnaissance plane had "disappeared during an attack by four Israeli F-16 jets on Syrian facilities in Latakia province"………………..The downing was reported to have occurred about 35km (22 miles) from the Syrian coast as the Il-20 aircraft was returning to Russia's Hmeimim airbase near Latakia.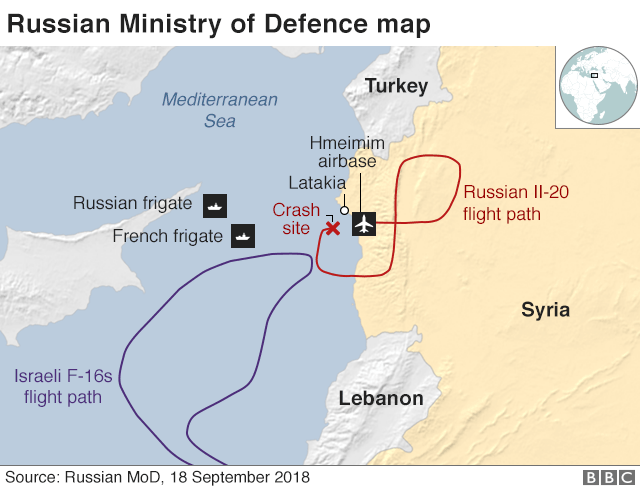 In an initial statement, Russia said Israel's "irresponsible actions" were to blame, saying it was given less than a minute's warning ahead of the strikes, which was not enough time to get the military surveillance plane out of the way……………….."The Israeli planes deliberately created a dangerous situation for surface ships and aircraft in the area," a defence ministry spokesman said………………."As a result of the irresponsible actions by the Israeli military, 15 Russian servicemen have died."…………………The defence ministry said body fragments, personal belongings and the plane's debris had been found by search ships in the Mediterranean on Tuesday.
What is the diplomatic fallout?
In a phone call on Tuesday, Russian Defence Minister Sergei Shoigu told his Israeli counterpart Avigdor Lieberman the blame "fully rests with Israel", adding that Russia "reserves the right to take further steps in response".
Russia also summoned the Israeli deputy ambassador to its foreign ministry.
But later President Putin appeared more conciliatory, saying that the Russian response would be to secure the safety of its personnel……………..Israel also appears to want to ease any damage to relations…………….Its military vowed to share any relevant information with Moscow and an Israeli diplomatic source said Prime Minister Benjamin Netanyahu was expected to speak to President Putin…………….An Israeli military official recently said it had hit more than 200 Iranian targets in Syria over the past 18 months, with Russia largely turning a blind eye, a situation Israel would want to continue: BBC News – Home https://ift.tt/2PGGg2C
Editor says #AceNewsDesk reports & #Brittius says are provided by Sterling Publishing & Media News and all our posts, links can be found at here Live Feeds https://acenewsroom.wordpress.com/ Ace News Services Posts https://t.me/AceSocialNews_Bot and thanks for following as always appreciate every like, reblog or retweet and free help and guidance tips on your PC software or need help & guidance from our experts AcePCHelp.WordPress.Com or you can follow our breaking news posts on AceBreakingNews.WordPress.Com or become a member on Telegram https://t.me/acebreakingnews all private chat messaging on here https://t.me/sharingandcaring