#AceNewsReport – May.27: Brexit Party leader Nigel Farage said he was ready to "take on" the Tories and Labour in a general election: Overall, out of 64 MEPs declared so far, Mr Farage's party has won 28, the Lib Dems 15, Labour 10, Greens seven, the Tories three and Plaid Cymru one: Mr Farage told BBC Radio 4's Today programme: "With a big, simple message – which is we've been badly let down by two parties who have broken their promises – we have topped the poll in a fairly dramatic style…………"The two party system now serves nothing but itself. I think they are an obstruction to the modernising of politics… and we are going to take them on."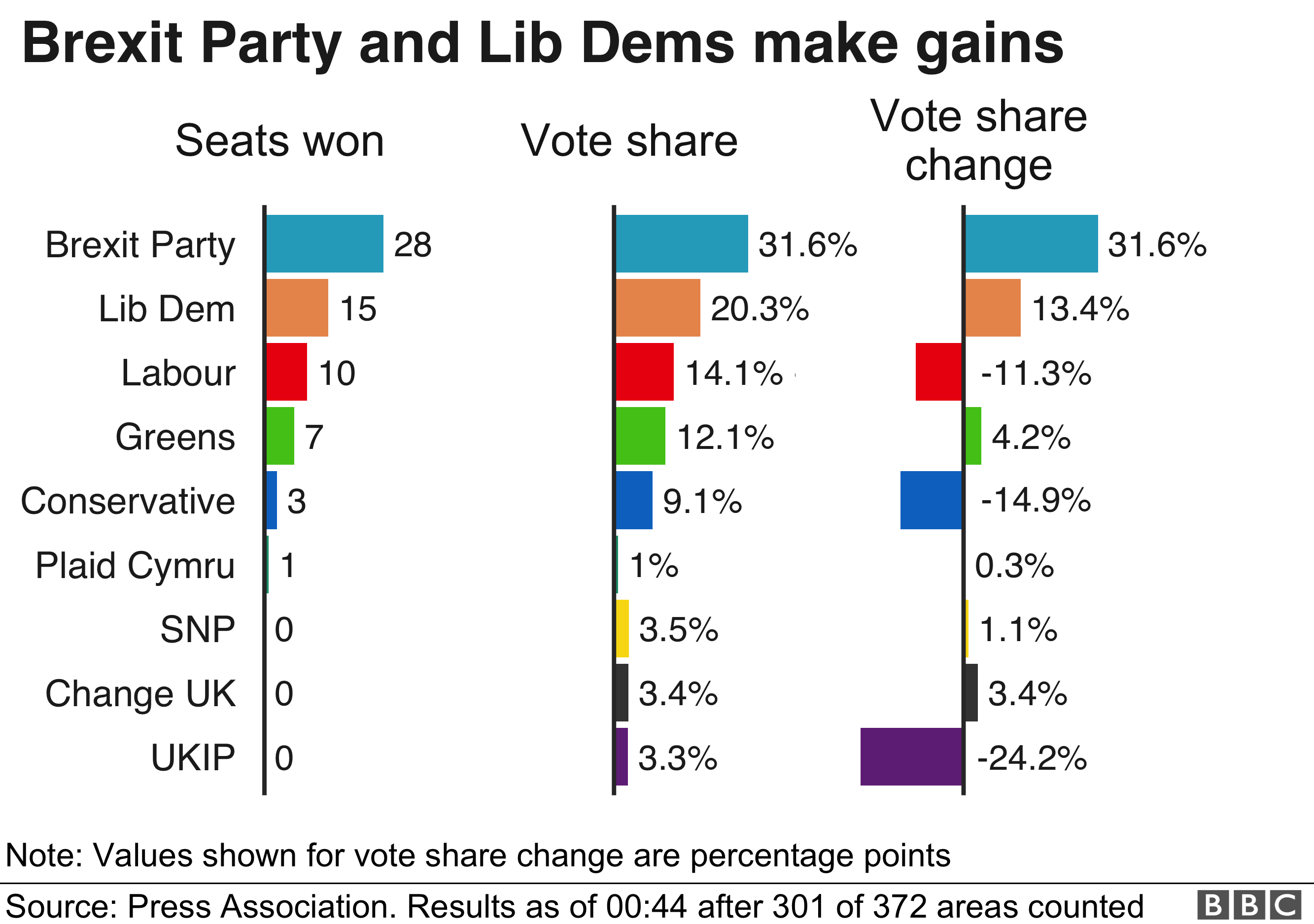 Anti-Brexit parties – those in favour of another referendum – collectively took about 40% of the vote, compared with 35% for the two parties in favour of leaving the EU without a deal: The deputy leader of the Liberal Democrats, Jo Swinson, said the result should "give hope to all of the people out of there who want to stop Brexit", and that they "should not be giving up without a fight".
"When there is such a general shambles over Brexit, then [a further referendum] is the best way out of the impasse," she told Today: Polling expert Sir John Curtice said the results showed just how polarised the country had become.

The night at a glance
The UK is electing 73 MEPs, and 10 out of 12 regions have declared so far 

The Brexit Party has received the highest share of the vote in nine of the 10 regions – with 32% overall

The Conservative Party has been widely rejected by the electorate, coming in fifth place

The Lib Dems have taken second place with 20% of the vote – a vote that is clearly much higher in areas that backed Remain. 

In London, the Lib Dems came first and the Tories fifth

The Labour Party has fallen to third place overall – fifth in Scotland – and is on course to end up with less than 15% of the vote, an even worse performance than their previous low in 2009 

The Green Party has also made gains, seeing its best performance since 1989

Newly-formed Change UK has not won any seats, while UKIP has also haemorrhaged support to The Brexit Party – both have gained about 3% of the vote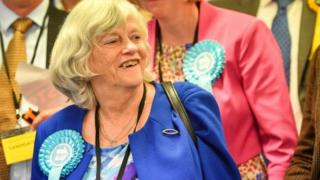 BBC political editor Laura Kuenssberg said it was the worst performance for the Conservatives since the 1830s: 
"If this was a first-past-the-post election, they would not have taken a single seat," she said.
Brexiteer and Conservative MEP for the South East Daniel Hannan – one of only three Tory MEPs elected so far – agreed it was his party's "worst ever result" "We voted to leave (the EU) and we haven't left – it's that simple," he told the BBC…………Theresa May tried three times to secure MPs' backing for her Brexit plan and resigned as prime minister after her fourth attempt prompted a big backlash………..Tory leadership hopeful and former Foreign Secretary Boris Johnson said the public had delivered "a crushing rebuke" to both major parties for failing to deliver Brexit……………….Prominent Brexiteer and Tory backbencher Steve Baker said his party faced "obliteration" if they did not get on with leaving the EU as they had pledged……………"We have lost some excellent MEPs who didn't deserve to lose," he told BBC Breakfast………………………."It is a grave time for our party and country, [but] I am not surprised that [the result] is as bad as it is. You just can't break promises you have made like this and expect to go unpunished." 
Labour leader Jeremy Corbyn placed blame for that failure squarely with the Conservatives, arguing it meant the elections had "become a proxy second referendum" 
He said his party would "reflect on these results on both sides of the Brexit divide" and the issue "will have to go back to the people" through a general election or a public vote: 
Labour's deputy leader Tom Watson said the party needed to "urgently" rethink its Brexit position after the "disastrous" election results.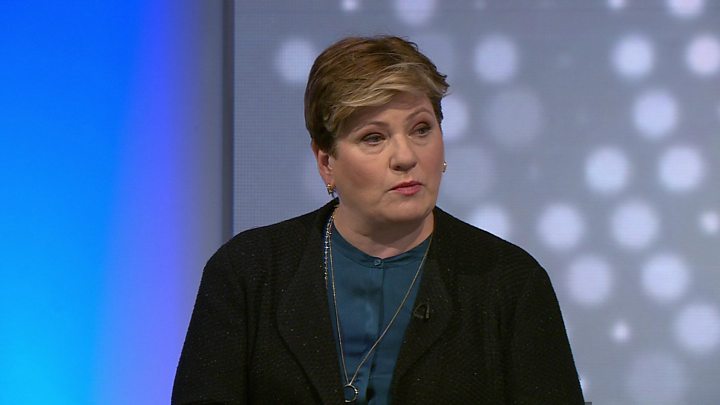 The party has been criticised for a lack of clarity on its Brexit stance and not appearing to appeal to either Leave or Remain voters: It has been divided over the issue of a further referendum, with some – including shadow foreign secretary Emily Thornberry – saying the party should call for another vote and campaign to remain…………Tweeting on Monday morning, shadow chancellor John McDonnell said Labour "must unite our party and country by taking issue back to people in a public vote."
In contrast to the two biggest parties, some of the smaller ones with an unambiguous message on Brexit were rewarded: 
Lib Dem Sir Ed Davey said
his party was "leading the Remain vote" and had "an awful lot to be pleased about".
Green Party co-leader Sian Berry
said the case for a further referendum was stronger than ever, adding: "Giving the people the final say over the country's direction is now clearly the only way forward, the way to draw a line under the Brexit chaos……..
"The vote tally for clearly Remain parties is higher than for that of the Brexit Party and UKIP. The people have spoken."………
Change UK failed to win any seats in the election, but
leader Heidi Allen told the BBC
her party – newly formed from ex-Labour and Tory MPs – was "down, but we are not out".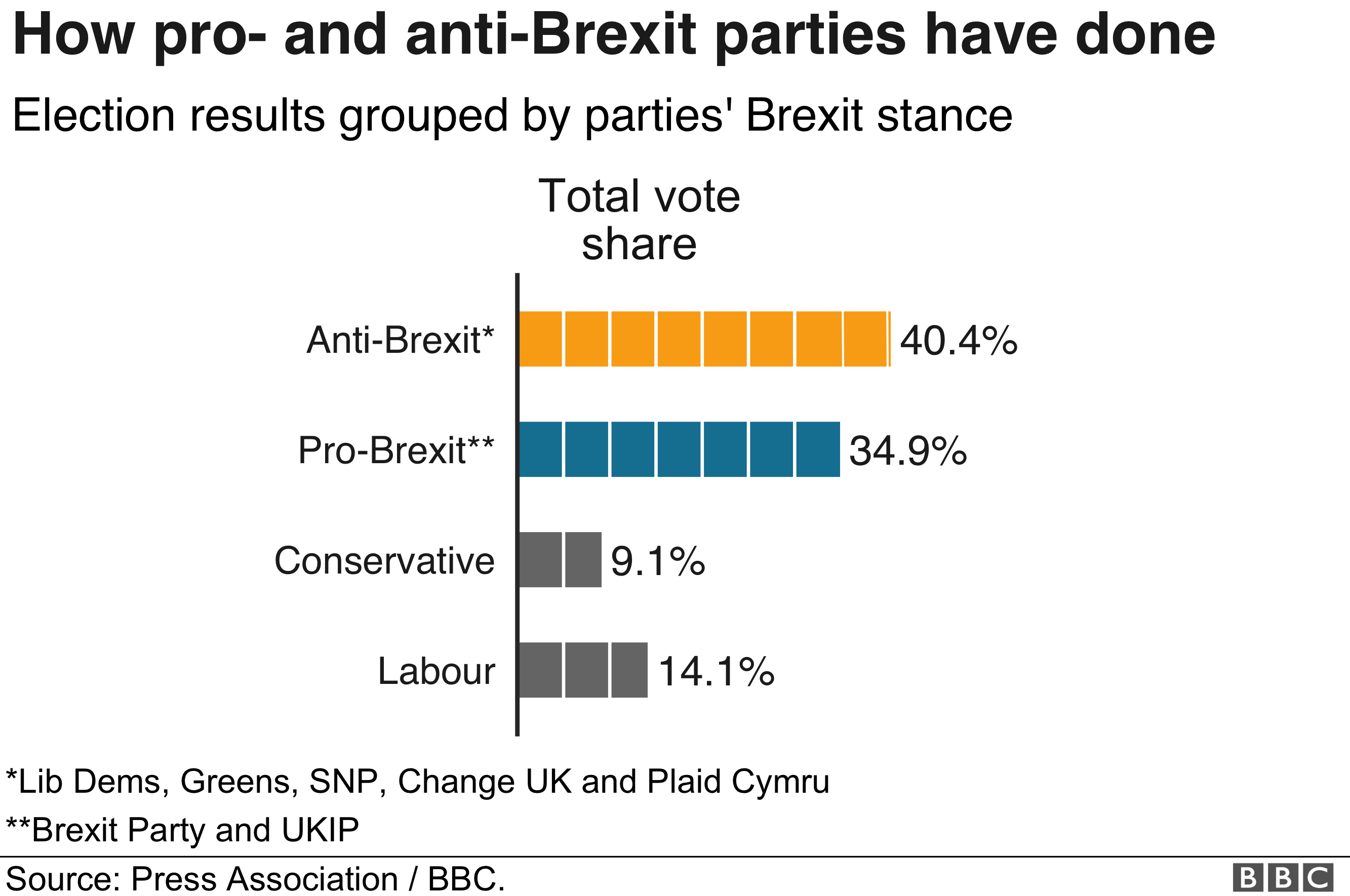 The highest Brexit Party votes were recorded in Castle Point, in Essex, (59%), and Boston (56%) and South Holland (55%), both in Lincolnshire. 
The best Lib Dem performances occurred in Gibraltar (77%), Richmond upon Thames (52%) and Kingston upon Thames (47%). 
The best Green performances were in Brighton and Hove (36%), Bristol (35%) and Stroud (28%). 
Turnout was just below 37%. That puts it on course to be the second highest in any European election – second only to 2004 when the turnout was partly inflated by the use of all-postal ballots in some parts of England. 
Places that voted most strongly to Remain in the referendum saw turnout increase more compared with the last election in 2014 than places which voted most heavily for Leave. 
Across the EU as a whole, turnout was the highest for 20 years.
The European Parliament's Brexit negotiator, Guy Verhofstadt, celebrated on Twitter about the number of voters making their voice heard.

In Germany, both major centrist parties, including Angela Merkel's Christian Democrats, suffered, while in France, President Emmanuel Macron's Renaissance alliance was defeated by the far-right National Rally of Marine Le Pen.
Greek opposition Conservatives in lead in exit poll for EU vote: The Greek opposition New Democracy conservative party held a lead over ruling leftist Syriza in European Parliament elections on Sunday, a joint exit poll by five private TV stations showed: 
Germany's Green party doubled its share of the vote in Sunday's European Parliament election, leaping into second place behind Chancellor Angela Merkel's conservatives and above the center-left Social Democrats. 
An exit poll in the European Union's biggest member state showed the Greens on 22%, Merkel's Christian Democrats (CDU) and their conservative allies on 28%, down eight percentage points from 2014, and the SPD slumping nearly 12 points to 15.5%. 
The poll for public broadcaster ARD bore out predictions of a "green wave" that could push climate and environmental issues up the agenda in Brussels and bring the Greens into a possible four-party, pro-EU coalition at European level. 
On a night when German political attention was focused on the CDU's narrow defeat of Merkel's national coalition partner the SPD in the small city-state of Bremen, a left-wing bastion, the insurgent far-right Alternative for Germany (AfD) raised its share of the EU vote by 3.4% to 10.5%. 
Pollsters have been predicting a surge for nationalists across the continent that will pressure traditional parties which back continued integration of the Union. 
Germany has been less exposed to the trend than others, and a clearer indication of how the far-right has done will come when French exit polls are published after voting ends there at 1800 GMT. 
After 2100 GMT, when the final ballot is cast in Italy, results and projections from Italy, and from Britain, which voted on Thursday, will complete the picture in the EU's big four countries. Anti-EU parties have been forecast to top the polls in both Italy and Britain, and could also do in France. 
Initial indications showed turnout was up in most countries, giving hope to EU officials who see an end to a 40-year run of declining participation as a mark of Europeans waking up to the importance of the EU legislature. 
A first European Parliament estimate of how its 751 seats are likely to be allocated will come shortly after 1800 GMT, when polls in 12 of the 28 states, including France and Spain, will have closed. 
#AceNewsDesk report ………..Published: May.27: 2019: