#AceNewsReport – Aug.03: The family of a 15-year-old Romanian girl whose kidnapping has provoked public uproar has released transcripts purporting to be her pleas for help while she was being abducted: He also admitted killing another teenage girl, 18-year-old Luiza Melencu, who had been missing since April: Police found bones during a search of Mr Dinca's home but are yet to confirm whether they match the DNA of either Alexandra or Luiza: The case has caused outcry, leading to mass protests and the sacking of Romania's chief of police and other officials. The interior minister has also resigned, saying anyone guilty of delaying the police response would pay.
EPA
Romanian authorities have been criticised her their handling of Alexandra Macesanu's kidnapping as suspect admits killing missing Romanian teenager
On Tuesday, Alexandra's uncle, Alexandru Cumpanasu, released what he said was a transcript of her calls: "Please stay with me on the line, I'm really scared," she said in her final call to the emergency number 112, according to the transcript, which was posted on Facebook.
Alexandra Macesanu, 15, called police three times during her kidnapping: In response, the officer told her she "can't stay on the line" because she had other calls, assuring her a police car would come "without fail" within minutes, according to the transcript: The authenticity of the transcript has not been independently verified by the BBC, but Romania's interior ministry has been contacted for comment: The General Inspectorate of Romanian Police told the BBC an investigation into the emergency calls was under way: Romanian police officers escort suspect Gheorghe Dinca (C) to his home for a search: Some Romanian media have broadcast what they said were leaked fragments of the calls, according to Reuters news agency.
Alexandra's family accused officials of failing to take the calls seriously. Romania's police chief Ioan Buda has been sacked and interior minister Nicolae Moga has resigned, but critics are demanding more resignations: On Saturday, thousands of demonstrators marched through the streets of Bucharest, chanting "incompetence" and calling for more government sackings.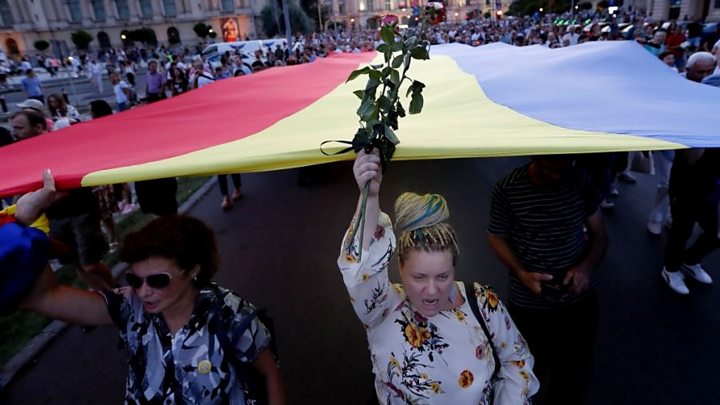 Protesters chant "resign" at a rally in Romania over missing teen Alexandra Macesanu: At the weekend, police found human remains and jewellery belonging to Alexandra during a search of Mr Dinca's home: Mr Dinca's lawyer, Alexandru Bogdan, told Romania's national news agency Agerpres on Sunday that his client had "confessed [to] his crimes".
Alexandra disappeared last Wednesday while hitchhiking to her home in the southern city of Caracal, police said: On Thursday morning, she called the emergency 112 hotline three times and said she had been abducted: Authorities said they initially struggled to trace the location of her call and searched three buildings before identifying the house at 03:00 (00:00 GMT) on Friday: Romania's interior minister Nicolae Moga resigned over the handling of Alexandra's kidnapping: Police then applied for a search warrant – even though it was not legally required – and waited until the morning to enter the house: They did not search the property until 19 hours after Alexandra's final emergency call: Police said they suspected the human remains found at the property – which were sent for testing – belonged to the girls.
Alexandra made the three phone calls to 112 on 25 July between 23:03 and 23:12, according to the transcript shared by her uncle, Mr Cumpanasu: In the first call, Alexandra tells the operator she has been kidnapped by a man and taken somewhere in Caracas: Unable to find out where Alexandra is being held, the call disconnects and the operator requests help from a police officer: Minutes later, in a second call, Alexandra tries to give the operator more details about her kidnapping: Romanian activists hold placards at a protest over Alexandra's kidnapping: She tells the operator she is being held captive in a house, but is "locked in a room" and can "only see a gate". Midway through the second call, a police officer takes over from the operator: Alexandra reads an address and the policeman tells her to remain where she is until officers arrive. "Please come fast I'm afraid of him, he beat me," Alexandra says, according to the transcript: The conversation ends and Alexandra makes a third call. "Please, did you send anyone?" Alexandra asks at the beginning of the call: "I think he's coming back and I'm afraid."An officer, once again, assures her that police have been sent, telling her to "relax and calm down a bit", as she sobs on the phone.
#AceNewsDesk reports ……………….Published: Aug.03: 2019:
Editor says #AceNewsDesk reports & #Brittius says are provided by Sterling Publishing & Media News and all our posts, links can be found at here Live Feeds https://acenewsroom.wordpress.com/ Ace News Services Posts https://t.me/AceSocialNews_Bot and thanks for following as always appreciate every like, reblog or retweet and free help and guidance tips on your PC software or need help & guidance from our experts AcePCHelp.WordPress.Com or you can follow our breaking news posts on AceBreakingNews.WordPress.Com or become a member on Telegram https://t.me/acebreakingnews all private chat messaging on here https://t.me/sharingandcaring