#AceNewsReport – Oct.07: Kurdish forces have spearheaded the campaign against #IslamicState in the region, but the policy swerve, after a phone conversation between Donald Trump and Recep Tayyip Erdoğan on Sunday, means Turkey would take custody of captured Isis fighters, the White House said: It has also raised fears of fresh fighting between Turkey and Kurdish forces in Syria's complex war now the US no longer acts as a buffer between the two sides Guardian reported.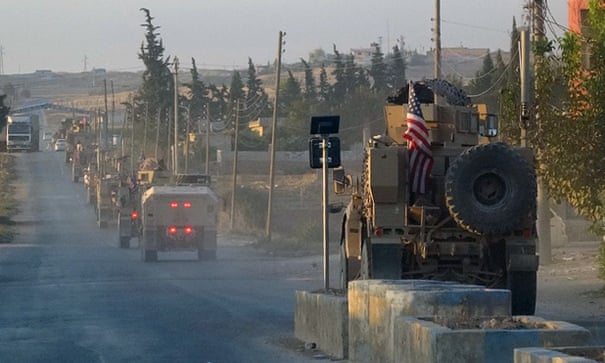 US military vehicles travel along a main road in northern Syria on Monday. Photograph: Hawar News Agency, ANHA/AP
The Kurdish-led Syrian Democratic Forces (SDF) said on Monday morning that their US partners had already begun withdrawing troops from areas along Turkey's border: Footage aired on Kurdish news agency Hawar purportedly showed US armoured vehicles evacuating key positions near the towns of Ras al-Ayn and Tal Abyad in the border region. Erdogan himself also confiirmed the development in remarks to reporters on Monday morning in Ankara.
The SDF spokesman, Mustafa Bali, accused the US of leaving the area to "turn into a war zone", adding that the SDF would "defend north-east Syria at all costs"
A statement from the Turkish foreign minister, Mevlüt Çavuşoğlu, also early on Monday said that Ankara had "supported the territorial integrity of Syria since the beginning of the crisis and will continue to do so … [We are] determined to ensure survivability and security of Turkey by clearing the region from terrorists. We will contribute to bringing safety, peace and stability to Syria."
The decision represents the latest in a series of erratic moves by Trump, fighting impeachment at home, apparently taken without consultation with, or knowledge of, US diplomats dealing with Syria, or the UK and France, the US' main international partners in the country: 'We deserve support': Reinvented north-east Syria strives for stability
Ruben Gallego, an Iraq war veteran and Democratic congressman from Arizona, tweeted: "Allowing Turkey to move into northern Syria is one of the most destabilising moves we can do in the Middle East. The Kurds will never trust America again. They will look for new alliances or independence to protect themselves."
In the White House statement issued just before 11 pm on Sunday, however, that agreement was not mentioned: "Today, President Donald J Trump spoke with President Recep Tayyip Erdoğan of Turkey by telephone," the surprise statement said. "Turkey will soon be moving forward with its long-planned operation into northern Syria. The United States Armed Forces will not support or be involved in the operation, and United States forces, having defeated the Isis territorial 'caliphate', will no longer be in the immediate area." https://www.whitehouse.gov/briefings-statements/statement-press-secretary-85/
The statement suggested that in return for US acquiescence in a Turkish offensive, Erdoğan had assured Trump that Turkey would take over the detention of Isis militants captured by the SDF, on the battlefield: The custody of Europeans and other foreign fighters has long been one of Trump's preoccupations, and he has lambasted European governments for not taking responsibility for their own nationals in Isis' ranks……………………"The US government has pressed France, Germany, and other European nations, from which many captured Isis fighters came, to take them back, but they did not want them and refused," the White House statement continued.
"The US will not hold them for what could be many years and great cost to the United States taxpayer: Turkey will now be responsible for all Isis fighters in the area captured over the past two years in the wake of the defeat of the territorial caliphate by the United States."
#AceNewsDesk reports …………..Published: Oct.07: 2019:
Editor says #AceNewsDesk reports & #Brittius says are provided by Sterling Publishing & Media News Chat https://t.me/joinchat/Di_0I1O9-Gz1ogusgUArog and all our posts, links can be found at here Live Feeds https://acenewsroom.wordpress.com/ Ace News Services Posts https://t.me/AceSocialNews_Bot and thanks for following as always appreciate every like, reblog or retweet and free help and guidance tips on your PC software or need help & guidance from our experts AcePCHelp.WordPress.Com or you can follow our breaking news posts on AceBreakingNews.WordPress.Com or become a member on Telegram https://t.me/acebreakingnews all private chat messaging on here https://t.me/sharingandcaring