#AceNewsReport – Oct.09: Turkey's President Recep Tayyip Erdogan said the operation was to create a "safe zone" cleared of Kurdish militias which will also house Syrian refugees: According to the Kurdish-led Syrian Democratic Forces (SDF), civilian areas came under attack from Turkish planes………..Turkish ground forces have also been massing on the border…………The offensive was launched just days after President Donald Trump controversially withdrew US troops from northern Syria, a decision announced after a phone call with Mr Erdogan that sparked widespread criticism at home and abroad.
Watch as Turkish tanks are sent to the border with Syria
The Kurds – key US allies in defeating the jihadist group Islamic State (IS) in Syria – guard thousands of IS fighters and their relatives in prisons and camps in areas under their control and it is unclear whether they will continue to be safely detained.
What has Turkey said?……………On Twitter, Mr Erdogan said the mission "was to prevent the creation of a terror corridor across our southern border, and to bring peace to the area" and that it would "preserve Syria's territorial integrity and liberate local communities from terrorists."……………….Turkey wants to create a "safe zone" cleared of Kurdish militias – regarded by Ankara as terrorists – which will also house two million of Turkey's 3.6 million Syrian refugees……….Several large explosions were reported in the border town of Ras al-Ain while blasts were also heard in Tal Abyad, according to the Reuters news agency.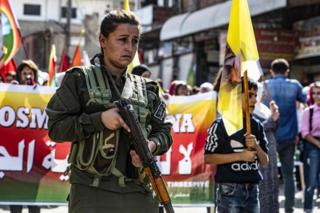 AFPKurds inside Syria held protests earlier against Turkish threats
The UK and France planned to request an emergency meeting of the UN Security Council to discuss the situation, and European Commission President Jean-Claude Juncker urged Turkey to "halt its military operation".US Senator Lindsay Graham, a close ally of Mr Trump, said he would lead an effort in Congress to "make Erdogan pay a heavy price", adding: "Pray for our Kurdish allies who have been shamelessly abandoned by the Trump Administration"………..Mr Trump had responded to the criticism to his decision by threatening to "obliterate" Turkey's economy if it went "off limits" in the incursion, saying Turkey should "not do anything outside of what we would think is humane".
In other developments:
SDF spokesman Mustafa Bali said there was "huge panic among people of the region"
The SDF asked the US and the coalition against IS to establish a no-fly zone in the area "to stop the attacks on innocent people"
Earlier, the Kurdish-led administration in the region called on civilians to "head to the border with Turkey to fulfil their duty"

'Gains against IS at risk'
BBC's Orla Guerin in Akcakale on the Turkish-Syrian border:
President Erdogan says this is the beginning of Operation Peace Spring. There is no doubt that for the Syrian civilians who are just across the border this is going to be seen as another round of battling in an agonisingly long war.
The Kurdish forces have emphasised almost frantically in the last few days that the hard-won gains in their long battle against IS are now being put at risk.
The SDF have lost an estimated 11,000 fighters in battling IS. They succeeded with American help. But they point out, for example, that they may have to withdraw their forces from prisons where they are holding IS fighters or from cities that have been liberated from IS.
The Kurds are basically saying to the West: the war that we fought on your behalf is now at risk because of what Turkey wants to do.

How would an incursion affect the IS situation?
The SDF says it is detaining more than 12,000 men suspected of being IS members in seven prisons. At least 4,000 of the prisoners are foreign nationals. The exact locations have not been not revealed, but some are reportedly close to the Turkish border.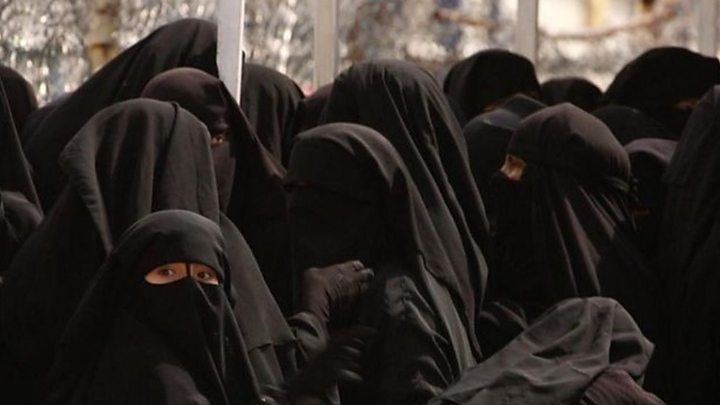 Inside the camp of IS families in Syria
Two camps – Roj and Ain Issa – holding families of suspected IS members are inside the "safe zone". Mr Trump warned Mr Erdogan if he did send troops into northern Syria, they would be responsible for securing captured IS fighters: On Wednesday, IS militants reportedly carried out three suicide attacks in their former de facto capital of Raqqa, about 80km south of Akcakale on the Turkish border. There was no confirmation of casualties.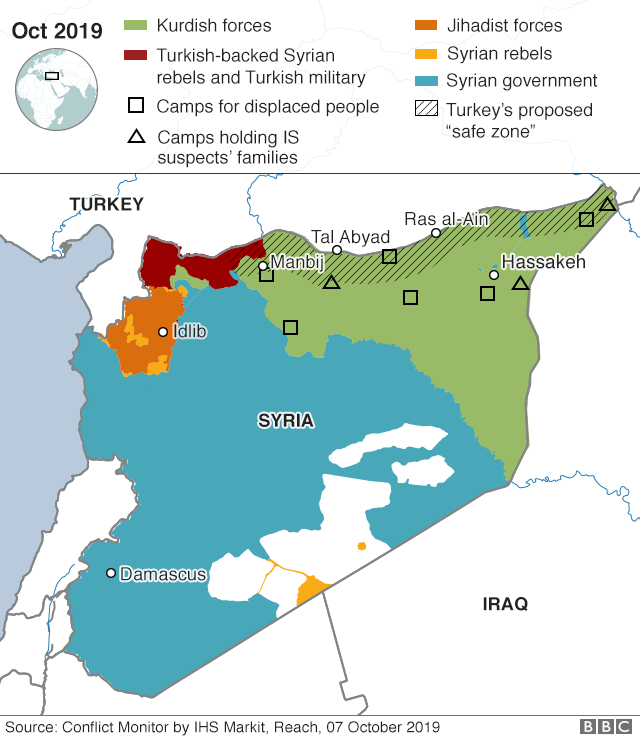 #AceNewsDesk reports …………..Published: Oct.09: 2019:
Editor says #AceNewsDesk reports & #Brittius says are provided by Sterling Publishing & Media News Chat https://t.me/joinchat/Di_0I1O9-Gz1ogusgUArog and all our posts, links can be found at here Live Feeds https://acenewsroom.wordpress.com/ Ace News Services Posts https://t.me/AceSocialNews_Bot and thanks for following as always appreciate every like, reblog or retweet and free help and guidance tips on your PC software or need help & guidance from our experts AcePCHelp.WordPress.Com or you can follow our breaking news posts on AceBreakingNews.WordPress.Com or become a member on Telegram https://t.me/acebreakingnews all private chat messaging on here https://t.me/sharingandcaring