#AceNewsReport – Oct.10: Turkey's ongoing military assault in Syria has left more than 100 Kurdish forces dead, a report said Thursday morning, a day after President Recep Tayyip Erdoğan's troops launched airstrikes and unleashed artillery shelling on Syrian towns and villages the length of its border: "Information about the rising death toll came as Turkey's state-run news agency said Turkey-allied Syrian opposition fighters have "cleared of terror" two villages across the border in Syria — meaning there are no more Syrian Kurdish fighters in those villages." https://ift.tt/2OAfPhP
Turkey launches military offensive in Syria amid plans to withdraw US troops
Reaction and analysis from defense analyst Oubai Shahbandar on 'The Story.' "The Middle East Eye, quoting Erdoğan, reported that 109 Kurdish fighters have been killed so far in Operation Peace Spring."
Turkey launches ground offensive in northern Syria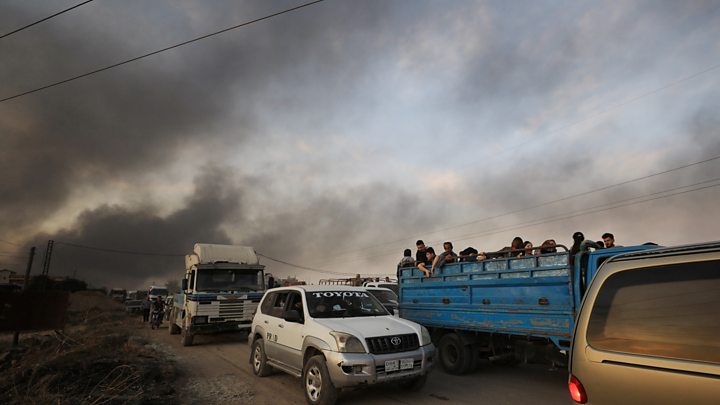 Some residents began to flee as smoke rose over the border town of Ras al-Ain
Turkey has launched a ground offensive in northern Syria, hours after its warplanes and artillery began hitting territory held by Kurdish-led forces…………President Recep Tayyip Erdogan said the operation was to create a "safe zone" cleared of Kurdish militias which will also house Syrian refugees.
The unilateral decision has been widely condemned, with the European Union urging Turkey to end its offensive: Kurdish-led forces who were key US allies vowed to resist………..The Kurds – who helped defeat the Islamic State (IS) group in Syria – guard thousands of IS fighters and their relatives in prisons and camps in areas under their control. It is unclear whether they will continue to do so if battles break out.
In an earlier statement, Mr Trump – who had threatened to "obliterate" Turkey's economy if it went "off limits" – said the US did not "endorse this attack", calling the operation a "bad idea"
UK Foreign Secretary Dominic Raab expressed "serious concerns" about the offensive, saying it "risks destabilising the region, exacerbating humanitarian suffering, and undermining the progress made against" IS.
What is Turkey's plan? On Twitter, Mr Erdogan said the mission "was to prevent the creation of a terror corridor across our southern border, and to bring peace to the area", vowing to "preserve Syria's territorial integrity and liberate local communities from terrorists."Turkey considers the Kurdish YPG militia – the dominant force in the Syrian Democratic Forces (SDF) – an extension of the banned Kurdistan Workers' Party, which has fought for Kurdish autonomy in Turkey for three decades.
Several towns and villages were hit by air strikes and artillery fire, and residents were fleeing the towns of Ras al-Ain and Tal Abyad: The UK-based Syrian Observatory for Human Rights, a monitoring group, said at least eight people had been killed.
Late on Wednesday, Turkey's defence ministry said Turkish troops and Syrian rebel allies had entered the area "east of the Euphrates" A pro-Turkish group told AFP news agency the offensive had begun in Tal Abyad, an area under YPG control: But SDF spokesman Mustafa Bali said their forces had repelled a ground incursion, and that there was "no advance as of now"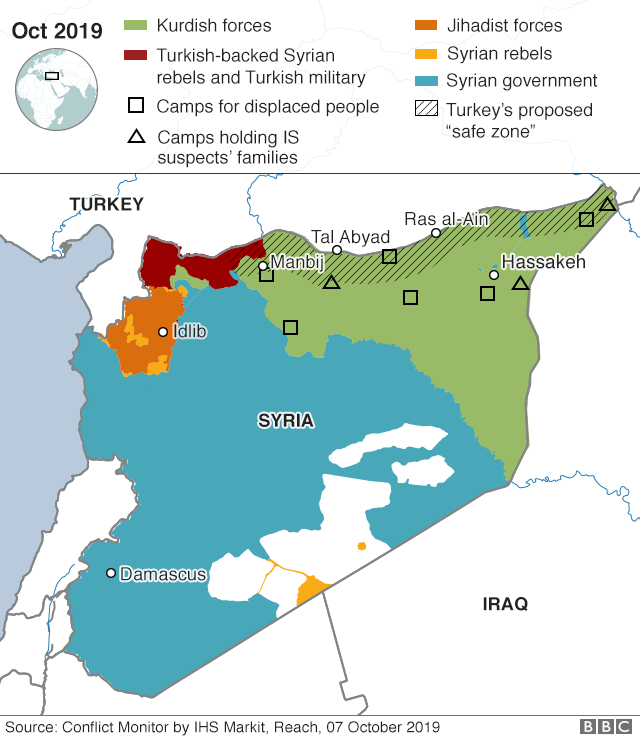 The Turkish government plans to send two million of the 3.6 million Syrian refugees living on its soil to the "safe zone". The offensive could displace 300,000 people living the area, the International Rescue Committee said: It was thought the offensive – Turkey's third military operation in northern Syria in three years – would initially focus on a 100km (62-mile) stretch between Tal Abyad and Ras al-Ain, a sparsely populated, mainly Arab area…………..Mr Bali said the towns of Kobane, to the west, and Qamishli, to the east, had been hit by Turkish shelling. If Turkish troops advance towards those towns they would have to move into densely populated, mainly Kurdish areas.
The SDF also said one the prisons holding IS fighters had been hit by a Turkish airstrike: And amid growing humanitarian concerns, it asked the US-led coalition against IS to establish a no-fly zone to stop "attacks on innocent people".
#AceNewsDesk reports ………………Published: Oct.10: 2019:
Editor says #AceNewsDesk reports & #Brittius says are provided by Sterling Publishing & Media News Chat https://t.me/joinchat/Di_0I1O9-Gz1ogusgUArog and all our posts, links can be found at here Live Feeds https://acenewsroom.wordpress.com/ Ace News Services Posts https://t.me/AceSocialNews_Bot and thanks for following as always appreciate every like, reblog or retweet and free help and guidance tips on your PC software or need help & guidance from our experts AcePCHelp.WordPress.Com or you can follow our breaking news posts on AceBreakingNews.WordPress.Com or become a member on Telegram https://t.me/acebreakingnews all private chat messaging on here https://t.me/sharingandcaring