#AceNewsReport – Oct.14: As streets battles between protesters and police continue to escalate in Hong Kong, China's authoritarian leader warned Sunday any further attempt to divide the country will literally be crushed: President Xi Jinping made the comments during a visit to Nepal, where he became the first Chinese president in more than two decades to visit the country…………………."Anyone attempting to split China in any part of the country will end in crushed bodies and shattered bones," he told Nepalese Prime Minister K.P. Sharma Oli, China's state broadcaster CCTV reported. "And any external forces backing such attempts dividing China will be deemed by the Chinese people as pipe-dreaming!"……………………..Xi made the explicit comments at a meeting where the two signed more than 20 agreements Sunday, including one commissioning a feasibility study of a China-Nepal cross-border railway project. The railway construction is being considered under an ambitious project that's a component of China's signature Belt and Road Initiative.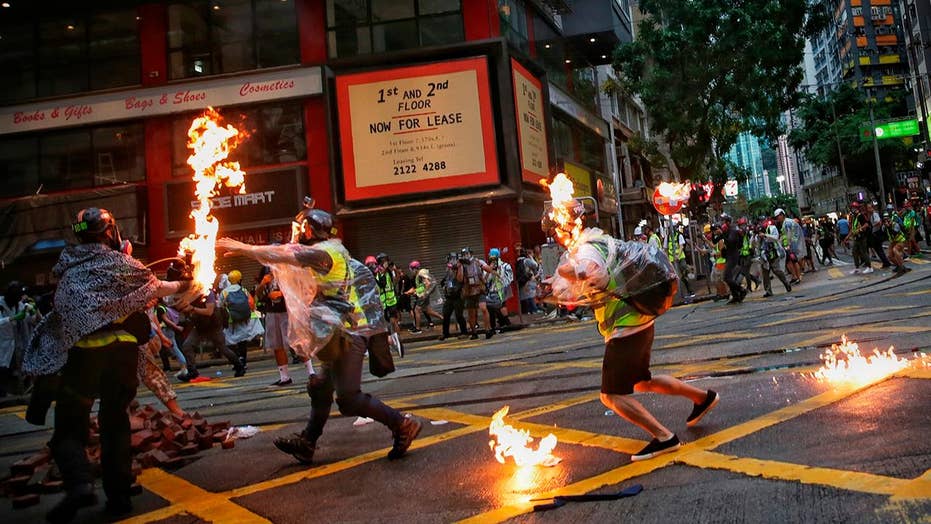 Video
Protesters in Hong Kong speak to Fox News' Greg Palkot on their decision to defy the government and wear face masks on the streets.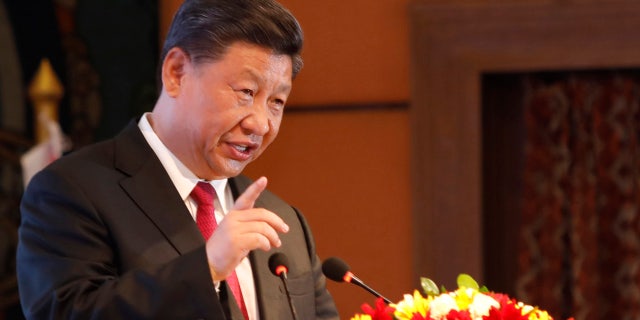 Chinese President Xi Jinping said over the weekend that any attempts to divide China will end in "crushed bodies and shattered bones." (Bikash Dware/The Rising Nepal via AP))
The two countries also signed agreements in areas of connectivity, security, border management, trade, tourism and education: During the meeting, CCTV reported Nepal's Oli told Xi the country will oppose any "anti-China activities" on its soil, according to Reuters. 
Homemade explosive device detonates near Hong Kong police car: report
about 5 hours ago

Photo: Police detain a protestor in Hong Kong during violent clashes on Sunday. (AP: Kin Cheung)
Hong Kong police say a homemade remote-controlled explosive device intended to "kill or to harm" police officers was detonated during protests on Sunday, in a further escalation of violence from anti-government unrest now in its fifth month.
Key points:
Police say the device exploded about two metres from a police vehicle
It's the first known use of an explosive device during the five-months long protest
A police officer said the use of the device was akin to "terrorist events"
"It exploded less than two meters away from a police vehicle," Deputy Commissioner Tang Ping-keung said at a news conference.
"We have reason to believe that the bomb was meant to target police officers."
No casualties were reported.
Mr Tang said it was the first known use of an explosive device during the protests that started in June over a contested extradition bill and have since snowballed into an anti-government, anti-police and anti-China movement: Chin-chiu Suryanto, an officer with the police force's bomb-disposal unit, said the device was concocted with a "highly effective" explosive…………………….He said there was "a loud thud" from the detonation Sunday night on a usually busy thoroughfare in Kowloon………………He said the use of an explosive device marked an escalation in the violence seen during the anti-government protests……………….He likened the use of such a device to "terrorist events" seen elsewhere in the world.
#AceNewsDesk reports …………….Published: Oct.14: 2019: Additional reporting AP – ABC – Reuters
Editor says #AceNewsDesk reports & #Brittius says are provided by Sterling Publishing & Media News Chat https://t.me/joinchat/Di_0I1O9-Gz1ogusgUArog and all our posts, links can be found at here Live Feeds https://acenewsroom.wordpress.com/ Ace News Services Posts https://t.me/AceSocialNews_Bot and thanks for following as always appreciate every like, reblog or retweet and free help and guidance tips on your PC software or need help & guidance from our experts AcePCHelp.WordPress.Com or you can follow our breaking news posts on AceBreakingNews.WordPress.Com or become a member on Telegram https://t.me/acebreakingnews all private chat messaging on here https://t.me/sharingandcaring