#AceNewsReport – Oct.15: The Metropolitan Police Service warned demonstrators linked to the Extinction Rebellion 'Autumn Uprising' they face arrest if they continue to assemble to protest in central London today: Last night a condition was imposed under Section 14 of the Public Order Act 1986 ordering them to cease their protests within London by 21:00hrs: More than 1,400 people have been arrested in connection with the protests and a significant policing operation continues in the capital.
Deputy Assistant Commissioner Laurence Taylor said: "We have made good progress clearing Trafalgar Square and other sites to enable the capital to return to normal following more than a week of protests: "However, due to continued breaches of the section 14 condition previously implemented and ongoing serious disruption this further condition was imposed…………………"This was an operational policing decision to help us get London moving again……………"After nine days of disruption we felt it is entirely proportionate and reasonable to impose this condition because of the cumulative impact of these protests……………….."A significant policing operation continues and we will take robust action against anyone engaged in unlawful protests at locations targeted by Extinction Rebellion.
However, I want to be absolutely clear: This does not mean people are banned from protesting in London. The condition applies specifically to the Extinction Rebellion 'Autumn Uprising'………………….."If Extinction Rebellion, or any other group, come to us with a proposal for lawful protests then of course we will discuss that with them."
Details of the further condition: On Monday, 14 October 2019, the Metropolitan Police Service imposed the following condition upon the ongoing Extinction Rebellion demonstrations in central London, under Section 14 of the Public Order Act 1986: "Any assembly linked to the Extinction Rebellion 'Autumn Uprising'…must now cease their protest(s) within London (Metropolitan Police Service, and City of London areas) by 21:00hrs [on Monday] 14th October 2019."…………Protestors have been notified, and were given the opportunity to leave the site. Anyone who fails to comply with the condition is liable for arrest and prosecution.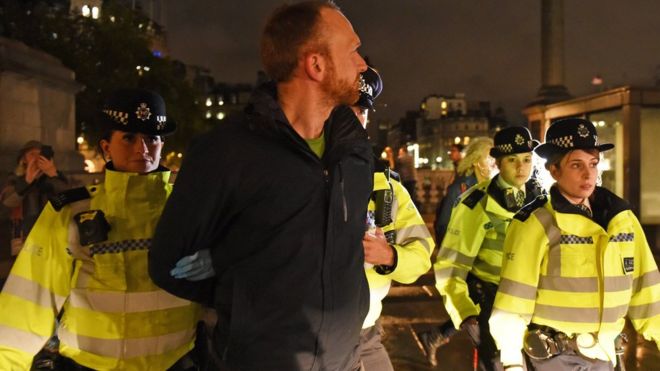 PA MediaPolice remove an Extinction Rebellion protester from Trafalgar Square in central London
BBC News: Extinction Rebellion activists say they have left London's Trafalgar Square after police issued a ban on the group's climate change protests: Extinction Rebellion said it would "let Trafalgar Square go" but added that the "International Rebellion continues"
The protests, which began last Monday, have seen more than 1,400 arrests: A number of demonstrations have been staged across the capital by the group, which is calling on the government to do more to tackle climate change. The protests were due to last two weeks: On Monday evening, police began clearing protesters from Trafalgar Square, some of whom had glued themselves to the ground as they refused to leave.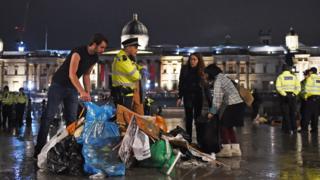 PA MediaProtesters gathered their belongings as police removed the last of the Extinction Rebellion demonstration
Earlier in the day, hundreds of protesters had targeted the City of London, blocking the crossroads outside the Bank of England: The Met said there had been 1,445 arrests by 14:00 on Monday, with 76 people charged with offences including criminal damage and obstruction of a highway.
#AceNewsDesk reports …………….Published: Oct.15: 2019:
Editor says #AceNewsDesk reports & #Brittius says are provided by Sterling Publishing & Media News Chat https://t.me/joinchat/Di_0I1O9-Gz1ogusgUArog and all our posts, links can be found at here Live Feeds https://acenewsroom.wordpress.com/ Ace News Services Posts https://t.me/AceSocialNews_Bot and thanks for following as always appreciate every like, reblog or retweet and free help and guidance tips on your PC software or need help & guidance from our experts AcePCHelp.WordPress.Com or you can follow our breaking news posts on AceBreakingNews.WordPress.Com or become a member on Telegram https://t.me/acebreakingnews all private chat messaging on here https://t.me/sharingandcaring