#AceNewsReport – Dec.10: Editor says that its not what someone says that people should listen too but what they do not say …as those that speak with a ' forked tongue ' has nothing but bad intent in their heart ….but those that speak the truth will inherit the earth. Amen
IFTTT, [Dec 10, 2019 at 19:05] One in four people wrongly believe they need ID to vote at general election https://t.co/heUp22jQPr http://twitter.com/Independent/status/1204471599795200001 December 10, 2019 at 06:43PM
Local Media Reports: The main political party leaders are continuing to push their election pledges to voters, as the campaign enters its final few day: Conservative leader Boris Johnson says in an open letter that Thursday's poll is "historic" and a choice to "move forwards" after #Brexit: Labour leader Jeremy Corbyn said it was a "chance to vote for hope" and he had "the most ambitious plan to transform our country in decades".
The UK goes to the polls on Thursday: Ahead of this, the candidates are travelling around the country in a bid to spread their election messages: Among the manifesto pledges being highlighted by the main UK parties on Sunday are: 
General election 2019: Parties in final campaign push as poll nears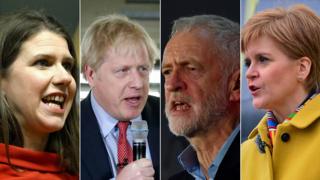 PA Media, Reuters, AFP
A Conservative promise to introduce an Australian-style points-based immigration system to control unskilled migration
A Labour plan to "head off the social care crisis" by offering free personal care for older people in England and an additional £10bn of funds by 2023-24
A "regional rebalancing" programme from the Lib Dems, which would see £50bn invested in infrastructure outside of London
Meanwhile, SNP leader Nicola Sturgeon is warning that "the very future of Scotland" is at stake in the election.
She is appealing to voters to back her party "to escape Brexit, protect the NHS, and to put Scotland's future in Scotland's hands".
And Liberal Democrat leader Jo Swinson told Sky News her party was looking to make "real progress" by increasing its number of MPs on Thursday: She added: "We will be absolutely working to stop Brexit, doing so in a co-operative way with others who share our values and share that goal."
In his letter to voters published in the Mail on Sunday, Mr Johnson says the election will be one that "shapes future decades", urging voters to create a "working Conservative majority government that will get Brexit done, end the uncertainty and allow Britain to move on"
#AceNewsDesk reports ………….Published: Dec.10: 2019: Read Full U.K. Election Report Here: Ace Daily News, [Dec 10, 2019 at 20:56] https://t.me/acenewsdaily/206846 via Ace Worldwide News Group https://ift.tt/2sibR4w
Editor says #AceNewsDesk reports are provided by Sterling Publishing & Media News here: https://t.me/SterlingPublishingPanel and all our posts, links can be found at here Live Feeds https://acenewsroom.wordpress.com/ and thanks for following as always appreciate every like, reblog or retweet and free help and guidance tips on your PC software or need help & guidance from our experts AcePCHelp.WordPress.Com or you can follow our breaking news posts as a member on Telegram https://t.me/acebreakingnews