#AceNewsReport – Jan.06: Reynhard Sinaga's luck ran out shortly before 6am on 2 June 2017. For at least two-and-a-half years, the Indonesian student had honed his tactic of inviting men back to his flat in central Manchester and handing them a spiked drink on arrival: But that morning, the drugs failed: Or perhaps he had became so complacent that he did not use any. Either way, his final victim, an 18-year-old he had met outside Factory nightclub, woke up face down with his jeans and boxer shorts around his knees………………..He realised Sinaga was sexually assaulting him and pushed his shorter and slighter attacker off, beating him up so badly he thought he might have killed him

How serial rapist posed as a good samaritan to lure victims
Reynhard Sinaga pretended to help his victims before drugging them and filming himself raping them
Helen Pidd – Last modified on Mon 6 Jan 2020 13.26 GMT
The teenager called 999 and an ambulance soon arrived at Montana House, where Sinaga had lived for five years, around the corner from the clubs where he found many of his victims: Sinaga was stretchered out and taken to hospital with a suspected bleed on the brain, while police arrested the teenager on suspicion of grievous bodily harm.
Detectives from Greater Manchester police soon realised they had detained the wrong person: They went to Manchester Royal Infirmary to question Sinaga and noticed he was behaving oddly. He was obsessed with being given his phone and repeatedly gave police the wrong password, trying to grab it from an officer when he reluctantly revealed the correct pin. After unlocking the phone, they discovered films showing Sinaga raping a series of apparently sleeping young men.
Another iPhone contained more films of more men: Months of analysis identified more than 195 different victims, who were all unconscious while Sinaga abused them. DI Zed Ali, the senior investigating officer, said it was "like trying to put together a million-piece jigsaw without the jigsaw cover".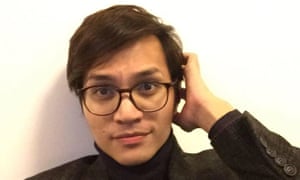 On one occasion, Sinaga was filmed on CCTV leaving the block where he lived and returning within a minute with his next victim. Photograph: Facebook
Investigators did not find any of the drugs Sinaga is believed to have used to knock his victims out: Police waited two days to interview the final complainant, by which time any drugs would have disappeared from his system. But the prosecution insisted the men must have been drugged, probably with gamma-hydroxybutyric acid – commonly known as GHB – or something with very similar effects: Sometimes known as liquid ecstasy, Gina or G, the drug is popular in the gay chemsex scene: It can cause the levels of sedation, unconsciousness and incapacity seen on the videos Sinaga recorded as he abused his victims. Regular users call it "G-ing out". On one of the clips, a mobile phone could be heard ringing at full volume but the victim did not stir; in many others, the men could be heard snoring loudly while Sinaga repeatedly raped them.
Many of Sinaga's victims remembered him giving them a drink when they went to his flat: Some recalled being promised a "party" or simply somewhere to sleep for the night, but then had a total blackout until the following day. Only one, a 21-year-old man raped four times by Sinaga in the early hours of 21 May 2017, told the jury there was something odd about the drink he was handed……….."It looked like water but there was a solution in it, almost like salt. It wasn't as transparent as water," the man said, giving evidence via video link. "I think I said to him, 'What's this? This isn't water', and he said, 'It's water, you need to drink water'."
The heterosexual man said he remembered nothing after that point until he woke up the next day in Sinaga's flat with what he thought was "the worst hangover ever": He noticed a used condom underneath a set of drawers – one of the rare times Sinaga is believed to have used protection – and asked him what had happened. "He said he had saved me, that I was passed out on the sidewalk next to Factory [a nightclub], and I said 'OK, thank you for giving me a place to stay'. It was plausible: I was really drunk," the man said.
In a WhatsApp group where he would boast of his sexual conquests, Sinaga once made reference to a "secret poison" he used to make heterosexual men fall in love with him: He sent the message after raping a 21-year-old man he had spotted trying to walk home after losing his bank card and running out of phone battery on a night out. Asked for his "formula" for seducing these men, Sinaga responded with: "Black magic yeah! Rey makes drink potion of gay love haha … Take a sip of my secret poison, I'll make you fall in love."…..The drugs were so effective that only Sinaga's final victim knew with any certainty that he had been assaulted. Until police knocked on their doors several years later, some remembered Sinaga only as the "good samaritan" who gave them a place to stay when they lost their friends or bank card, or their phone had run out of battery.
They thanked him for looking after them and felt guilty for imposing on him. Some even agreed to be his friend on Facebook: One returned with his girlfriend the following day to prove he had innocently spent the night at Sinaga's, rather than with another woman.
Forty-eight of Sinaga's victims agreed to give evidence against him at Manchester crown court, which meant the case had to be split into four separate trials, the first beginning in May 2018 and the final one finishing just before Christmas 2019: Some of the victims were shielded from Sinaga by screens or appeared via video link. Others were in open court.
A media blackout was imposed, banning any reporting so as not to prejudice the next jury, with the Crown Prosecution Service (CPS) keeping open the possibility of charging Sinaga with more of the hundreds of rapes and sexual assaults he had filmed….
#AceNewsDesk report ………….Published: Jan.06: 2020: Read Full Report Here: https://t.me/acenewsdaily/208898 – Ace Daily News, [Jan 6, 2020 at 18:47] How serial rapist posed as a good samaritan to lure victims Reynhard Sinaga pretended to help his victims before drugging them and filming himself raping them Helen Pidd Last modified on Mon 6 Jan 2020 13.26 GMT Man jailed for life for raping dozens of men in Manchester Reynhard Sinaga: the 'Peter Pan' student who […] OR via Ace Worldwide News Group https://ift.tt/2QPAspU
Editor says #AceNewsDesk reports are provided by Sterling Publishing & Media News here: https://t.me/SterlingPublishingPanel and all our posts, links can be found at here Live Feeds https://acenewsroom.wordpress.com/ and thanks for following as always appreciate every like, reblog or retweet and free help and guidance tips on your PC software or need help & guidance from our experts AcePCHelp.WordPress.Com or you can follow our breaking news posts as a member on Telegram https://t.me/acebreakingnews