#AceHealthReport – July.29: More than half of residents living in Mumbai's crowded slums may have contracted #COVID19 and are likely being infected at a much higher rate than those not living in slum areas, a new study has found: The study raises questions over the level of testing in India, which has the third highest number of confirmed cases in the world after the United States and Brazil: On Wednesday, India reported it had crossed 1.5 million reported coronavirus cases after more than half a million infections were recorded in just 12 days. It took nearly six months for India to reach its first 1 million confirmed cases – CNN.Com/

#

Coronavirus Report: More than half of India's Mumbai slum residents may have been infected with

#

Covid19 , and were likely to be ' asymptomatic ' a new study suggests but say that ' death-rate ' could be as low as 5%
Mumbai, India's financial capital with a population of more than 12 million, has confirmed more than 110,000 cases, including at least 6,180 deaths, according to official statistics: The city is in Maharashtra, the worst-hit state in India with more than 377,000 confirmed cases and at least 14,000 deaths:
The study released Tuesday – a collaboration between local authorities and medical institutions — found that 57% of the samples collected from slum residents tested positive for coronavirus antibodies, while only 16% of those living outside of slums tested positive, according to a news release Tuesday: The researchers used antibody tests — which are used to test whether a person had coronavirus in the past — to analyze more than 6,900 random samples collected from participants living in Mumbai in the first half of July: Antibody tests, often called serologic tests, look for evidence of an immune response to infection. In theory, that should show that the person had coronavirus in the past and has since recovered, but the US Centres for Disease Control and Prevention said in May that antibodies in some people can be detected within the first week of Covid-19 onset: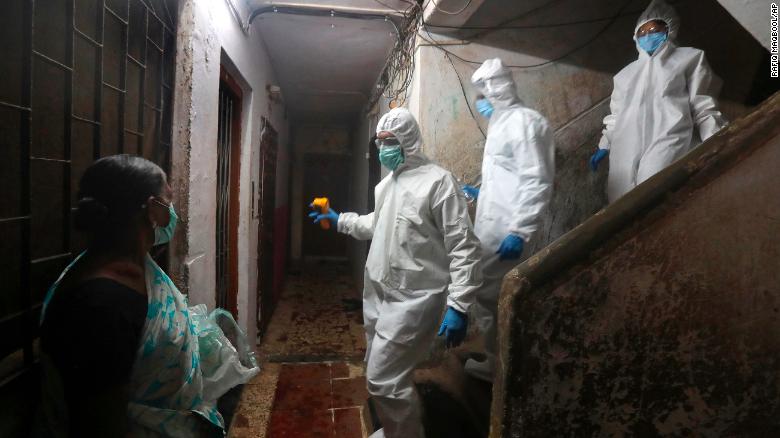 Health workers screen people for Covid-19 symptoms at a residential building in Dharavi, one of Asia's biggest slums, in Mumbai, India, Friday, July 17, 2020:
Researchers said that the high prevalence of coronavirus in slum areas could be due to population density and common facilities, while the lower prevalence outside of slums could be due to better social-distancing and hygiene practices: But the authors noted that a high proportion of the cases were likely asymptomatic and said there was a low rate of death among those who were infected — perhaps as low as 0.05%. …"This could be attributed to effective containment efforts and active measures to isolate symptomatic cases by (the Mumbai city government)," the researchers said in their report: One reason why a relatively high proportion of residents appeared to have been infected despite lockdown measures could be that people outside slum areas were dependent on those living in slums for services such as gardening, cleaning and driving, said Utture Shankar, the president of the Maharashtra Medical Council, which is advising the government on its Covid-19 efforts: Although the samples were only taken from three wards, other parts of the city are likely to see similar results when tests in those areas are completed, Shankar said.
India has a relatively low Covid-19 mortality rate per capita compared to other hard-hit countries, with only 2.47 deaths per 100,000, compared with 45.24 in the US and 68.95 in the United Kingdom, according to Johns Hopkins University data: Experts have pointed to India's relatively young population as a possible explanation for the lower mortality rate, as the young are less susceptible to dying from coronavirus: The potential impact of coronavirus on India's slum areas has been a concern since the pandemic began, with doctors warning that an outbreak would be unmanageable in places where residents live cheek-by-jowl in tiny homes with no running water, and share toilet facilities with several other families.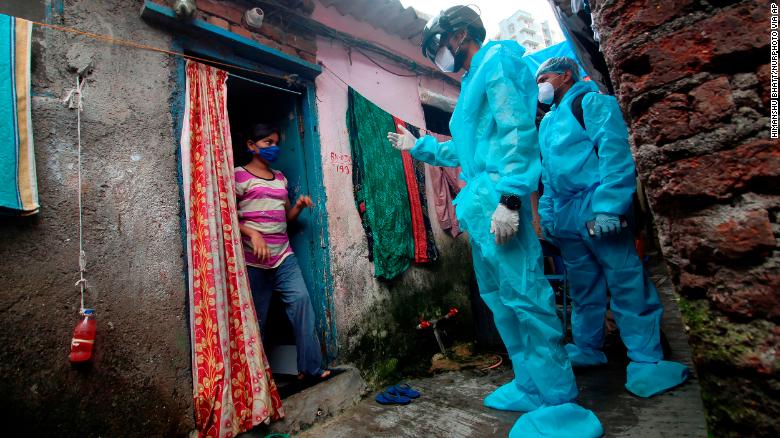 A healthcare worker wearing checks the temperature of a resident during a medical check-up at a slum in Mumbai, India on July 20, 2020: Indian officials took steps to limit the spread of coronavirus in slum areas. For example, Shankar said authorities had taken measures such as regularly cleaning bathroom facilities, and had delivered free food to slum residents in an effort to reduce the number of people going outside to eat: As of Monday, there were 627 slums in Mumbai that were active containment zones:
#AceHealthDesk report ………..Published: July.29: 2020:
Editor says #AceNewsDesk reports by https://t.me/acenewsdaily and all our posts, also links can be found at here for Twitter and Live Feeds https://acenewsroom.wordpress.com/ and thanks for following as always appreciate every like, reblog or retweet and free help and guidance tips on your PC software or need help & guidance from our experts AcePCHelp.WordPress.Com