#AceNewsReport – Dec.26: Ms Baloch, 37, a campaigner from the restive region of Balochistan in western Pakistan, was a vocal critic of the Pakistani military and state: Toronto police issued an appeal after she went missing on Sunday and later confirmed that her body had been found: Police said there were "not believed to be any suspicious circumstances"

Karima Baloch Update: Pakistani rights activist found dead in Toronto could be foul play says husband ……
In 2016: Ms Baloch was named in the BBC's annual list of 100 inspirational and influential women for her work as a campaigner: She left Pakistan in 2015, after terrorism charges were levelled against her:
She continued to campaign in exile for the rights of people in Balochistan, both on social media and in person: And the threats followed her, according to Lateef Johar Baloch, a close friend and fellow activist who also lives in Toronto: He told the BBC that Ms Baloch had recently received anonymous threats warning someone would send her a "Christmas gift" and "teach her a lesson". ………….Ms Baloch's sister told the BBC Urdu service on Tuesday that her death was "not only a tragedy for the family, but also for the Baloch national movement"…………" She didn't go abroad because she wanted to, but because… open activism in Pakistan had become impossible," Mahganj Baloch said:
Husband says foul play cannot be ruled out after body of 37-year-old dissident discovered in Toronto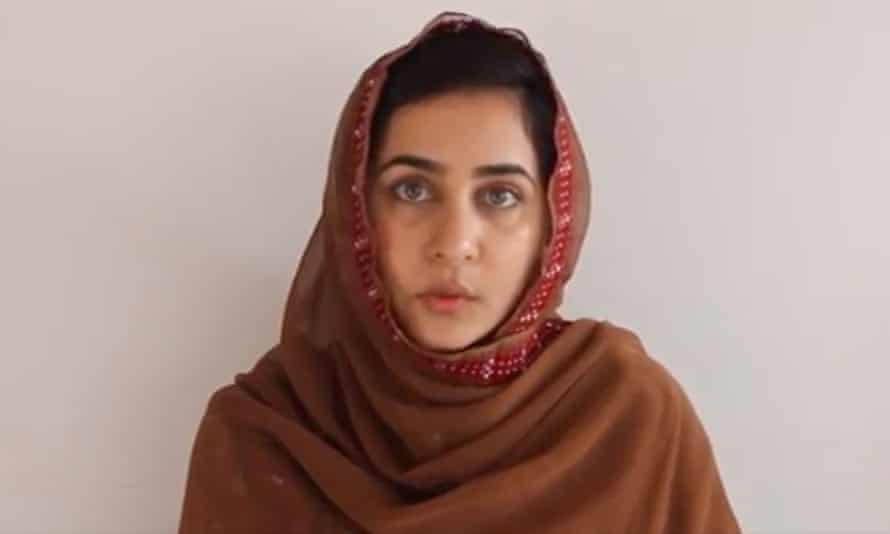 Baloch, 37, was granted asylum in Canada in 2016. Photograph: Baloch Students Organization Azad
Amnesty International said: "The death of activist Karima Baloch in Toronto, Canada is deeply shocking and must be immediately and effectively investigated. The perpetrators must be brought to justice without recourse to the death penalty."
Since moving to Canada, Baloch had continued to be vocal about human rights abuses in her home province and across Pakistan. She regularly spoke at conferences, addressed the media and attended protest rallies in Canada:
" She had received threats from unknown Pakistani numbers on WhatsApp after a few Baloch students were abducted in late 2017," said Johar. "Those threats also mentioned me. She was asked to come back to Pakistan and told that if she comes back, the cases against her would be quashed and those abducted students would be freed."
The Swedish authorities ruled out foul play in the death of Hussain but an autopsy did not confirm an exact cause of death. A friend of the family who has seen the autopsy report and police investigation told the Guardian: "The family was not convinced by the investigation and they have requested for more evidence from the Swedish authorities. Their request has yet to be entertained."
Balochistan province has been host to a long-running separatist insurgency: Ms Baloch was a well-known activist in the region; she was the first female head of the Baloch Students' Organisation (BSO) – a banned activist group:
Her first public exposure as an activist was in 2005, in Balochistan's Turbat area, where she attended a protest over missing persons carrying the picture of one of her missing relatives: Activists in Balochistan say thousands of campaigners have gone missing in recent years: The Pakistani military denies accusations that it's brutally suppressing the region's aspirations for autonomy: Several members of Ms Baloch's extended family had been linked to the Baloch resistance movement over the years, and two of her uncles – a brother of her mother and a brother of her father – had gone missing. Their dead bodies were later found: She joined the BSO in 2006, serving in several different positions in the following years. The group was officially banned by the government in 2013, but its existence continued and Ms Baloch became chairperson in 2015:
Only a few months later, she went into exile after terrorism charges were filed against her: In Toronto, she married a fellow activist, Hamal Baloch, and remained active both on social media and in human rights activities in Canada and Europe: Reacting to the news of Ms Baloch's death, the Balochistan National Movement (BNM) announced a 40-day mourning period.
Earlier this year, another former Baloch resident living in exile, journalist Sajid Hussain Baloch, went missing and was later found dead. Mr Baloch, who was related to Ms Baloch, was living in Sweden. Swedish police ruled out any "visible wrongdoing" and the cause of death was ruled to be drowning:
#AceNewsDesk report ……………Published: Dec.26: 2020:
Editor says #AceNewsDesk reports by https://t.me/acenewsdaily and all our posts, also links can be found at here for Twitter and Live Feeds https://acenewsroom.wordpress.com/ and thanks for following as always appreciate every like, reblog or retweet and free help and guidance tips on your PC software or need help & guidance from our experts AcePCHelp.WordPress.Com