#AceNewsReport – Jan.19: major incident has been declared in South Yorkshire as Storm Christoph is set to bring widespread flooding to parts of England: The Met Office issued an amber weather warning for rain in Yorkshire and the Humber, the North West, East Midlands and the east of England: The Environment Agency said the combination of heavy rain and snowmelt created a "volatile situation"

MET Office Report: Storm #Christoph is coming to bring heavy rain and flooding to parts of England
Persistent heavy rain will lead to significant accumulations of rain which could lead to flooding in some areas. An Amber National Severe Weather Warning for rain has been issued for parts of northern, central and eastern England. Separate Yellow warnings for rain cover Northern Ireland, Wales, southern Scotland and the rest of England.
The Amber warning area includes Leeds, Manchester, Sheffield, Wakefield, Lincoln, Nottingham, Leicester and Peterborough and is valid from 0600 on Tuesday through to midday on Thursday. Within the Amber warning area rainfall accumulations could reach up to 200mm in parts of the southern Pennines and northern Peak District, 40-70mm could be seen more widely.
As the low pressure system moves out into the North Sea on Wednesday night and through Thursday, it will pull in colder air from the north west. This cold air will make precipitation on the back edge of the system fall as snow over parts of Scotland. Two separate Yellow warnings for snow have been issued, within the warning areas as much as 20-30cm of snow could accumulate over 400m, with 20-15cm down to 200m in elevation. A couple of centimetres of snow could even accumulate to lower levels. Some snow could also accumulate over the highest parts of the Pennines however this is less likely to be disruptive.
Chief Meteorologist Neil Armstrong, said "Storm Christoph will bring a mix of notable weather hazards across the UK over the next few days. Some locations in central Northern England and Wales could see a month's rain fall in just a couple of days, with up to 200mm possible over higher ground. These amounts of rainfall present a real threat of flooding and people should keep a close eye on flood warnings from the Environment Agency, Natural Resources Wales and SEPA.
"As the system moves away into the North Sea on Wednesday night and Thursday morning we start to see the potential for hazardous snow as cold air is pulled across the UK from the north west. Notable accumulations of snow, up to 30cm in places, are possible in parts of Scotland. With the cold air in place across the whole of the UK temperatures will drop as we move into the weekend with a return to overnight frosts for many."
Storm Christoph: Flood warnings in parts of England
55 minutes ago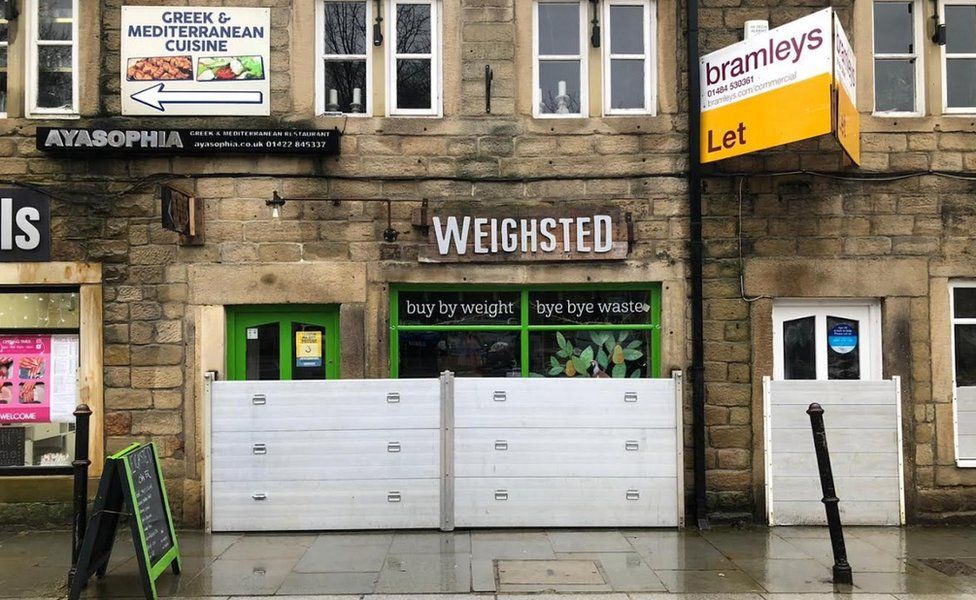 In Hebden Bridge, West Yorkshire, residents have prepared their homes and businesses ahead of the heavy rain
Sandbags were laid in at-risk areas, with up to 70mm (2.75in) of rain due.
In isolated spots, particularly in the northern Peak District and parts of the southern Pennines, 200mm (7.87in) could be possible.
In the amber warning area, the Met Office said there was a "danger to life" due to fast-flowing or deep floodwater, and told some communities they could be "cut off" by flooded roads.
It also predicted delays and cancellations to public transport, with the amber warning in place until 12:00 GMT on Thursday.
Ros Jones, mayor of Doncaster, said key risk areas had been inspected over the past 36 hours, with the delivery of sandbags continuing on Tuesday.
"I do not want people to panic, but flooding is possible so please be prepared," she said.
The Environment Agency issued 11 flood warnings, meaning to expect flooding with immediate action required, covering parts of Yorkshire, Cambridgeshire, Lincolnshire and Leicestershire as of Tuesday morning.
A further 110 flood alerts, meaning flooding is possible, were issued across northern England, the Midlands and the east.
Catherine Wright, acting executive director for flood and coastal risk management at the Environment Agency, said: "That rain is falling on very wet ground and so we are very concerned that it's a very volatile situation and we are expecting significant flooding to occur on the back of that weather."
She said the agency would be working with local authorities to help with evacuation efforts should a severe flood warning be issued, adding: "If you do need to evacuate then that is allowed within the Covid rules the Government has."
Discussing the different levels of flood warnings, she said: "If you receive a flood alert, please pack valuables like medicines and insurance documents in a bag ready to go.
"If you receive a flood warning, please move valuables and precious possessions upstairs and be ready to turn off gas, electricity and water.
"If you receive a severe flood warning, which means you will be evacuated, please listen out and take heed of the advice from the local emergency services."
Barry Greenwood, from West Yorkshire's Upper Calder Valley Flood Prevention Group, said he felt "sick" with worry.
"I went round after the last [flood], people were there with their head in their hands, thinking 'what am I going to do now?'," he said.
A yellow rain alert is also in place for Wales, Northern Ireland, central and northern England and southern Scotland on Tuesday.
This yellow warning extends to the rest of England from Wednesday, with a yellow alert for snow and ice in north east Scotland.
Highways England advised drivers to take extra care on motorways and major A roads, while the RAC breakdown service said motorists should only drive if absolutely necessary.
UK weather LIVE – Storm Christoph sparks 'major incident' and 'danger to life' flood warnings after rain & snow
just now
A 'MAJOR incident' has been declared in South Yorkshire as Storm Christophe batters the UK.
The Met Office has issued a "danger to life" warning, while The Environment Agency described torrential rain and melting snow as a "volatile situation", with ten flood warnings, and 109 flood alerts in place.
Ros Jones, mayor of Doncaster, declared a major incident in South Yorkshire, telling locals: "I do not want people to panic, but flooding is possible, so please be prepared."
Eight inches of rain is expected in the coming days, as well as snow and gales.
Councils up and down the country are already preparing for possible evacuations should a severe "danger to life" flood warning be issued.
ENVIRONMENT AGENCY ISSUES 15 FLOOD WARNINGSIt comes as floodwaters have already risen in parts of the country, with a motorist pictured stranded in Leicester, and workmen in York prepared flood defences.
A major incident has already been declared in South Yorkshire in anticipation of flooding that could arrive in the coming days.
Mayor of Doncaster Ros Jones tweeted on Monday evening: "Key risk areas have been inspected over the past 36 hours, sand-bags have been handed out in flood-risk areas & will continue over the next 24 hours."
UK FACES 'TIMELINE OF DIFFERENT WEATHER HAZARDS' Weather warnings for heavy rain are in force across the UK, but the unsettled conditions could also bring the risks of wind and snowfall.
Met Office spokesman Oli Claydon said that rain is "initially" the main concern but the picture will change as low pressure could introduce colder air.
He explained: "As we go through the week and the low pressure that is bringing these fronts of rainfall that are persistent and heavy over the next few days.
"Also as the low pressure moves away it pulls down a north-westerly airflow which brings much colder air across the UK again which then presents a further risk of snow."
Mr Claydon described the situation as "a timeline of different hazards as we go through the week but the first hazard is certainly of rain and that's reflected in the warnings at the moment".
PICTURED: YORK BUILDS FLOOD DEFENCES
Workmen prepare flood defences near the River Ouse, York, as Storm Christoph is set to bring widespread flooding,Credit: PA:Press Association


#

AceNewsDesk report …………..Published: Jan.19: 2021:
Editor says #AceNewsDesk reports by https://t.me/acenewsdaily and all our posts, also links can be found at here for Twitter and Live Feeds https://acenewsroom.wordpress.com/ and thanks for following as always appreciate every like, reblog or retweet and free help and guidance tips on your PC software or need help & guidance from our experts AcePCHelp.WordPress.Com