#AceNewsReport – Feb.16: In Texas, a surge in demand for electricity has led to widespread power cuts: The state is bracing for another icy storm later on Tuesday: In pictures: Snow blankets Texas
'Winter storm tightens grip in southern states according to: The National Weather Service (NWS) said more than 150 million Americans were now under winter storm warnings'
'Kentucky, Mississippi, Alabama and Oklahoma are among states affected: The north-west state of Oregon has also seen severe weather'
Southern, Eastern US to be hit with more rain, snow and ice
Storm to reach Mid-Atlantic, Northeast later this week
Janice Dean5 hours ago
A historic active weather pattern will bring another round of rain, snow and ice from Texas to New England right behind the storm that brought record snow, dangerous cold and accumulating ice to millions across the South. 
Today, heavy snow and freezing rain will spread across the Great Lakes and New England with measurable ice possible in patches.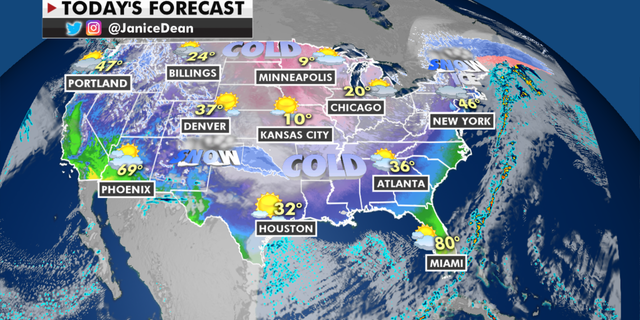 The trailing cold front from this system will bring heavy rain and possible severe weather for the Southeast and Florida. 
TORNADO HITS NORTH CAROLINA, KILLING 3 
The dome of Arctic air that has spread as far south as the Gulf Coast will continue today before things begin to moderate a little bit starting on Wednesday. Windchill warnings are up where real feel temperatures will dip to dangerous levels below zero.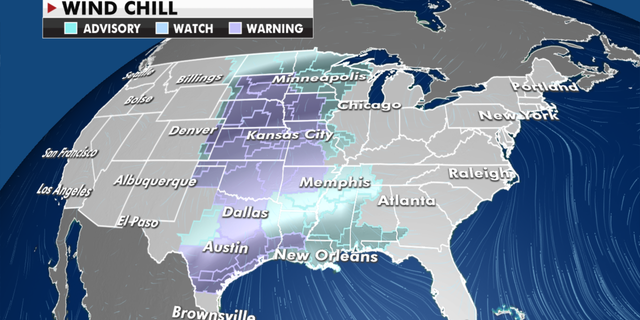 The next round of winter weather will spread over the Southern Plains, bringing more measurable snow and ice.   
An area of low pressure will track across the lower Mississippi Valley into the Ohio and Tennessee valleys with 3-6 inches of snow and accumulating ice, which once again could bring incredibly dangerous travel conditions, more power outages and tree damage.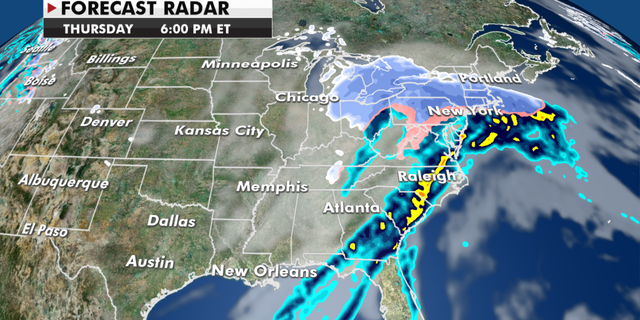 This storm will move up into the Mid-Atlantic and Northeast Thursday and Friday, bringing more possible icy conditions to this heavily populated region. Janice Dean currently serves as senior meteorologist for FOX News Channel (FNC). In addition, she is the morning meteorologist for FNC's "FOX and Friends" (weekdays 6-9AM/ET). She joined the network in January 2004. She is the author of several books. Her latest is "Mostly Sunny" (Harper Collins, March 5, 2019) Click here for more information on Janice Dean.
The freezing storm even reached northern parts of Mexico where more than four million homes and businesses lost power early on Monday.
EPAResidents of Ciudad Juarez, in Chihuahua state, Mexico, were out enjoying the snow
US President Joe Biden has approved a a state of emergency in Texas, which has seen some of its coldest temperatures in more than 30 years – some areas hit 0F (-18C) on Sunday. 
The high demand for electricity in the state has caused the power grid to fail. Rolling blackouts have been imposed in some areas to conserve power for hospitals, police and fire stations, leaving several million people without electricity.
The crisis was worsened when nearly half the state's wind power generation was knocked out by the storm on Sunday. Wind power is the state's second-largest source of electricity.
ReutersThe US state of Texas has seen some of its coldest temperatures in more than 30 years
Icy roads have also led to a spate of traffic accidents and people have been advised to avoid travel where possible. 
In Houston, nearly 120 road crashes were reported on Sunday alone. A pile-up on a major highway near Oklahoma City during a snowstorm on Sunday left several lorries on fire.
The George Bush Intercontinental Airport in Houston and the city's Hobby Airport were both closed until at least Tuesday.
Travellers in several states were warned that flights could be delayed or cancelled.
Texas Governor Gregg Abbott has urged "all Texans to remain vigilant against the extremely harsh weather".
Temperatures in the city of Dallas have been colder than in Anchorage, Alaska, CBS News reported.
The NWS said unusual meteorological conditions had allowed an "Arctic outbreak" that originated just above the US-Canada border to spill out into and across the US.
Getty ImagesRunways at Nashville airport in Tennessee have had to be cleared of ice and snow
"Over 150 million Americans are currently under winter storm warnings, ice storm warnings, winter storm watches, or winter weather advisories as impactful winter weather continues from coast to coast," the NWS said in a statement.
"Hundreds of daily low maximum and minimum temperatures have been/will be broken during this prolonged 'polar plunge', with some February and even all-time low temperature records in jeopardy."
Getty ImagesIcy roads and pavements made deliveries tricky in Louisville, Kentucky
Up to 12in (30cm) of snow are expected across parts of the southern Plains – the large area that spans parts of Texas, Oklahoma and Kansas – according to NWS meteorologist Marc Chenard.
"Typically, we just don't have quite this much cold air in place that far south," he said.
In Louisiana, some local authorities have imposed curfews to keep people off the icy roads. The state is also suffering power cuts and traffic disruption.
#AceNewsDesk report ………Published: Feb.16: 2021:
Editor says #AceNewsDesk reports by https://t.me/acenewsdaily and all our posts, also links can be found at here for Twitter and Live Feeds https://acenewsroom.wordpress.com/ and thanks for following as always appreciate every like, reblog or retweet and free help and guidance tips on your PC software or need help & guidance from our experts AcePCHelp.WordPress.Com