#AceNewsReport – Feb.17: Mass protests have been taking place since the military coup on 1 February: The military has heightened its presence on the streets and deployed armoured vehicles in several cities in recent days in further signs of a potential crackdown on opposition demonstrations:
Myanmar Coup: 'Army spokesman Brig Gen Zaw Min Tun once again claimed that the military took control after alleged voter fraud, but did not provide any evidence' He also said a second criminal charge had been filed against the detained opposition leader Aung San Suu Kyi'
In the military's first news conference since toppling the government, spokesman Zaw Min Tun said the armed forces would not remain in power for long, and promised to "hand power back to the winning party" following a planned election:He did not provide a date for the vote.
16 minutes ago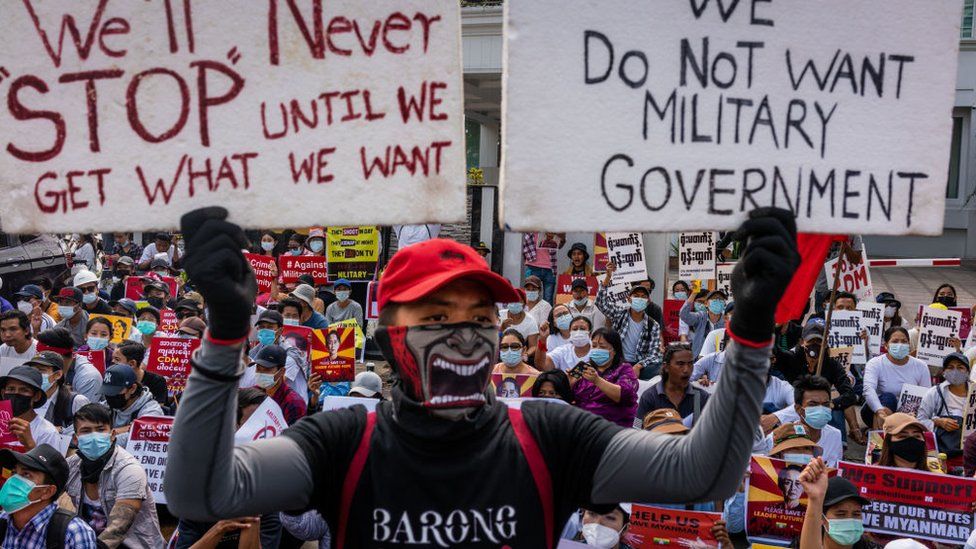 What else did the military say?
Addressing reporters in the capital Nay Pyi Taw on Tuesday, Zaw Min Tun said an additional charge had been filed against Ms Suu Kyi, saying only that it related to an alleged violation of the country's Natural Disaster Law.
Ms Suu Kyi was earlier charged with possessing illegally imported walkie-talkies. The BBC's South East Asia correspondent Jonathan Head says this charge lacks credibility. 
Zaw Min Tun said Ms Suu Kyi had been confined to her home for her own safety, and that she was comfortable and healthy.
ReutersBrig Gen Zaw Min Tun said Ms Suu Kyi had been confined for her own safety
He used the news conference to accuse anti-coup protesters of violence and intimidation against the security forces. 
A police officer had been wounded by "lawless actions" and had later died from his injuries, he said.
Protesters have clashed with security officers and there have been recent reports of police using tear gas and rubber bullets to disperse crowds. 
One protester is in critical condition after being shot in the head. 
Mya Thwe Thwe Khaing, 19, was hurt while taking part in a protest – though it is not clear exactly what she was hit by. Rights groups say her wound is consistent with one from live ammunition. 
Zaw Min Tun said some measures taken to control crowds of protesters were in response to bricks being thrown at police. 
The UN has warned Myanmar's military – which on Monday announced penalties of up to 20 years in prison for those opposing the coup leaders – that there would be "severe consequences" for any brutal suppression of the ongoing anti-coup protests there.
What else is happening in Myanmar?
Protesters were out again early on Tuesday, with crowds gathering in cities like Yangon and Mandalay. BBC Burmese reports monks were seen heading out onto the streets of Yangon in a mostly peaceful scene. 
ReutersProtesters opposed to the military coup block the railway between Yangon and the southern city of Mawlamyine
Outside the city, protesters were pictured lying down on the tracks in an attempt to disrupt services. According to Reuters, train services between Yangon and the southern city of Mawlamyine were blocked as a result. 
The turnout at recent protests appeared to have grown smaller than at the ones seen last week, which saw tens of thousands of people in attendance, as the military has stepped up its presence. Myanmar coup: How did we get here?
Meanwhile, access to the internet in Myanmar was restored on Tuesday morning after it had been cut off for a second night.
The junta has been regularly blocking the web to try to stifle dissent since the coup began.
On Saturday, the military gave itself the power to make arrests, carry out searches and hold people for more than 24 hours without a court ruling, while telling journalists not to describe the military's takeover as a coup.
With the reports of violent clashes, residents in several cities are reported to have formed night-watch groups to deter mobs rumoured to have been dispatched by the military to cause unrest.
Myanmar – the basics
Myanmar, also known as Burma, was long considered a pariah state while under the rule of an oppressive military junta from 1962 to 2011
A gradual liberalisation began in 2010, leading to free elections in 2015 and the installation of a government led by veteran opposition leader Aung San Suu Kyi the following year
In 2017, a deadly crackdown by Myanmar's army on Rohingya Muslims sent more than half a million fleeing across the border into Bangladesh, in what the UN later called a "textbook example of ethnic cleansing"
Aung San Suu Kyi and her government were overthrown in an army coup on 1 February following a landslide NLD win in November's elections
Myanmar's detained Aung Suu Kyi faces delays in detention as military enforce tougher order on protesters
Posted 10h ago
Myanmar's ousted leader, Aung San Suu Kyi, has been remanded in custody for two more days, her lawyer has told media, as protesters begin gathering again to demand her release and an end to military rule.
Security forces in Myanmar deployed armoured vehicles in major cities two weeks after the military overthrew Ms Suu Kyi's government and detained her on charges of illegally importing six walkie-talkie radios.
Her detention was due to expire on Monday (local time) but her lawyer, Khin Maung Zaw, told media a judge at a court in the capital, Naypyitaw, had said she will be remanded until February 17. 
"Whether it is fair or not, you can decide yourself," Mr Maung Zaw said.
A member of the lawyer's team said the judge had spoken to Ms Suu Kyi via video conferencing and she had asked if she could hire a lawyer.
The February 1 coup and the arrest of Ms Suu Kyi and others have sparked the biggest protests in Myanmar in more than a decade.Myanmar's internet blackoutWhen they came for Myanmar's leaders, they cut off the internet. But plunging the country into cyber darkness has precedent in Myanmar and it comes straight out of the authoritarian playbook.Read more
Hundreds of thousands have taken to the streets across the country for 10 days to denounce the coup, which derailed the South-East Asian country's tentative transition to democracy, and to call for Ms Suu Kyi's release.
The unrest has revived memories of bloody outbreaks of opposition to almost half a century of direct army rule, which ended when the military began a process of withdrawing from civilian politics in 2011.
On Sunday, police opened fire to disperse protesters at a power plant in northern Myanmar, although it was unclear if they were using rubber bullets or live rounds and there was no word on casualties.
'These are signs of desperation'
The army has been carrying out nightly arrests and has given itself sweeping powers to detain people and search private property. 
On Sunday, it published penal code amendments aimed at stifling dissent.
"It's as if the generals have declared war on the people," UN Special Rapporteur Tom Andrews said on Twitter.
"Late night raids; mounting arrests; more rights stripped away; another internet shutdown; military convoys entering communities. These are signs of desperation. Attention generals: You WILL be held accountable."
Western countries — from the European Union, Britain, Canada and 11 other nations — issued a statement late on Sunday calling on security forces to "refrain from violence against demonstrators and civilians, who are protesting the overthrow of their legitimate government".From winning a landslide election to being detainedHow Myanmar's leader Aung San Suu Kyi went from a commanding victory to being arrested by her country's military in just two months.Read more
The amendments to the penal code set out a 20-year prison term for inciting hatred of the Government or military, or hindering the security forces engaged in preserving state stability.
Hindering the security forces carrying out their duties is punishable by seven years in prison while spreading fear, fake news or agitating against government employees gets three years, according to the amendments posted on a military website.
In the latest sign of disruption by workers, the Department of Civil Aviation said in a statement many staff had stopped coming to work since February 8, causing flight delays.
Some trains have also stopped running, media reported.
Government worker strike 
As well as the demonstrations around the country, the military has faced a strike by government workers as part of a civil disobedience movement that has crippled many functions of the state.
More than a dozen police trucks with four water cannon vehicles were deployed near the Sule Pagoda in central Yangon, which has been one of the main demonstration sites in the commercial capital, as groups of protesters began gathering peacefully outside the central bank and the Chinese embassy.Burmese community in Australia in shock after military coupMembers of Australia's Burmese community have been left in a state of shock and disbelief after the military detained Myanmar's de facto leader Aung San Suu Kyi.Read more
At the bank, several hundred protesters held up signs calling for colleagues to join the CDM — the civil disobedience movement — and stating their refusal to accept the coup.
Domestic media showed protesters gathering in the capital, Naypyitaw, many carrying pictures of Ms Suu Kyi with the message: "We want our leader".
Shortly after midnight, residents reported an internet outage until about 9:00 am (local time), when connections were restored.
In the early days after the coup, the internet was cut across the country.
The junta has ordered civil servants back to work, threatening action.
At least 400 people have been detained since the coup, the monitoring group Assistance Association for Political Prisoners said.
Ms Suu Kyi's party won a 2015 election and another on November 8, but the military said the vote was marred by fraud and used that complaint to justify their coup. 
The electoral commission dismissed accusations of fraud.
Reuters/ABC/BBC
#AceNewsDesk report …………Published: Feb.17: 2021:
Editor says #AceNewsDesk reports by https://t.me/acenewsdaily and all our posts, also links can be found at here for Twitter and Live Feeds https://acenewsroom.wordpress.com/ and thanks for following as always appreciate every like, reblog or retweet and free help and guidance tips on your PC software or need help & guidance from our experts AcePCHelp.WordPress.Com