#AceNewsReport – Apr.23: Palestinians clashed with Israeli police amid a dispute over evening gatherings at Damascus Gate:
East Jerusalem clashes leave over 100 injured according to BBC Middle East & according to Reuters in Jerusalem have been rising for several days it follows nights of confrontations in the Israeli-occupied sector amid rising nationalist and religious tensions' Reuters said police tried to keep the rival groups apart, detaining a number of protesters'
Israeli police and Palestinians face off in Jerusalem amid dispute over gatherings at Damascus Gate
Posted 1h ago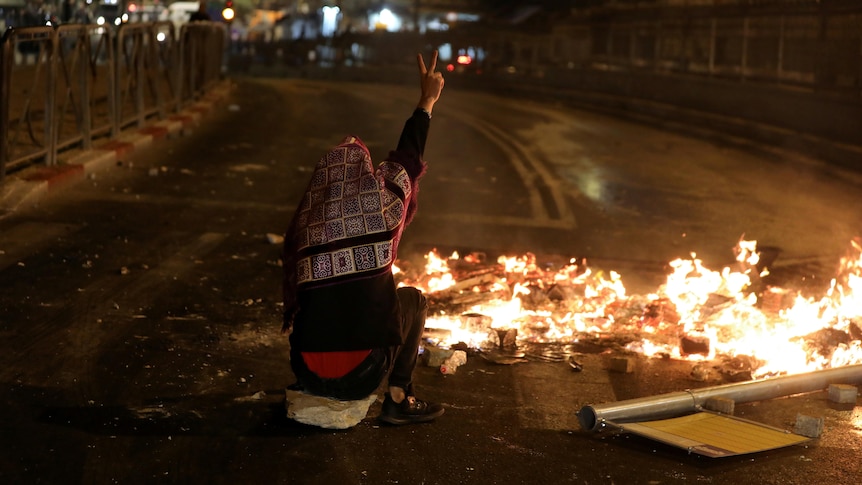 The clashes happened after iftar, the breaking of the daytime fast during the Muslim holy month of Ramadan on Thursday (local time) while Israeli protesters gathered near.
Meanwhile, a video on social media app TikTok purporting to show a Palestinian slapping an ultra-Orthodox Jewish man on Jerusalem's light rail train has drawn protests by Israelis and calls by some right-wing politicians for tougher police action.
Nightly clashes and other violent incidents between Palestinians and Israelis in Jerusalem during Ramadan have laid bare simmering tensions in the holy city.
The incidents, which followed the start of Ramadan on April 13, threaten to break a sustained period of relative quiet in a contested city at the core of the Israeli-Palestinian conflict.
Palestinians have said police tried to prevent them from holding their usual Ramadan evening gatherings outside Damascus Gate, a historic landmark on the north side of Jerusalem's walled Old City.
Israeli police have fired stun grenades and sprayed foul-smelling skunk water to disperse the Palestinians, who in turn have discharged fireworks towards them.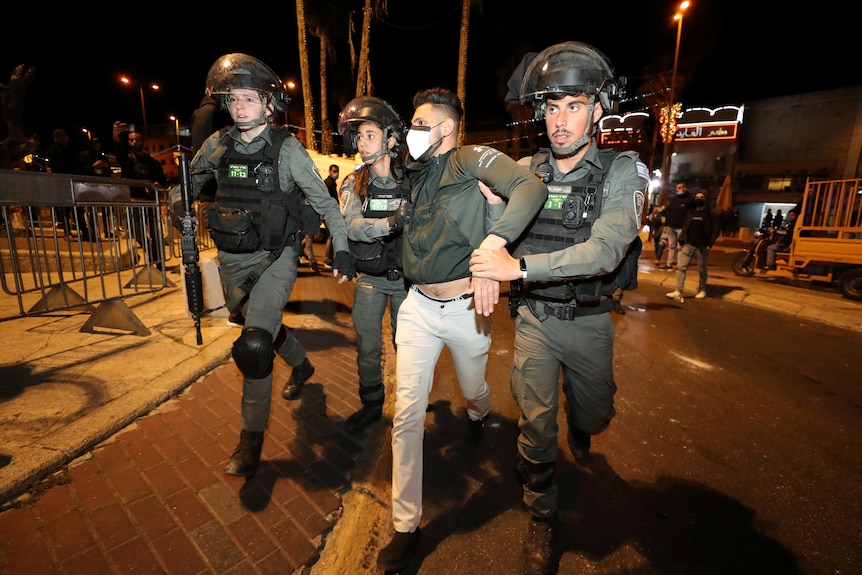 The measure, according to Israeli police, is part of its efforts to ensure that tens of thousands of Muslim worshippers have safe access to the main Islamic prayer site in the Old City, known as the Noble Sanctuary.
"Since Damascus Gate is the main way to reach and enter the Old City, police forces carry out field activities using various means to prevent friction, violence, and confrontation, and to maintain order and security in the area," a police spokesman said.
He also said they will "act firmly against violence and riots of all kinds" to preserve public safety.
There have been some street skirmishes between Palestinian and Israeli civilians. Police arrested four people in one such fight on Jaffa Road in downtown Jerusalem on Wednesday night, Israeli media reported.
"Jews won't be scared to walk around Jerusalem!" said a leaflet distributed on WhatsApp calling for Jewish protests at Damascus Gate on Thursday night.
Israel claims all of Jerusalem, including the eastern sector captured in the 1967 Middle East war, as its capital.
Palestinians seek to make East Jerusalem, including its Muslim, Christian and Jewish holy sites, the capital of a future state.
The violence erupted as police tried to keep Palestinians and ultra-nationalist Jewish protesters apart.
East Jerusalem has long been a flashpoint, with an uneasy coexistence there between Jews and Arabs.
Israel has occupied East Jerusalem since the 1967 Middle East war and considers the entire city its capital, though this is not recognised by the vast majority of the international community. Palestinians claim East Jerusalem as the future capital of a hoped-for independent state.
The worst fighting in days broke out on Thursday night after hundreds of Jewish extremists from the ultra-nationalist Lehava group marched towards the Damascus Gate entrance of Jerusalem's Old City – where large numbers of Palestinians had gathered – chanting "Death to Arabs".
Stones and bottles were thrown between the two sides, and police used stun grenades, tear gas and water cannon to try to disperse the crowds.
The Palestinian Red Crescent said at least 100 Palestinians were injured, while police said 20 officers were hurt. More than 50 people were arrested.
Tensions in East Jerusalem have escalated since the start of the Muslim holy month of Ramadan on 13 April. Palestinians have clashed with police, accusing them of erecting barriers to stop them from congregating on steps outside Damascus Gate to break the daytime fast. Police say the measures are intended to help pedestrian flow into the Old City.
Jews have also been angered by a spate of TikTok videos showing Palestinians assaulting members of the ultra-Orthodox community, including an attack on two ultra-Orthodox boys on Jerusalem's light rail. The videos were given as a reason by Lehava for its march to Damascus Gate, in what it said would be a show of "national honour".Why the ancient city of Jerusalem is so important
Reuters/BBC Middle East/ABC/
#AceNewsDesk report ………..Published: Apr.23: 2021:
Editor says #AceNewsDesk reports by https://t.me/acenewsdaily and all our posts, also links can be found at here for Twitter and Live Feeds https://acenewsroom.wordpress.com/ and thanks for following as always appreciate every like, reblog or retweet and free help and guidance tips on your PC software or need help & guidance from our experts AcePCHelp.WordPress.Com