#AceNewsReport – May.06: PC Benjamin Monk is on trial charged with murdering Aston Villa star Dalian Atkinson in Shropshire in 2016:
BIRMINGHAM: Dalian Atkinson: On Tuesday, jurors also heard PC Monk, 42, had kicked Mr Atkinson in the head with such force, imprints of his bootlaces were left…….As prosecutors claim he and PC Mary-Ellen Bettley-Smith, who is charged with assault, used excessive force. Both deny wrongdoing.
1 hour ago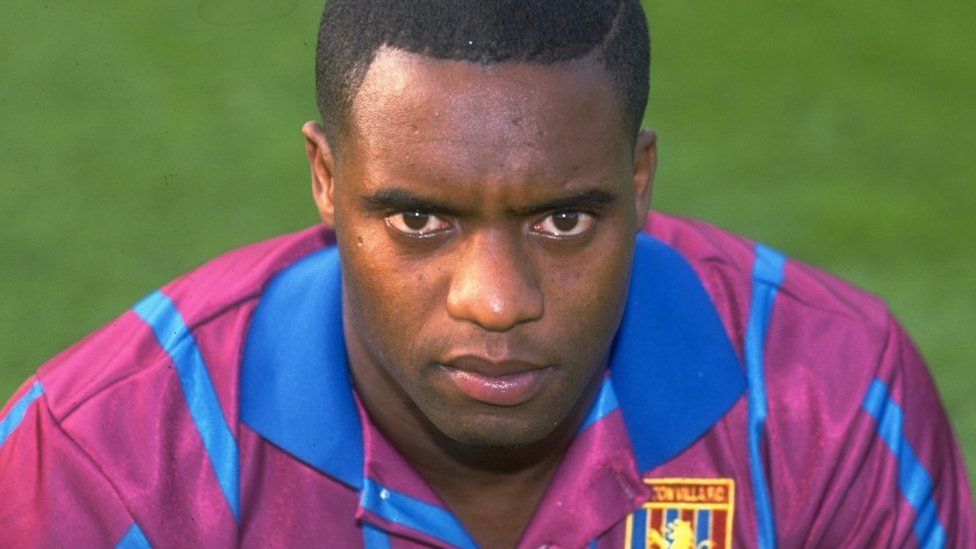 Jurors heard Mr Atkinson was Tasered six times longer than standard.
The 48-year-old died in the early hours of 15 August 2016 after the officers responded to reports of him acting erratically outside his father's house in Meadow Close, Telford.
Prosecution QC Alexandra Healy told Birmingham Crown Court that in an interview under caution after the incident, PC Monk had said the officers arrived to hear a "large row" and Mr Atkinson's behaviour made him "fearful for himself, his partner and whoever was in the property".
PA MediaMary Ellen Bettley-Smith (L) and Benjamin Monk (R) responded to a call-out to Mr Atkinson's father's address in Telford in 2016
"He explained that when Mr Atkinson appeared at the doorway of the house he was in an obvious rage and said 'This is the Messiah'," Ms Healy said.
"Mr Atkinson was apparently unconcerned when presented with the Taser, saying, 'I am going to take you to the gates of hell'," Ms Healy continued, paraphrasing PC Monk's interview.
"Delivering two forceful kicks to Mr Atkinson's head cannot have been an act in reasonable self defence," prosecutors said.
"It is is difficult, isn't it, to see how a kick to the head could ever be a reasonable act taken to prevent Mr Atkinson from getting up."
In his interviews, Ms Healy recounted PC Monk admitted to a single kick "to enable him to control and restrain Mr Atkinson" but the officer believed he struck his shoulder.
PA MediaIn interviews under caution, PC Benjamin Monk said he kicked Mr Atkinson just once to restrain him
A pathologist recorded a narrative cause of death, Ms Healy told the court, which found Mr Atkinson died due to cardio-respiratory arrest, "close in time to the deployment of Taser, followed by a brief period of restraint and blunt force trauma".
Despite Mr Atkinson's underlying health conditions, including heart and kidney disease, the pathologist concluded these actions made a significant contribution to his death.
After two previous Taser cartridges had failed, a third one was successfully deployed. 
It left Mr Atkinson, who also played for Ipswich and Sheffield Wednesday, unconscious and his ability to breathe was reduced by the kicks to his head, the court heard.
The prosecution concluded its opening statement by making its case that the police officers ceased acting in self-defence after the third Taser cartridge was discharged, "rather they acted in anger".
Ms Healy also claimed that similarities in the accounts of PC Monk and PC Bettley-Smith suggested "the two officers discussed between themselves how best to account for what they knew was an unlawful attack on an unarmed man".
PA MediaKenroy Atkinson, the brother of former footballer Dalian Atkinson, was seen arriving at Birmingham Crown Court
PC Bettley-Smith is alleged to have used her baton to strike Mr Atkinson in the back while he lay incapacitated in the road.
The defence denied any suggestion the officers acted in fear or anger, instead arguing their actions were "necessary and reasonable in the face of Mr Atkinson's actions".
Patrick Gibbs QC, defending PC Monk, said it was "not in dispute" that the officer had kicked Mr Atkinson twice in the head.
"What is in dispute is why did he do that?," Mr Gibbs said. "He has always said he was terrified and that Mr Atkinson, after that third Taser had been effective, initially at least, he was trying to get up."
PC Bettley-Smith's defence barrister, Richard Smith QC, told jurors the officer believed her actions to be "necessary and reasonable as part of her and Mr Monk's continuing efforts to restrain and detain an unpredictable and threateningly violent man as she perceived him to be".
PC Monk denies murder as well as an alternative charge of manslaughter. PC Bettley-Smith, 31, denies assault occasioning actual bodily harm.
The BBC is not responsible for the content of external sites.
#AceNewsDesk report …Published: May.06: 2021:
Editor says #AceNewsDesk reports by https://t.me/acenewsdaily and all our posts, also links can be found at here for Twitter and Live Feeds https://acenewsroom.wordpress.com/ and thanks for following as always appreciate every like, reblog or retweet and free help and guidance tips on your PC software or need help & guidance from our experts AcePCHelp.WordPress.Com