#AceHealthReport – May.06: Travellers from countries on the red list would otherwise face bills of up to £1,750-per-person to isolate in a hotel if they flew to the UK directly:
#

CoronavirusNewsDesk –

#

Covid19 Britons fly via Turkey to avoid costly quarantine: Passengers are breaking their journey in Istanbul, and staying in hotels there for a fraction of the cost they would have to pay in Britain but are they endangering other peoples lives?
21 hours ago
By Sue Mitchell
BBC News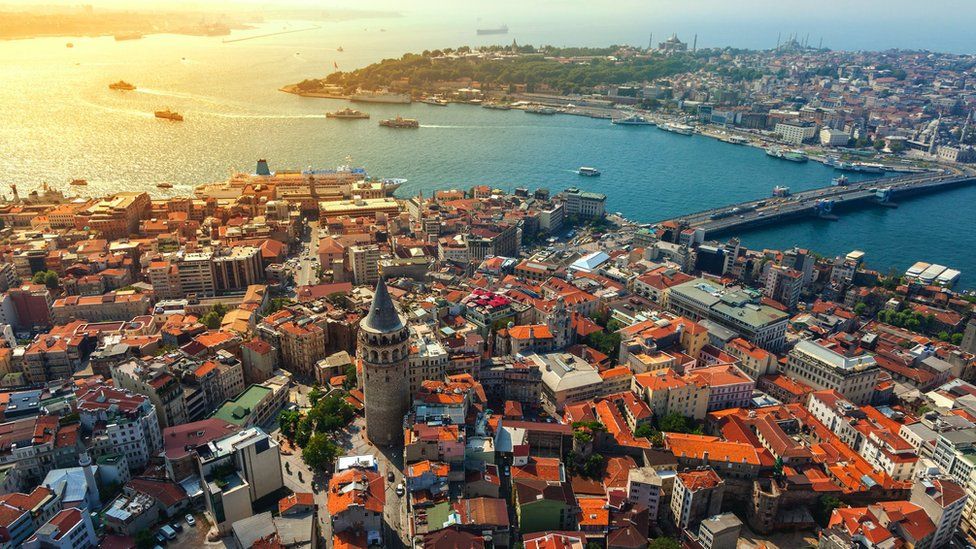 Those using the route must still quarantine at home once back in the UK.
One hotel worker in Istanbul said he had seen British nationals flying in from Pakistan, India and Bangladesh – which are all on the UK's red list.
The BBC has also spoken to travellers returning from Pakistan to the UK, many of whom were attending weddings or funerals and say they couldn't afford the cost of quarantining once the rules changed.
As long as they isolate at home for 10 days after returning from a non-red list country, they are not breaking the UK government's Covid rules.
'Red list' countries
The UK has a so-called red list with travel heavily restricted to countries on it – usually those with high coronavirus rates.
Any British citizen arriving home who has been to a country on the list in the past 10 days must then pay to quarantine in a government-approved hotel.
The cost is £1,750 for a single adult, while a family of four with teenage children would pay £3,700. Guests are largely restricted to their rooms for the duration.
By comparison, anyone arriving in the UK from a country not on the list is told to self-isolate at home – so long as they've not been in a red list country in the past 10 days.
SuppliedHashir, a student, said he could not afford the cost of quarantining in the UK
One travel agent in Bradford said some of his clients who had travelled to Pakistan had been left facing a hefty bill to return home after the country was placed on UK's banned list on 9 April. 
"I've got customers who can't afford to come back," said Ascher Khawaja of Oltrax Travel, citing UK quarantine costs. To ease the burden on his clients, Mr Khawaja says he has arranged 15-20 journeys home via Turkey. 
The country brought in a three-week lockdown last week because of rising infections – but it has not been added to the UK's red list. "With the hotel factored in, it works out at around £600 compared to £1,700-plus," he said. 
Anyone entering Turkey must have had a negative Covid test within 72 hours. They also must have a negative PCR test to leave the country. Foreign tourists are, however, exempt from Turkey's current lockdown rules. 
TV and a fridge
Bradford businessman Mohammad Saad travelled to Pakistan on 23 March to attend his nephew's funeral and had been due to fly home on 10 April – the day after Pakistan was added to the red list. 
When he couldn't change his flights, he and his 16-year-old son flew to Turkey instead. The cost was about £450 for 10 days in Istanbul, he said.
"It's like an extra holiday. Then you can fly back into the UK from Istanbul without any hotel quarantine."
Hashir, a 21-year-old student returning from Pakistan, said he had met other Britons at the airport when he arrived in Istanbul. 
"There's no way I have that money, I'm a university student," said Hashir, referring to the cost of returning directly to the UK. He is due back in the UK on 7 May.
Zulfiqar Ali, a 45-year-old taxi driver from Leeds, travelled from Pakistan to Istanbul on 24 April. "I paid £100 for 11 nights. It's a double bed, a TV and a fridge. It was online and food was very cheap."
He said he was returning to the UK on 5 May.
SuppliedZulfiqar Ali paid £100 for 11 nights in Istanbul
The BBC has also spoken to staff at hotels in Istanbul. One accommodation worker in the old city said British travellers were using the country as "a bridge".
His hotel had booked British passport holders travelling from Pakistan, Bangladesh and India – all on the red list, he said.
Turkey has since tightened its rules on people arriving from India, who must now quarantine in designated dormitories.
A manager at another hotel in the city said, through his membership of an international booking website, he could see there had been a rise in people travelling from Pakistan and India to Istanbul. 
Bradford MP Naz Shah said others had been unable to book family rooms on the UK hotel quarantine booking system. She said she was "deeply concerned" about children potentially missing school because their parents can't afford to fly home.
The UK's Department for Transport said people who had not been in a red list country for the past 10 days were not prevented from entering the UK – but should isolate at home.
It said the rules were aimed at stopping people – other than British residents – entering the UK from red list countries.
Additional reporting by BBC Turkish Service.
#AceHealthDesk report …Published: May.06: 2021:
Editor says #AceNewsDesk reports by https://t.me/acenewsdaily and all our posts, also links can be found at here for Twitter and Live Feeds https://acenewsroom.wordpress.com/ and thanks for following as always appreciate every like, reblog or retweet and free help and guidance tips on your PC software or need help & guidance from our experts AcePCHelp.WordPress.Com