#AceNewsReport – June.19: Babis Anagnostopoulos was picked up after attending his late wife's memorial service on the island of Alonnisos, where she grew up.
ATHENS: Caroline Crouch Case: Husband confesses to her killing after he had claimed three robbers had broken into the couple's home in Glyka Nera, near Athens, and tied him up on 11 May.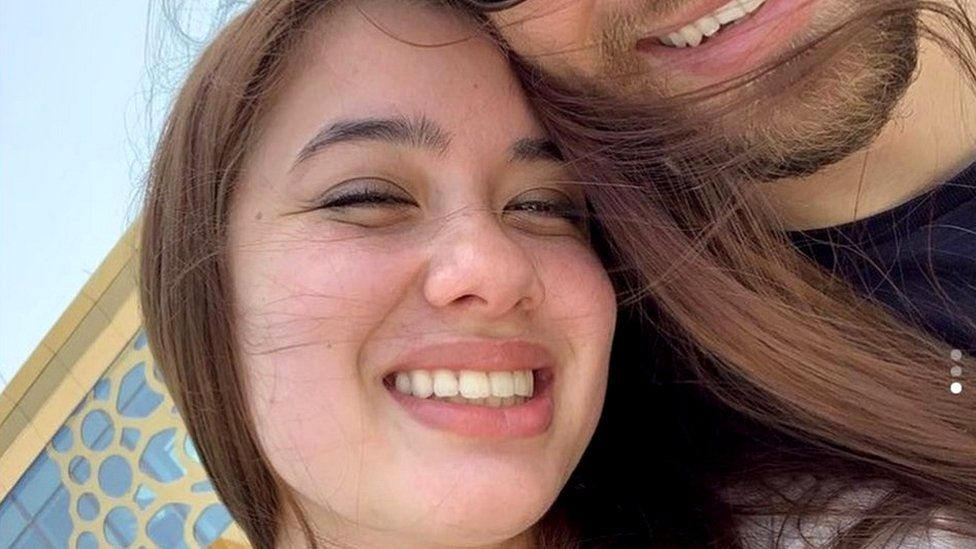 But after a lengthy investigation, police said his story did not add up.
They found no trace of the gang he claimed had tied him up, suffocated his wife and stolen €15,000 (£13,000; $18,000) in cash.
During a memorial service on Thursday, Babis Anagnostopoulos was pictured hugging his late wife's mother
Then they checked a range of technical devices to corroborate his account. Caroline Crouch's biometric watch revealed her pulse readings on the day she died. Babis Anagnostopoulos's movements were also tracked via his mobile phone, and the couple's surveillance system also highlighted discrepancies.
Although the suspect said he had been tied up, police said he had managed to use his phone at the time.
Crouch, 20, was born in the UK and moved with her parents to the picturesque Aegean island of Alonnisos as a child. She was living with her husband and baby in Glyka Nera when she was attacked.
CASE NOTES: How personal data cracked the caseIt was ultimately a data trail left by 21st-Century tech that led the police to this breakthrough. Caroline Crouch's smart watch showed that her heart was still beating at the time her husband claimed she was murdered. The activity tracker on his phone showed him moving around the house while he said he was tied up; and the recorded time at which data cards were removed from the home security camera also told a different story to his version of events.In a world where we are all generating acres of personal data, all the time, about our health and movements, there are concerns about how secure that information is and whether it could fall into the wrong hands. In this case, however, it has accurately signposted a young woman's final moments.Police initially posted a €300,000 reward for information in finding the killers, condemning the "barbarity" of the crime. Five days after his wife's death, the pilot posted an Instagram picture from their wedding with the message: "Always together. Farewell my love."Instagram/Babis AnagnostopoulosBabis Anagnostopoulos confessed after eight hours of questioning, police saidDetectives approached him after the memorial service on Alonnisos on Thursday, asking him to go with them to Athens, saying there had been a breakthrough in the inquiry and they wanted to identify a suspect. It was only when he arrived in the capital he was told that he was the suspect.He confessed after eight hours of questioning, they said. Greek reports said he told police the couple had often argued in recent months.A case that stunned GreeksThe killing has become a cause celebre in Greece. Initially it raised concerns about possible domestic security, and the husband had alleged that a foreign gang had carried out the attack. A Georgian man was arrested in the early days of the inquiry as he crossed into neighbouring Bulgaria.Alpha TVBabis Anagnostopoulos was led away by police and then airlifted to AthensNational TV interrupted coverage of the Euro 2020 football championships on Thursday night to bring details of the confession. Cars and passers by stopped outside cafes in Athens to see the latest development, BBC reporter Kostas Koukoumakas reports.
#AceNewsDesk report ……….Published: Jun.19: 2021:
Editor says #AceNewsDesk reports by https://t.me/acenewsdaily and all our posts, also links can be found at here for Twitter and Live Feeds https://acenewsroom.wordpress.com/ and thanks for following as always appreciate every like, reblog or retweet and free help and guidance tips on your PC software or need help & guidance from our experts AcePCHelp.WordPress.Com