#AceNewsReport – June.27: Ethiopia's military on Thursday said it was responsible for a deadly airstrike on a busy marketplace in the country's Tigray region health workers said the attack killed at least 64 people, including children, but the military insisted only combatants were targeted.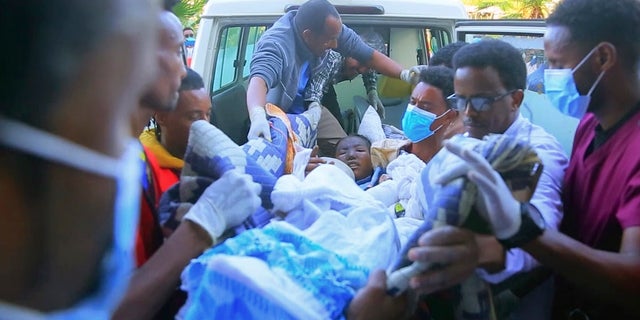 A doctor who managed to reach the market in Togoga village after Ethiopian soldiers blocked medical teams from responding to Tuesday's attack described a "horrible" scene of badly wounded people lying on the ground, crying in pain with no medical care.
"It was very traumatizing," he told The Associated Press. "I think most of the patients, they died because we were late there, because care wasn't available."
Most of the patients taken to regional hospitals weren't critical, he said: "The critical patients were already dead." Like others, he spoke on condition of anonymity for fear of retaliation.
A military spokesman, Col. Getnet Adane, told journalists that fighters supporting the Tigray region's former leaders had assembled to celebrate Martyrs' Day when the airstrike occurred.
"The Ethiopian air force uses the latest technology, so it conducted a precision strike that was successful," he said.
But the doctor who reached the scene said "most of the patients we found were mothers, children and elderly fathers. There were few young men."
The airstrike wounded more than 100 people, half of them seriously, a regional health official said. Health workers said Ethiopian forces blocked medical teams from responding and shot at a Red Cross ambulance trying to reach the scene.
Bodies were still being pulled from the rubble and dozens of survivors were still arriving at regional hospitals with shrapnel and blunt trauma wounds two days after the airstrike, said a doctor in the regional capital, Mekele. The International Committee of the Red Cross called the transport of seriously injured to Mekele "a matter of life and death."
Amnesty report said that there was a tepid international response to Tigray conflict fuels horrific violations over past six months
4 May 2021, 00:26 UTC
African and other world leaders must urgently speak out and do more to stem the ferocious tide of human rights and international humanitarian law violations in the armed conflict that has now raged for six months in Ethiopia's Tigray region, Amnesty International said today. 

Since the fighting broke out on 4 November 2020, thousands of civilians have been killed, hundreds of thousands of people have been internally displaced within Tigray, and 63,000 refugees have fled to Sudan. Amnesty International and other organizations have documented a string of serious human rights violations that include war crimes and likely crimes against humanity. There are also numerous credible reports of women and girls being subjected to sexual violence, including gang rape by Ethiopian and Eritrean soldiers.
… the response from the African Union and United Nations has been woefully insufficientDeprose Muchena, Regional Director for East and Southern Africa
"Six months on from the start of the conflict in Tigray, there is no lack of credible evidence of human rights and international humanitarian law violations, but the response from the African Union and United Nations has been woefully insufficient," said Deprose Muchena, Amnesty International's Regional Director for East and Southern Africa.
"The UN Security Council stalled for months before finally expressing concern about the increasingly dire situation in Tigray. The African Union and governments in the region, meanwhile, have done very little to speak out against the raft of likely war crimes and crimes against humanity."

Violations on all sides
 The Ethiopian government has ignored Amnesty International's requests to access Tigray, making it challenging to verify allegations of human rights violations amid severe, ongoing communications restrictions. 

However, Amnesty International has been able to document numerous atrocities in detail using open source investigative methods – including satellite imagery analysis and verification of video evidence – as well as by interviewing dozens of survivors, either via telephone with people in Tigray or in person with refugees in eastern Sudan.
The African Union and governments in the region … have done very little to speak out against the raft of likely war crimes and crimes against humanity
Among the atrocities the organization documented was the mass killing of hundreds of civilians in Mai-Kadra in western Tigray on 9-10 November 2020, allegedly by forces loyal to the Tigray People's Liberation Front (TPLF). Subsequently, Amnesty has received reports of reprisal attacks targeting ethnic Tigrayan residents of Mai-Kadra, including extrajudicial executions, looting of property, and mass detention. 

Amnesty International found that Eritrean troops killed hundreds of civilians in Axum – in what likely amounted to a crime against humanity – on 28-29 November, and indiscriminately shot at civilians in Adwa, killing three of them and wounding 19 others, on 12 April 2021. Working in collaboration with CNN, Amnesty International also confirmed that Ethiopian National Defence Force troops carried out extrajudicial executions in Mahibere Dego, near Axum, on 15 January 2021.
Since being granted access to Tigray in late February, international media outlets have published a string of reports confirming earlier accounts, by Amnesty International and others, of atrocities, as well as revealing harrowing new reports of violations.
These have included allegations of ethnic cleansing in western Tigray – an area under the control of pro-government Amhara Special Police and Fano, an Amhara militia – forcibly displacing tens of thousands of people. Amnesty International has not yet independently verified these allegations but continues to research the situation.

In addition, there have been appalling reports of widespread rape and other gender-based violence targeting women and girls across Tigray. A recent statement by UN agencies and NGOs working in the region said they were "alarmed by reports of increasing violence against women and girls – including harrowing accounts of sexual violence" and that "the response remains wholly inadequate to the scale of need." Meanwhile, humanitarian agencies have reported attacks on and looting of hospitals and other medical facilities across Tigray.

"It is unconscionable that women and girls in Tigray are facing sexual violence while the world looks on. Meanwhile hospitals and humanitarian providers have had supplies decimated in the conflict and are ill-equipped to assist," said Deprose Muchena.
Even on Thursday, United Nations spokesman Stephane Dujarric told reporters that the U.N. still hasn't been able to reach the scene. "Between the fighting and different groups on the ground we need clearance to go and we've just not been able to get it," he said.
The airstrike, one of the worst massacres of the war, came amid some of the fiercest fighting in Tigray since the conflict began in November as Ethiopian forces, supported by neighboring Eritrea, pursue Tigray's former leaders.
The Ethiopian military spokesman denied Tigray fighters' claims of gains in recent days, saying Ethiopian forces had been deployed to other locations for Monday's national election.
The United States and the European Union have condemned the airstrike in Togoga that left children, including a 1-year-old baby. screaming in pain.
A "reprehensible act," the U.S. State Department said. "Denying victims urgently needed medical care is heinous and absolutely unacceptable. We urge the Ethiopian authorities to ensure full and unhindered medical access to the victims immediately. We also call for an urgent and independent investigation."
The U.S. also called for an immediate cease-fire in Tigray, where thousands of civilians have been killed and 350,000 people are now facing one of the world's worst famines in years.
"At least 33,000 children in inaccessible parts of Tigray are severely malnourished and face imminent death without immediate help," the latest U.N. humanitarian update said Thursday.
Ethiopia claims that aid is being delivered to most of Tigray's 6 million people, but aid workers have said they have been repeatedly denied access to several parts of the region by soldiers.
With Ethiopia recently declaring Tigray's former ruling party a terrorist group, concerns have been widespread among Tigrayans, aid workers and others that anyone seen as linked to Tigray fighters, including civilians, could be targeted.
Tigrayans were appalled by Ethiopia's assertion that the airstrike was aimed only at combatants.
"It's an insult to the people and adding salt to the wounds, you know?" said Hailu Kebede, a former Togoga resident and official with the Salsay Woyane Tigray opposition party. He described how his brother, who has a shop in the market, ran for his life while his nearby home was destroyed.
"We know the area. I grew up there. There were no combatants," Hailu said. "The destroyed homes are those of my friends and my family."
One of his friends lost a child in the airstrike while another child had her hand amputated, he said.
The real death toll from the airstrike could be even higher because some people likely took the dead home to their nearby villages and buried them without telling regional officials, Hailu said.
#AceNewsDesk report ………..Published: Jun.27: 2021:
Editor says …Sterling Publishing & Media Service Agency is not responsible for the content of external site or from any reports, posts or links, and can also be found here on Telegram: https://t.me/acenewsdaily all of our posts fromTwitter can be found here: https://acetwitternews.wordpress.com/ and all wordpress and live posts and links here: https://acenewsroom.wordpress.com/and thanks for following as always appreciate every like, reblog or retweet and free help and guidance tips on your PC software or need help & guidance from our experts AcePCHelp.WordPress.Com