#

AceNewsReport – July.10: Editor says …l am not a killjoy but see both sides of every eventually as either vaccine + or Football – this is not say dont enjoy winning England but every action has a consequence and has always done so and this pandemic has taught some not all a valuable lesson and that is 'common sense' in all things even 'football' or having fun …..
#

AceDailyNews reports on the Marked increase in

#

COVID19 infections across UK as roadmap reaches step 4 and two viruses will meet head on in glory or defeat which one will win well only 7-days wait will tell us the answer to that one ….I pray 🙏for the vaccine doing what it promised and that people are safe and praying for England to win since 1966 only God knows the answer to that one Amen
Calls grow for extra bank holiday if England win
19 hours ago
By Rebecca Marston
Business reporter, BBC News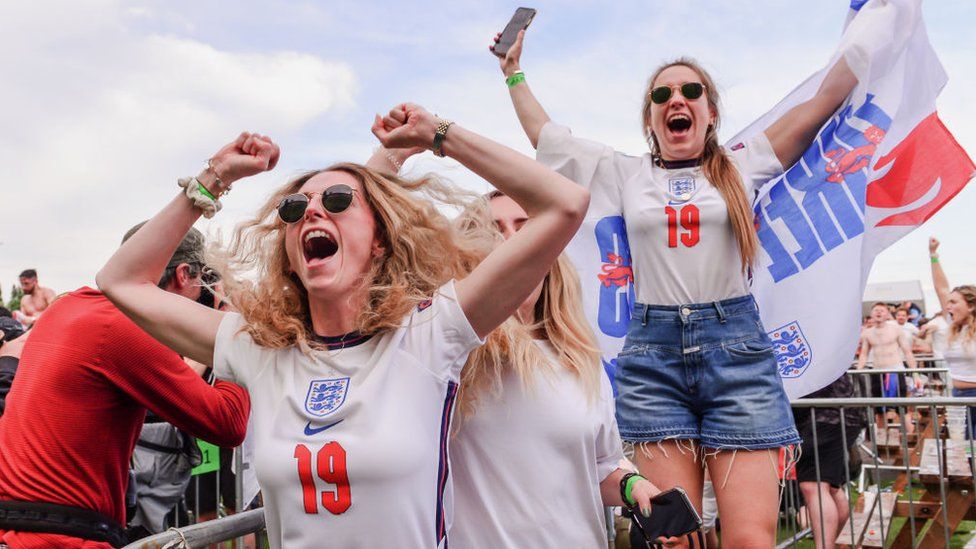 Prime minister Boris Johnson is coming under pressure to give workers a one-off bank holiday if England win their final Euro 2020 championship on Sunday.
A petition on the Parliament website passed 320,000 signatures on Friday. It says an extra day off would help families to watch the match together.
Mr Johnson said granting a bank holiday now would be "tempting fate".
The Trades Union Congress also urged firms to be flexible, if possible, and allow workers to start later on Monday.
TUC General Secretary Frances O'Grady said: "Bosses should talk to their staff about flexible working arrangements ahead of Monday morning – perhaps allowing them to start later and claim back their time afterwards."
Some stores are changing their hours to accommodate the big event.
The Co-op is closing its stores at 7.45pm on Sunday, rather than its normal closing time of between 10-11pm, in order to give staff the chance to watch the match.
Tesco will also close its Express stores in England at 7:45pm on Sunday evening.
Supermarket chain Lidl will alter its opening hours on Monday if England wins to allow staff an additional hour to "kick back and relax in the morning".
Shoppers and staff alike were likely to appreciate the extra time first thing, the supermarket said.
The petition calls for a bank holiday this coming Monday, but arranging a bank holiday at such short notice would not be possible. The government also said it did not want to pre-empt the outcome of Sunday's match. 
"Clearly we want England to go all the way and win the final, and then we will set out our plans in due course," it added.
Parliament considers all petitions that get more than 100,000 signatures for a debate.
How are bank holidays created? There are eight bank holidays a year in England and Wales, nine in Scotland, and ten in Northern Ireland.Bank holidays are created under the Banking and Financial Dealings Act 1971, or are created by royal proclamation – that is, by the Queen, who acts on government advice. The department responsible for bank holidays is the Department of Business, Energy and Industrial Strategy.Bank holidays are not actually statutory holidays, although most workers do get the day off……………………..Nine things you might not know about bank holidays a petition, which was started by marketing manager Lee Jones, says: "English people would naturally want to continue to enjoy the win, giving the retail and leisure industry a much-needed opportunity to make up lost revenues.
Will England's success boost the UK economy?'Euro 2020 is a lifeline for my pub' ……..How can I watch the Euros final with my friends?
A win for England over Italy on Sunday night would be the first major triumph for the country since 1966 saw it win the World Cup. The match is set to end at 10pm, but if it goes to extra time it could finish closer to 11pm, the semi-final against Denmark on Wednesday was not over until 10.45pm.'
We'll try to give drivers later shifts'Boss of Stagefreight Ian Uttley is trying to be flexible with his driversSome firms are already working on the assumption there will be some sort of hangover effect on their workforce and are trying to work around it.Ian Uttley director at transport firm Stagefreight, told the BBC's Wake Up to Money Programme he had been doing his best to give drivers a later start: "We do have a lot of England fans but it's very difficult. We try to give them later shifts but at the end of the day they are professional drivers doing a professional job."We are trying to give them time off. It's a once-in-a-lifetime experience but we do work seven days a week and there'll always be someone in a truck somewhere who will need to drive the next day.
Someone has to get the food to the supermarket shelves and into the shops."He said there were strict checks in place to ensure no-one was tempted to over celebrate: "We expect them to limit alcohol limits and we expect them to be under the limit when they start driving – and we do conduct checks." Late pub openingDowning Street supports the idea, saying employers who are able to should be flexible about allowing staff to go in to work late on Monday or take the day off if England win.Prime Minister Boris Johnson's official spokesman said: "We would want businesses who feel able to consider it if they can, but we recognise it will vary depending on the business and company."
Mr Johnson has already said pubs can stay open until 11.15pm this Sunday to reduce the risk of customers being told to leave before the match ends.Downing Street has said it will set out any celebrations such as a victory parade for the England team "in due course", but has not confirmed whether plans for a potential bank holiday are in motion behind the scenes.


But then there is this still taking place with ever rising cases of

#

COVID19 hitting an all time high each day
https://twitter.com/phe_uk/status/1413159791103467521?s=28
By Michelle Roberts
Health editor, BBC News online
The UK is experiencing a marked increase in new Covid infections, say experts from the Office for National Statistics (ONS)
Latest data from swab tests in the community suggests one in every 160 people has the virus. 
That is up from one in every 250 in the previous week. For England, it is the highest level since mid February.
The more infectious Delta variant now accounts for 99% of cases, according to Public Health England. 
Around two-thirds of adults have now been double jabbed against the virus, and experts say this is helping prevent very big rises in Covid hospitalisations, although admissions are increasing. 
Many of the infections being seen are among teenagers and young adults. 
An estimated 400,000 people in the UK are thought to have been positive in the week to 3 July.
The final step of unlocking is expected to go ahead as planned on 19 July in England. It will be confirmed on 12 July after a review of data.
On Friday the latest government figures showed an increase of 35,707 Covid cases across the UK – the highest daily figure since 22 January. A further 29 deaths within 28 days of a positive test were also recorded.
Covid around the UK
According to the ONS Infection Survey findings for the week to July 3:
In England, one in 160 people had the virus – up from one in 260 in the previous week and the highest level since the week to 19 February
In Scotland, it was one in 100 people – up from one in 150 and the highest level since the week to 16 January
For Wales, it was one in 340 people – up from one in 450 and the highest level since the week to 27 February
In Northern Ireland it was one in 300 people – up from one in 670 and the highest since the week to 3 April
England's coronavirus R number has risen slightly to between 1.2 and 1.5, which means that, on average, every 10 people infected will infect between 12 and 15 other people. Last week R was between 1.1 and 1.3.Sarah Crofts from the ONS said: "We are seeing marked increases in infections across all four UK countries driven by the Delta variant, which continues to be the most common across the UK."As the vaccine rollout continues and restrictions are further lifted, it is crucial that we continue to closely monitor the data."
Dr Jenny Harries, chief executive of the UK Health Security Agency, said the sharp increase in cases being seen had not been followed by a similar increase in hospitalisation and death, suggesting the vaccines were working well. "Two doses of the available vaccines offer a high level of protection against the Delta variant. "Getting both jabs is the best way to ensure you and the people you love remain safe, so we once again urge everyone to come forward as soon as they are eligible."As we approach the planned end of restrictions, we must remain cautious and careful. Cases are rising across the country, and whilst the vaccines offer excellent protection, they do not offer 100% protection. "Be sensible, and follow 'hands, face, space, fresh air' at all times and make sure to get tested if required."The BBC is not responsible for the content of external sites.
#AceNewsDesk report …..Published: July.11: 2021:
Editor says …Sterling Publishing & Media Service Agency is not responsible for the content of external site or from any reports, posts or links, and can also be found here on Telegram: https://t.me/acenewsdaily all of our posts fromTwitter can be found here: https://acetwitternews.wordpress.com/ and all wordpress and live posts and links here: https://acenewsroom.wordpress.com/and thanks for following as always appreciate every like, reblog or retweet and free help and guidance tips on your PC software or need help & guidance from our experts AcePCHelp.WordPress.Com