#AceNewsReport – July.27: The UK will host the 26th UN Climate Change Conference of the Parties (COP26) at the Scottish Event Campus (SEC) in Glasgow on 31 October – 12 November 2021: The climate talks will bring together heads of state, climate experts and campaigners to agree coordinated action to tackle climate change: As COP26 Presidency, the UK is committed to working with all countries and joining forces with civil society, companies and people on the frontline of climate change to inspire action ahead of #COP26.
#

COP26

#

ClimateChange……How much is the developing world getting to fight climate change ? Net zero targets are 'pie in the sky' So what will really be the result of another group of rich nations sitting down eating expensive meals in expensive hotels and backed by so many companies who caused the problem …..It has become "a matter of trust", Alok Sharma says please Go to the COP26 website for more information.
The developed world had pledged to provide $100bn (£720m) a year by 2020, but this has still not been achieved so what's next….?
Climate finance was discussed at length during a meeting in London of ministers and officials from more than fifty countries, 
According to the senior UN climate representative Patricia Espinosa, developing countries "were very insistent and very clear in their messages" that they expect commitments made up to 2020 to be met. 
It is going to be hard enough for rich countries to adjust to the need to remove fossil fuels and carbon from their own economies. 
But it is going to be a lot more challenging in developing nations, where there is far less money to pay for new infrastructure and technology. 
And there are an awful lot of people under threat.
So funding is needed for:
adaptation – adjusting to the growing effects of climate change
mitigation – reducing the release of greenhouse gases into the atmosphere
How much has been promised?
As long ago as 2009, the developed world agreed it would provide $100bn a year by 2020 to help poorer countries:
deal with the effects of climate change 
build greener economies in the future 
But, although official figures have not yet been released, an expert reportcommissioned by the United Nations concludes the target has not been reached – even though a new and more ambitious target is now supposed to be set for 2025. 
"The $100bn commitment should be seen as a floor not a ceiling," lead author Amar Bhattacharya, from the Brookings Institution, says.
"Some progress has been made – but a lot more needs to be done."
For many countries, this is the biggest issue to resolve in the run-up to Cop26 – and the very poorest are demanding action.
How far short are the pledges? 
It is quite hard to calculate what money should be included in the overall figure, because it is a complicated mix of money from governments, international lenders and private companies.
But the UN and the Organisation for Economic Co-operation and Development (OECD) estimate the total had reached nearly $79bn by 2018 – and failed to reach $100bn by 2020.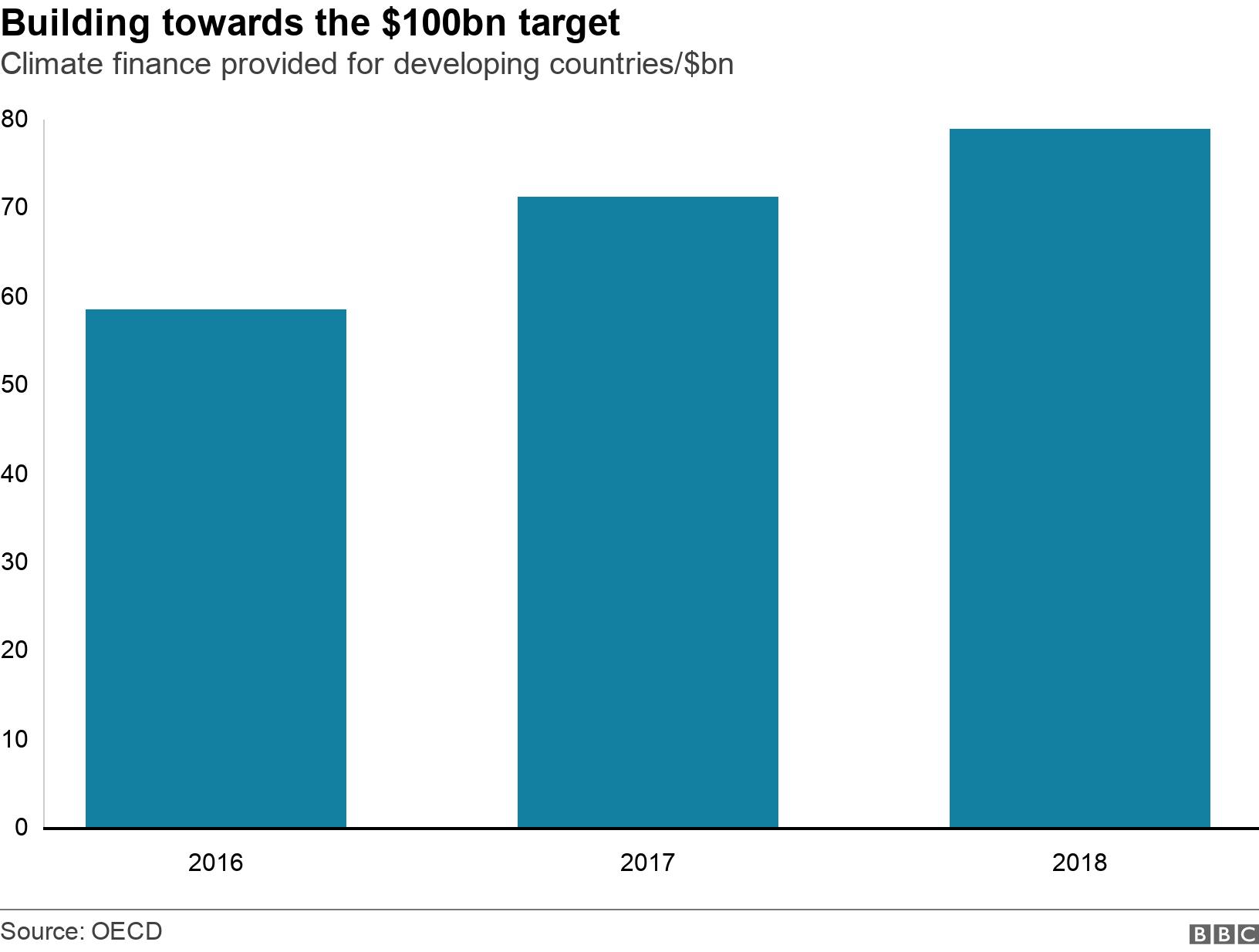 Between 2016 and 2018, 43% of the funding went to Asia, 25% to Africa and 17% to the Americas – a lot of it spent on green energy or transport infrastructure. 
But far more will be needed.
Who is not paying enough?
The rich countries recognise they have not yet met the target they set themselves. 
"Within the G7 [group of rich countries], the three countries that have been the leaders are Germany, Japan and France in that order," Mr Bhattacharya says. 
The UK and Canada are slightly behind them – but the two big laggards are the United States and, particularly, Italy. 
ReutersThe UK will be hosting Cop26
In April, the US announced it would double its 2016 climate-finance contributions to $5.7bn by 2025 – but compared with the size of its economy, that is still very small. 
Meanwhile, Italy provides only about $0.6bn per year.
Both countries have signed up to a big push to increase the overall amount of money provided, but that will need domestic political approval. 
"President Biden has indicated to me his total commitment to helping to make that happen," US Climate Envoy John Kerry says. 
"If they [the developed world] do not come together and produce that, it is going to be exceedingly hard to get any kind of broad-based agreement."
So there is an expectation further announcements will be made between now and Cop26. And ministers from Germany and Canada have been tasked with developing a "credible delivery plan" to make sure the $100bn figure is achieved. 
But experts say that should be only the beginning. 
Dr Alina Averchenkova, from the Grantham Research Institute on Climate Change and the Environment, says: "$100bn isn't going to do it – we need to move trillions in both public and private money. 
"The pandemic has shown us it can be done when there is the political will. 
"Unfortunately, climate change is quickly becoming the same kind of emergency – and it will be with us for the long term." 
Are there any strings attached to the money?
Yes. By 2018, about three-quarters of the government money made available for climate action in developing countries was in the form of loans that need to be paid back, rather than grants that do not. 
The share of grants was higher to the very poorest countries – but still less than half the total. 
And that is a big problem in countries, many already heavily in debt, where Covid has made access to international funds even more pressing.
"Developing countries cannot just rely on loans, so it is going to be really important that more climate finance is provided in grants," Dr Averchenkova says. 
"It's never going to be the whole amount – but it needs to be more."
So it is the quality as well as the quantity of funding that matters. 
And the message from the world's poorer countries is pretty simple – if you want ambitious climate targets, you are going to have to pay for them.
#AceNewsDesk report ……Published: July.27: 2021:
Editor says …Sterling Publishing & Media Service Agency is not responsible for the content of external site or from any reports, posts or links, and can also be found here on Telegram: https://t.me/acenewsdaily all of our posts from Twitter can be found here: https://acetwitternews.wordpress.com/ and all wordpress and live posts and links here: https://acenewsroom.wordpress.com/ and thanks for following as always appreciate every like, reblog or retweet and free help and guidance tips on your PC software or need help & guidance from our experts AcePCHelp.WordPress.Com