#

AcDailyNews says that Afghanistan: UK's Kabul evacuation operating at full pace – commander but political situation is presently changing daily …
#AceNewsReport – Aug.18: Vice Adm Sir Ben Key, who is running the evacuation, said around 300 people had been flown out so far: But Sir Ben said the operation was dependent on the security situation.
By Becky Morton & Hazel Shearing
BBC News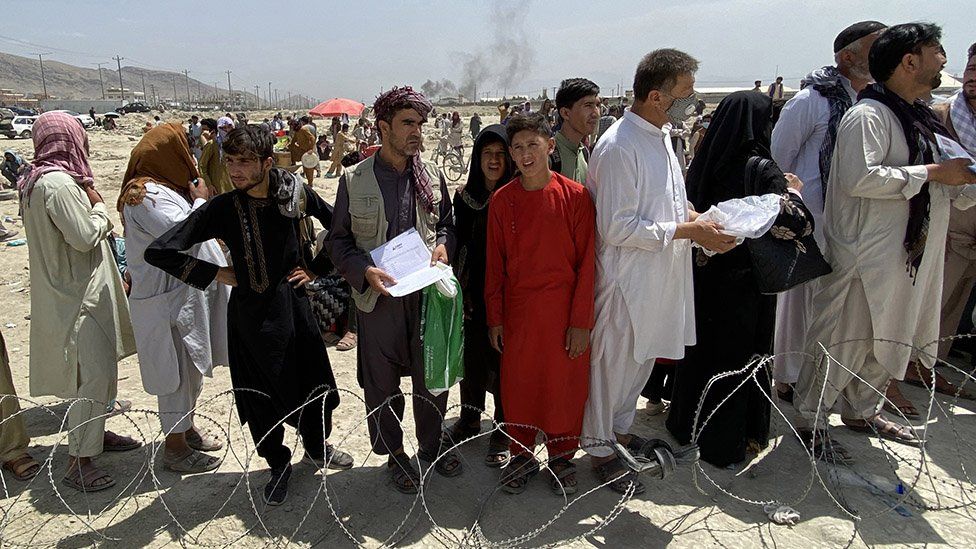 Boris Johnson said any recognition of a Taliban government would "be subject to them upholding" human rights standards: In total, the UK hopes to help 6,000 to 7,000 British nationals and eligible Afghan staff to leave, he said.
Home Secretary Priti Patel said around 2,000 former Afghan staff and their families had been resettled in the UK since 22 June under an existing resettlement scheme.
And more than 3,300 people have been resettled since 2013, she said. 
The prime minister spoke to US President Joe Biden on Tuesday evening, Downing Street said – and the pair agreed to work "closely together" to evacuate people from Afghanistan.
"The prime minister and President Biden agreed on the need for the global community to come together to prevent a humanitarian crisis in Afghanistan," a spokeswoman said.
She added that Mr Johnson outlined the UK's plans to increase humanitarian aid to the region and resettle refugees, and that the pair would discuss the situation at a virtual meeting of G7 leaders "in the coming days". 
There were chaotic scenes at Kabul airport on Monday, as thousands tried to flee the country after the Taliban seized control of the capital. 
A number of people died and large crowds on the runway led to all flights being halted for several hours. 
However, Chief Joint Operations Vice Admiral Sir Ben said the situation was now "much calmer". 
"I'm very confident that we now have a stable airfield in which we can get on with the business, alongside all of our allies and partners, that we need to do," he said. 
How much aid will the UK give for Afghanistan?
Foreign Secretary Dominic Raab told BBC Radio 4's Today programme: "I expect that we will increase our aid budget for development and humanitarian purposes – probably by 10%, is what I have in mind – on last year. We want to try and make sure it doesn't go through the Taliban."One would assume by "last year" that Mr Raab was referring to aid spending in the 2020-21 financial year, when the UK gave £167.5m of aid to Afghanistan.
That was before the government cut the foreign aid budget earlier this year. Prior to today, aid to Afghanistan was set to fall to £37.5m – an annual reduction of £130m. However, if, as Raab has implied, a further 10% were added to the aid given in 2020-21, it would bring the UK's spending in Afghanistan up to £184.25m. If a 10% increase was applied to the post-cuts budget then it would represent a massive decrease on the 2020-21 budget. We have asked the Foreign, Commonwealth and Development Office to clarify the position but they have yet to comment.
He said three flights had landed in Kabul so far on Tuesday and more were planned. Military aircraft are also flying from Afghanistan to airports across the region, where people can then be put on civilian charter flights, he added. The UK has sent about 900 troops to Afghanistan to help evacuate British nationals and Afghans who are eligible to resettle in the UK. This group includes Afghans who worked for the British government, as well as interpreters, cultural advisers and embassy staff.
Others eligible are those deemed to be at high and imminent risk, according to the Ministry of Defence……….Ex-marine: I'm not leaving Kabul without my staff
U.K. holidaymaker, 21, evacuated from Afghanistan
Sir Ben said the UK wanted to bring as many people back as quickly as possible. "We will go for as long as it takes us to either meet the demand, or when the security situation means that we're no longer operating with consent," he added. However, he said it was up to eligible individuals to make their own way to the airport when they were called to do so and the Taliban were now controlling access points. So far, he said the Taliban had "seemed acquiescent and understanding of what we're trying to achieve" – but "we don't take it for granted". "We will try our utmost to bring back everybody we can but we do not own the finish point of this," he added. "We can merely work day by day as hard as we possibly can." Afghan interpreter: "I'm so worried about my parents and my sisters' safety"
Sir Ben's comments came as a spokesman for the Taliban said the UK and western allies had a "moral obligation" to "help reconstruct Afghanistan".
Suhail Shaheen told Sky News that the prime minister and other world leaders should respect the "aspiration and will of the people of Afghanistan, and help the people of Afghanistan in rebuilding the country and providing a prosperous life for the people and economic development"."This is their obligation because they were behind the destruction of Afghanistan during the 20 years," he added.In a separate news conference, the Taliban claimed that interpreters and others who had helped allied forces would be pardoned.
A Downing Street spokeswoman said Mr Johnson had spoken to Pakistan PM Imran Khan on Tuesday afternoon.Pakistan and Afghanistan share a border, and Mr Johnson had stressed the importance of working with other countries "to avoid a humanitarian disaster" the spokeswoman said."
The prime minister underlined that any recognition of the new government in Afghanistan is to happen on an international, not unilateral, basis," she added."He said that the legitimacy of any future Taliban government will be subject to them upholding internationally-agreed standards on human rights and inclusivity."
EPA: Afghans including those who worked for the US, Nato, the Europe Union and the United Nations, wait to flee: The UK government is planning to launch a new resettlement scheme for Afghan refugees, aimed at helping those most in need, including women and girls, to come to the UK.
Foreign Secretary Dominic Raab has said the UK is looking at a "bespoke arrangement", with full details to be set out in due course. He did not confirm how many refugees would be allowed to come, but said the UK was "a big-hearted nation".
Labour Party leader Sir Keir Starmer said he would ask the prime minister on Wednesday how the UK planned to get refugees out of Afghanistan. "I don't think a question of numbers at this stage is a helpful discussion," he said. "The first discussion has to be: is there a plan; is there a strategy of safe and legal routes for refugees to come out of Afghanistan; and how quickly can that be put in place?"
Sir Keir Starmer said talking about exact numbers was "not helpful"…….
The former immigration minister Caroline Nokes MP told BBC Radio 4's World at One programme that the government needed to implement an "unprecedented" new resettlement scheme at "alarming speed"."I think we have to be particularly scared for women and we know this is a regime that will oppress and suppress women as much as they possibly can," she said.
The BBC has been told the new resettlement scheme will be similar to that used to help Syrian refugees: Around 20,000 refugees who fled the conflict in Syria have been resettled in the UK under the scheme since it was launched in 2014.
#AceNewsDesk report ……….Published: Aug.18: 2021:
Editor says …Sterling Publishing & Media Service Agency is not responsible for the content of external site or from any reports, posts or links, and can also be found here on Telegram: https://t.me/acenewsdaily all of our posts from Twitter can be found here: https://acetwitternews.wordpress.com/ and all wordpress and live posts and links here: https://acenewsroom.wordpress.com/ and thanks for following as always appreciate every like, reblog or retweet and free help and guidance tips on your PC software or need help & guidance from our experts AcePCHelp.WordPress.Com