#AceNewsReport – Nov.25: A fishing boat sounded the alarm on Wednesday afternoon after spotting several people in the sea, off the northern coast of France…..
#

AceDailyNews says according to media news and the illegal migrants who drowned were 17 men, seven women – one of whom was pregnant – and three children, France's Interior Minister Gerald Darmanin said: A joint search and rescue operation by British and French authorities was launched, and eventually called off late on Wednesday.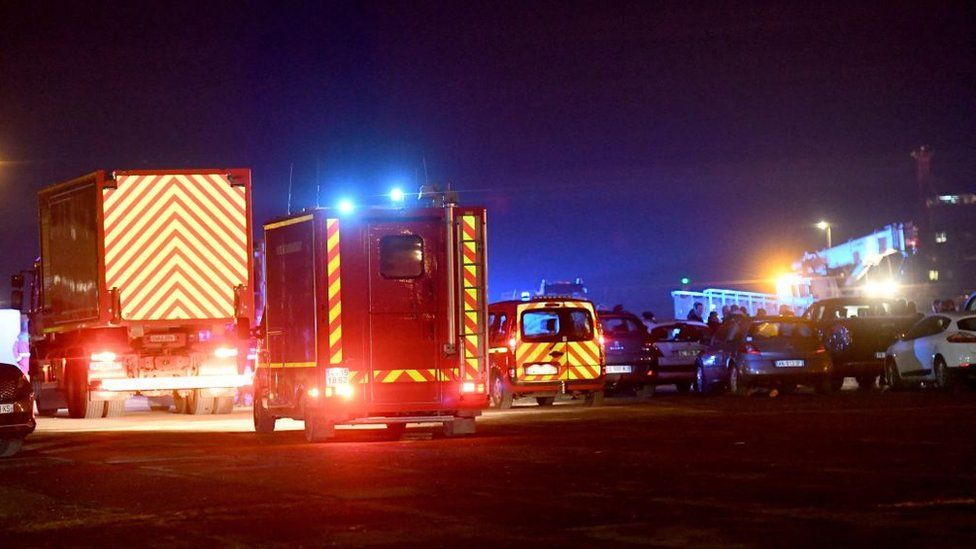 Two people were rescued and are in a critical condition with severe hypothermia in a French hospital. One of them is from Iraq, the other is Somali, Mr Darmanin told RTL radio.
The task of performing autopsies and identifying the victims will take place over the next few days in Lille, in northern France, the city's public prosecutor Carole Etienne confirmed.
French media is reporting that the dead are believed to be Iraqi or Iranian Kurds.
What happened to the boat?
The cause of the accident remains unknown, but when the long, inflatable boat the migrants were using was found by rescuers, it was mostly deflated.
Mr Darmanin described the boat as a dinghy that was "extremely fragile".
He said "it was like a pool you blow up in your garden".
It is the kind of boat often used by people smuggling networks to get migrants across the channel, and has now been sent to Lille to be examined.
French police say the boat set out from the Dunkirk area, east of Calais.
Fishermen in the area said calm weather had prompted more migrants than usual to attempt to make the crossing on Wednesday.
There are reports that about 25 boats had attempted the crossing during the day.
Five alleged traffickers linked to the incident have been arrested in France.
Two people have already appeared in court and an investigation into aggravated manslaughter has been opened by prosecutors, Mr Darmanin said.
Mr Darmanin said the boat used to cross the Channel, called a zodiac, was purchased in Germany.
Boats still arriving
Despite Wednesday's tragedy, people have continued to attempt the dangerous 20 mile (32km) journey across the Channel. On Thursday, two more boats arrived in Dover, carrying about 40 people, the BBC's Simon Jones says.
This is all happening a week after a large migrant camp near Dunkirk in northern France was dismantled and up to 1,500 migrants were evacuated from the site.
More than 25,000 people have made the dangerous journey from France to the UK across the Channel in small boats this year. 
That is more than any other year, and more than three times last year's total.
Speaking to BBC News, the president and chairman of the ports of Calais and Boulogne, Jean-Marc Puissesseau, said: "Even if the sea is not looking so rough, in the middle [of the English Channel] there are always many waves. It is dangerous."
Over the past 20 years, organised crime gangs have created an entire industry in smuggling people from Asia and Africa across Europe.
For years, people smugglers have sent people across the Channel hidden in trucks on ferries or trains. But as port security has been tightened, more attempts have been made to send people by boat.
A vigil took place at Calais calling for the protection of migrants after the tragedy in the Channel
NY Times Report: France and Britain agree to step up efforts to limit Channel crossings.
The day after at least 27 people died trying to cross the English Channelwhen their flimsy inflatable boat capsized during the perilous voyage, the leaders of France and England vowed to crack down on migrant crossings even as they offered a fractious response to one of the deadliest disasters in recent years involving migrants trying to cross the narrow waterway separating the two countries.
French officials confirmed that children and a pregnant woman were among those who had drowned, as crews worked in the cold and wind to recover bodies and to try to identify those who died. Two people, one from Iraq and one from Somalia, were found and taken to a French hospital, where they were being treated for severe hypothermia. 
The tragedy was a stark reminder that five years after authorities dismantled a sprawling migrant camp in Calais, both countries are still struggling to handle the flow of migrants in the area.
France and Britain have long accused each other of not doing enough to curb attempts to cross the Channel. After the tragedy on Wednesday, Prime Minister Boris Johnson of Britain said greater efforts should be made to allow joint patrols along the French coast.
And President Emmanuel Macron of France said he expected the British "to cooperate fully and to abstain from using this dramatic situation for political means."
The two leaders spoke by phone late on Wednesday and said in statements afterward that they had agreed to step up efforts to prevent migrants from making the journey across one of the world's busiest shipping lanes.
Under an agreement between the two nations, Britain pays France to clamp down on crossings through surveillance and patrols.
Mr. Johnson said that he was "shocked and appalled and deeply saddened by the loss of life at sea in the Channel." But, he added: "I also want to say that this disaster underscores how dangerous it is to cross the Channel in this way."
Mr. Macron called for an immediate tightening of border controls and an increased crackdown with other European nations on people smugglers.
"France won't let the Channel become a graveyard," he said in a statement.
The drownings came only a few days after French and British authorities had reached an agreement to do more to stem the number of people taking to the sea. 
Attempts to reach Britain in small boats have increased in recent years as the authorities have cracked down on the smuggling of asylum seekers inside trucks crossing by ferry or through the Channel Tunnel.
Since the beginning of the year, there have been 47,000 attempts to cross the Channel in small boats and 7,800 migrants had been saved from shipwrecks, according to French officials. Before Wednesday, seven people had died or disappeared so far this year.
Many migrants — who are often from countries in Africa or the Middle East like Iraq and Eritrea — consider Britain an ideal destination because English is spoken, because they already have family or compatriots there, and because it can be relatively easy to find off-the-books work.
But the recent increase in attempts to cross the English Channel by boat reflects a shift in how migrants are traveling, not in how many, according to migration experts and rights groups, who say that, overall, asylum applications in Britain are down this year.
The crossings have become another element in the worsening relations between France and Britain, which have also clashed over fishing rights and trading checks after Britain's departure from the European Union, as well as over a submarine alliance between Australia, Britain and the United States that undermined a previous French deal.Another group of migrants on the northern coast of France on Wednesday, with a dinghy to attempt the Channel crossing.Gonzalo Fuentes/Reuters
On a clear day, it is possible to see the white cliffs of Dover from France. The English coast can appear tantalizingly close and for years, it has drawn migrants who have already traversed Europe and hope to reach Britain where they believe better opportunities await.
In the dark of night on Tuesday, nearly three dozen people, including men, women and children, set off on what French officials described as an "extremely fragile" inflatable boat into the strong currents and the freezing, choppy waters that divide the two nations.
It is one of the busiest shipping routes in the world and the short distance belies the dangers inherent in the crossing. The perils are made greater by the fact that many of those attempting the journey are assisted by smugglers who pack them onto tiny dinghies, which are overstuffed and unbalanced.
Gérald Darmanin, France's interior minister, said that the authorities believed about 30 people were crowded onto a frail vessel that he compared to "a pool you blow up in your garden."
A report in the French news media said that the migrant boat was struck by a container ship, although French authorities said the circumstances of the disaster were still under investigation.
On Thursday, Mr. Darmanin told RTL radio said that many crossings started in the same way.
"Dozens, sometimes hundreds of migrants, take a beach by storm to leave very quickly, often at high tide, to reach England in makeshift vessels," he said. 
On Wednesday afternoon, a fishing vessel alerted maritime authorities that several people had been spotted in the waters off the coast of Calais. Ships and helicopters soon began a search and rescue operation.
Two people, one from Iraq and one from Somalia, were found and taken to a French hospital, where they were being treated for severe hypothermia. The boat itself was discovered completely deflated, officials said. It was still unclear as of Thursday morning how many people might still be missing.
And the work of identifying those who died was likely to be complicated by the fact that many migrants dispose of any identification papers before making the crossing. Mr. Darmanin said that the dead included women and children. It was still unclear on Thursday where all of the migrants in the group were from.
Mr. Darmanin said that authorities suspected the vessel had been bought in Germany by a smuggler whose car had German license plates. That smuggler, and four others, had been arrested in connection with the shipwreck, Mr. Darmanin said.
Sixty to seventy percent of the migrants attempting to reach Britain arrive from Germany or the Netherlands and go through Belgium into France to attempt a quick crossing, Mr. Darmanin added.
"Smugglers pick them up and, over a couple days, try to bring them to the beach," he said. "It's an international problem."
— Constant Méheut, Marc Santora and Aurelien Breeden
#AceNewsDesk report ………….Published: Nov.25: 2021:
Editor says …Sterling Publishing & Media Service Agency is not responsible for the content of external site or from any reports, posts or links, and can also be found here on Telegram: https://t.me/acenewsdaily all of our posts fromTwitter can be found here: https://acetwitternews.wordpress.com/ and all wordpress and live posts and links here: https://acenewsroom.wordpress.com/and thanks for following as always appreciate every like, reblog or retweet and free help and guidance tips on your PC software or need help & guidance from our experts AcePCHelp.WordPress.Com