#AceNewsReport – Dec.25: It's hard to imagine now, but at the beginning of the 19th century Christmas was hardly celebrated. Many businesses did not even consider it a holiday. However by the end of the century it had become the biggest annual celebration and took on the form that we recognise today…
#

AceChristmasDesk ….Why three people travelled back in time for Christmas
By Jennifer Harby
BBC News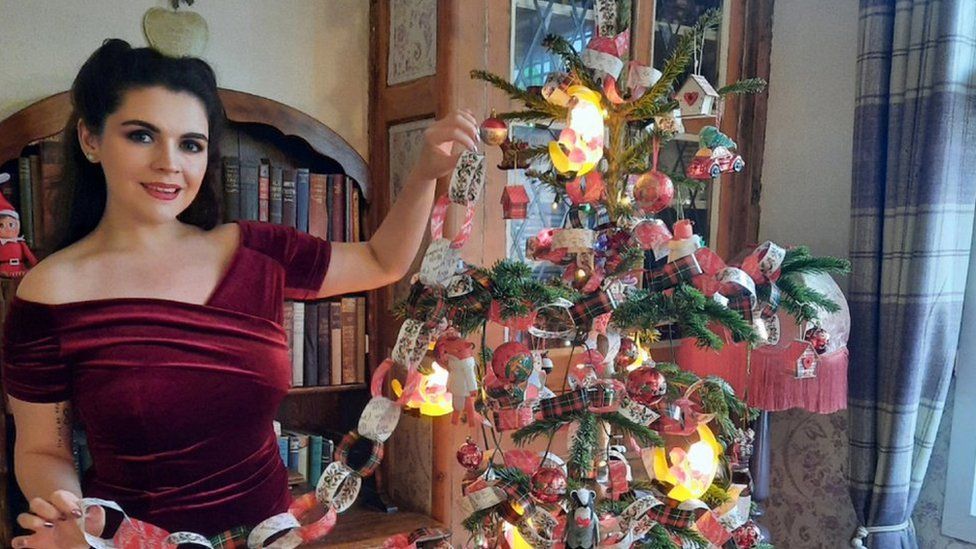 Everybody loves the cheesy kitschness
Jack Walters
Jack Walters has reproduced the spirit of the 80s and 90s at his Derbyshire home
Watching episodes of classic Christmas comedies – the likes of Victoria Wood and the Vicar of Dibley – probably features on many people's festive to-do list.
But few of us will be watching them on an original black cathode-ray TV, complete with a video player.
However Jack Walters' home is a shrine to the late 80s/early 90s, when such technology was standard.
Jack Walters
Jack and his partner Matt – and dog Tilly – have embraced the styles of the period
"The whole house is a mix of 80s and 90s," says Jack who, at the age of 23, has only the faintest memories of the period from first time around.
"My bedroom has a mid-90s terracotta and green vibe, with a matching border.
"We have a Laura Ashley lemon print in the kitchen.
"I have an old Nokia phone and drive a 1989 Mini Metro."
Jack Walters
Jack's living room has an original cathode-ray TV and a video player
Jack lives in a cottage in Bakewell, Derbyshire, with his partner Matt and his mum and dad.
And although the taste for 90s decor was driven by him, he says his family have embraced the style.
Victoria Wood's Christmas specials are a must-see in Jack's household
At Christmas, he feels the era comes into its own.
"Everybody loves the cheesy kitschness of this era at Christmas," he says.
For Jack, the period presented the perfect balance of technology and time away from screens.
"TV and mobile phones were in their infancy but we weren't dominated by them," he says.
Jack Walters
Jack's home is full of period festive decor
He also loves the designs of the era – which range from kitsch to garish.
"The era saw so many trends in terms of decor and you really see that coming through at Christmas," he says.
"We have tinsel and coloured lights and silk decorations on the tree.
"For Christmas dinner, we are going to go all out. I have some old Ideal Home magazines with some recipes from the era we can cook."
Jack Walters
Jack's home is decorated with tinsel and vintage lights
After lunch, he and his family will enjoy playing on vintage games consoles or listening to the classic Now That's What I Call Christmas albums on his Walkman.
"I'll be watching lots of Victoria Wood, Vicar of Dibley and Royle Family Christmas specials," he says.
"I think that era of TV didn't take itself too seriously and it was also quite heartfelt."
Resourcefulness and simplicity
Hannah Hall
Hannah's fascination with the period stems from her close relationship with her grandparents
Hannah Hall's love for the 1940s is, in part, a tribute to her beloved grandparents.
Growing up, she would sit with her Grandpa Henry watching some of Hollywood's festive classics, such as It's A Wonderful Life, Miracle on 34th Street and White Christmas.
"I was very close to my grandpa," she says. "He was in the RAF. I still have his old uniform and the letters he wrote home.
"He was born in 1936 so he was growing up in that classic Hollywood era of the 1940s and 50s."
Hannah Hall
Hannah says Christmas preparations 1940s-style involve more elbow-grease but are very satisfying
Today, Hannah lives with her mum Stephanie in a 1920s semi in Nottingham which the pair have filled with vintage pieces from the period.
"The house itself is full of quirky features: old sash windows, bedroom fireplaces," says Hannah.
"I wear 1940s-style dresses. I have a faux fur coat and vintage handbags and my nan's old pearls. My style is heavily influenced by my nan, Jacqueline, who was born in 1941."
While the period of blackouts, Anderson shelters and make do and mend might not be the one most of us associate with the festive season, for Hannah the 1940s represents all that was best about the British spirit.
Hannah Hall
She uses old recipe books to inspire her traditional festive menu
"It was an era of resourcefulness and simplicity," she says. "That's what is so great about the 40s.
"I love the quintessential British spirit of making the best of what you have got.
"I haven't grown up with a lot but, even though we only had a little, we wanted for nothing.
"The 1940s was an exceptionally scary and challenging time to live in but I think Christmas was just as magical."
Christmas dinner 1940s-style involves a little more elbow grease but, Hannah says, it can be just as rewarding.
Hannah Hall
Most of Hannah's cooking utensils are from the period
"We don't ration – we're not that dedicated," she says.
"I thrifted my 1947 cooker and it cooks the best roast chicken.
"I bake my own mince pies using vintage cooking utensils – whisks, measuring jugs, a wall-mounted tin opener.
"A lot of these older items need a gentle touch – you can't just flick a switch. But it's more satisfying to boil the kettle on a stove.
"I have a great old cookery book with traditional recipes like Christmas pudding, bread and butter pudding, soups and broths."
Hannah Hall
Hannah makes presents or finds inspiration at second-hand shops
Hannah and her mum find Christmas presents at vintage fairs, or make them themselves, and wrap them in recycled brown paper and string.
"I think it looks really tasteful and it saves you from having reams of wrapping paper," she says.
The festive season then continues in traditional style with a trip to midnight mass.
Hannah Hall
Hannah likes to get dressed up for her traditional 1940s Christmas
"I really like to get dressed up," says Hannah.
"I have old dresses that look nice and festive, paired with a nice red lip and nails."
Back at home, they will put some Bing Crosby LPs on Hannah's record player.
Getty Images
Frank Capra's festive classic epitomises the spirit of a 1940s Christmas, Hannah says
Hannah's job within the NHS's bereavement services has brought her into close contact with many who have suffered losses during the pandemic.
"We are going through a really difficult time in our world at the moment," she says.
"We can't see the people we love. There are certain similarities with what people would have been going through back in the 1940s and, like then, Christmas probably felt even more special as a result."
'I am donning my Scrooge mantle'
Julia Wood
This year, due to anxiety about Covid, Julia says she cannot find her festive spirit
At this time of year, Julia Wood's halls are normally decked with boughs of holly.
"I normally hang wreaths above the fireplace and decorate them with traditional baubles," says the author, who has had a passion for the Victorian/Edwardian era since she was a teenager.
"It goes really deep in my blood. Oscar Wilde has been a beacon in my aesthetic life," she says.
Julia Wood
Julia's clothes are all inspired by the period she loves
Her Leicester home is full of antiques, printed velvet hangings and oil lamps – now with electric fittings.
"The oldest piece in my house is a beautiful Georgian bureau," she says.
She employs a dressmaker to make her era-inspired clothes designs which, she says, consist of lots of sweeping velvet gowns and fake fur stoles.
Julia Wood
Julia has filled her home with rich furnishings from the Victorian period
But Julia says unfortunately the challenges of modern times have put paid to her planned Victorian festive celebrations this year.
"My Victorian Christmas has been shattered by Omicron," she says. "I am dreading not being able to see friends and family.
"My Victorian muse has deserted me."
Instead, this year Julia says she will be drawing festive inspiration from a less likely Victorian source.
Julia Wood
Julia says celebrating Christmas this year feels too difficult, given the uncertainties of Covid
"I am donning my Scrooge mantle," she says.
"I feel I'm starting to understand him a bit more now.
"For me, my Victorian interest is like a protection against the awfulness of so much of our modern news but it is becoming very difficult to avoid that.
"I have a TV cabinet with curtains which I pull across to hide any reports about Covid. Either that or I will hide behind the chaise longue."
Despite the ongoing pandemic, Julia says she is under no illusions that the 19th Century represented a far more difficult time for many.
"I'm aware many people's lives were appalling," she says.
"If you are nostalgic about history, you tend to pick the best parts to celebrate.
"I believe more people are feeling that nostalgia because our current times are so difficult."
#AceNewsDesk report …………Published: Dec.25: 2021:
Editor says …Sterling Publishing & Media Service Agency is not responsible for the content of external site or from any reports, posts or links, and can also be found here on Telegram: https://t.me/acenewsdaily all of our posts fromTwitter can be found here: https://acetwitternews.wordpress.com/ and all wordpress and live posts and links here: https://acenewsroom.wordpress.com/and thanks for following as always appreciate every like, reblog or retweet and free help and guidance tips on your PC software or need help & guidance from our experts AcePCHelp.WordPress.Com