#AceNewsReport – Oct.12: As people in Japan braced for a powerful typhoon Friday night, they looked up to see a strange phenomenon: a bright purple sky. #TyphoonHagibis brought heavy rain and strong winds to the region and is expected to be Japan's worst in six decades CBS local reports.
The typhoon touched down southwest of Tokyo on Saturday: An earthquake shook the area shortly before landfall: As hundreds of thousands of people were ordered to evacuate, residents posted images of the bright purple and pink sky on social media: "Beautiful sky in Japan before the typhoon. Looks peaceful but it's actually an indicator that the storm is coming #PrayForJapan," one Twitter user wrote.
空の色がおかしい….

日本が終わる予兆か??? pic.twitter.com/GA5bYH4g74

— あらーとくん⚠️ 🅙 (@ara_to1) October 11, 2019
駅からでたら、そこは魔界だった pic.twitter.com/x8blDBthOu

— しう忙多坊 (@Desu_unknown) October 11, 2019
空の色めちゃくちゃ紫やねんけど😅 pic.twitter.com/ZXkLwN8E54

— おおはし (@Ca___virgo) October 11, 2019
いっぱいとった pic.twitter.com/QfFNexSpn4

— メスゴリラ (@ika_mesugorira) October 11, 2019
The phenomenon has occurred several times in the U.S. following major hurricanes. Meteorologists say the beautiful skies are a result of "scattering."
Super Typhoon Hagibis tears through Japan sparking massive floods, at least 1 dead
Julia Musto1 hour ago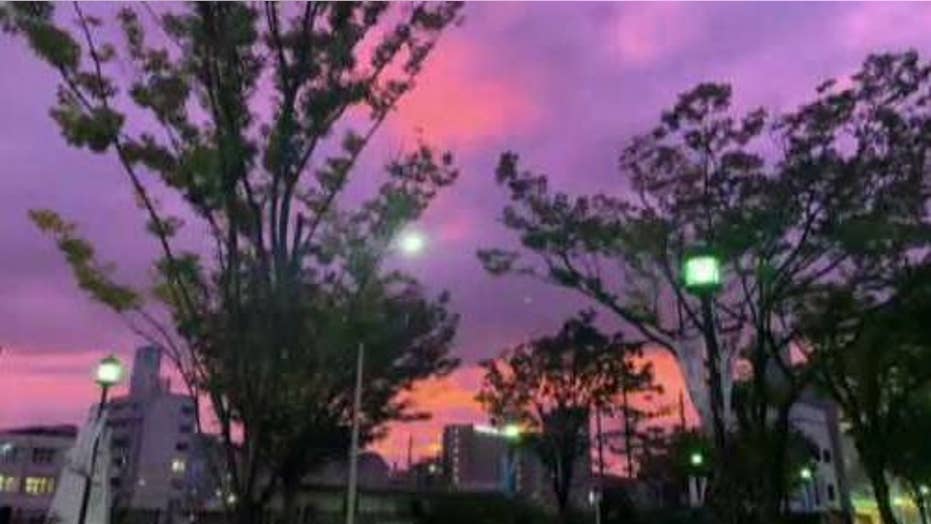 Video – Purple sky warns of dangerous typhoon in Japan
Super 3TyphoonHagibis pounded Japan with gale-force winds and heavy rain on Saturday, killing at least two people and injuring 90: According to Japan's public broadcaster NHK, another 10 people remain missing……………As the superstorm quickly approached land, the U.S. Geological Survey recorded a 5.3 magnitude earthquake centred off the coast of Tokyo: https://t.me/c/1404958828/37358
To the north, a tornado tore through the city of Chiba, which saw power outages and damaged homes in a typhoon last month:
Hagibis — which translates to "speed" in Filipino — was forecast to be the country's worst typhoon in six decades: Maximum sustained winds were measured at up to 90 miles per hour, according to The Japan Meteorological Agency.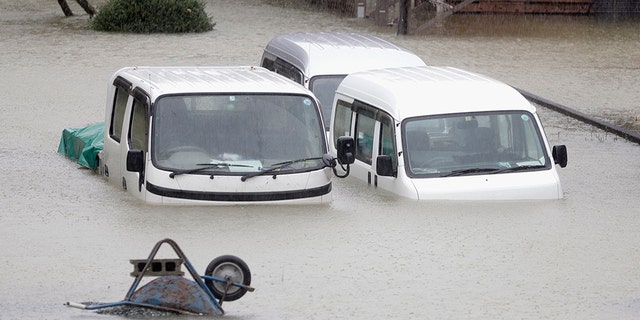 Cars sit submerged in water in the residential area hit by Typhoon Hagibis, in Ise, central Japan Saturday, Oct. 12, 2019. A heavy downpour and strong winds pounded Tokyo and surrounding areas on Saturday as a powerful typhoon forecast as the worst in six decades approached landfall, with streets and train stations deserted and shops shuttered.(Kyodo News via AP)
A representative for the agency warned citizens to "take all measures necessary to save your life."………"Be ready for rainfall of the kind that you have never experienced." official Yasushi Kajihara cautioned.
Kajihara also said that people who live near rivers