#AceNewsReport – Nov.18: During our investigation we met Tony who helped carry out the scam and did not even know he was doing it: He had just moved to Scotland with his pregnant wife and child and was looking for work.
#

AceDailyNews says according to BBC Scotland News Report: The students losing thousands in an Edinburgh rental scam: By Chris Clements of Social affairs correspondent, BBC Scotland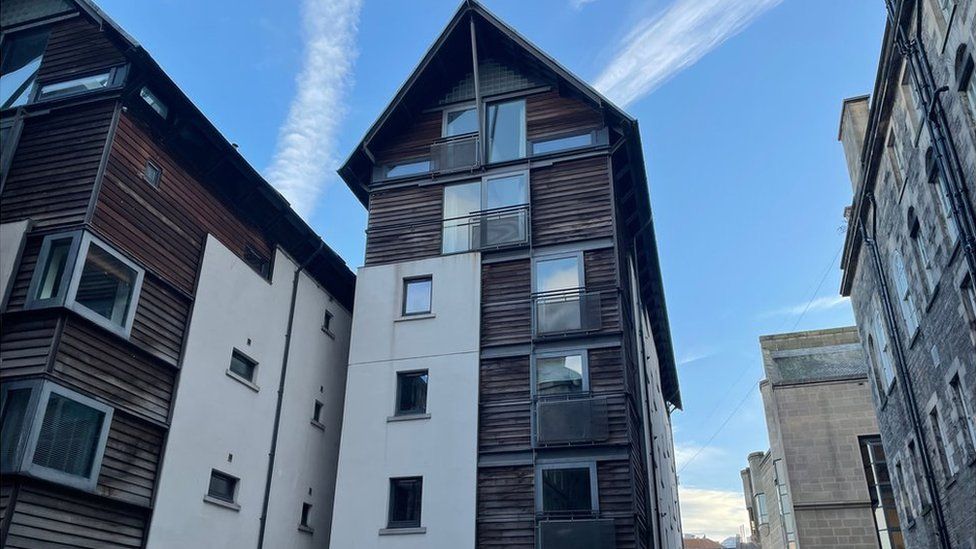 He said: "Police Scotland is acutely aware that criminals will take any opportunity to exploit any situation for their own gain. We would ask the public to continue to be mindful and to call 101 if they have any concerns that you may be the victim of a scam."The spokesman said advice was available on its website.
Trawling through job adverts online, the 40-year-old found one for a viewing agent in Edinburgh's frantic rental market.
Within days, Tony was on a trial shift for a boss he had never met, showing potential tenants around an immaculate but affordable flat next to the Royal Mile.
However, what he didn't know was that his new boss didn't exist, the property was owned by someone else and he was playing an unwitting role in a scam fleecing students out of thousands.
BBC Scotland is giving full details of the scam so people can avoid falling prey to similar cons.
'Too good to be true'
Hamish Drain had been looking for a flat in the city for months
On Saturday 2 October, Hamish Drain and his friend Erik were invited to a 21:00 viewing at a flat in Old Fishmarket Close.
Hamish, a mechanical engineering student at Heriot-Watt University, had been looking for a flat in the city since August.
The 21-year-old told BBC Scotland's The Nine that his friend had spotted this property on Facebook Marketplace, where flats for rent in the city are advertised.
The advert told them they would pay £950 per month for rent and bills. It was an attractive price in a city where average rent alone for two-bedroom flats is £1,041.
Hamish had arranged the viewing with the flat's apparent landlord, who called himself "William Wilson".
"He sent us a landlord registration number, a limited company – all the things that made us think it was a legitimate property," Hamish said.
After being shown around the flat by Tony, Hamish and his friend paid £2,300 to Wilson by bank transfer to secure it.
But when the landlord stopped replying to his emails, he realised he'd been duped.
"It did seem too good to be true," Hamish said. 
"We were really quite angry about it because it was a lot of money for us. A fair chunk of our savings each, so it was quite upsetting."
'William Wilson'
The fake passport used by William Wilson (redactions by BBC)
The fraudster was able to take advantage of Edinburgh's abundance of short-term lets made available via online booking platforms. In 2019, one in eight homes in the city centre were listed on Airbnb, according to the Scottish government.
The flat used in this scam is owned by a private company providing accommodation for tourists. Photos of the furnished property are used in online advertising.
It was these photos that the scammer calling himself Wilson harvested before reposting them with his own advert on Facebook Marketplace.
He lured potential tenants with low prices and promises of a home "at the heart of the Royal Mile within a short walk from all local amenities".
To make it more convincing, he sent those rushing to secure the property a list of documents, including Registers of Scotland paperwork and a fake passport for a William Wilson.
But the ownership papers and bank statements didn't match. His landlord number was linked to a different business in Orkney.
The passport was also suspect – its unique number wasn't visible and it had what looked like an electronic signature.
However, those who fell for his trick didn't notice until it was too late.
In some variations of this scam, a fraudster may ask for money upfront before a viewing. Some unsuspecting customers may send money only to find out later they had been scammed.
However, in this case, Wilson played it differently.
He gained access to the property on 2 and 3 October – BBC Scotland could not confirm whether he legitimately booked the property – before casting his net for someone looking for quick work.
'It was a very easy sell'
Photos of the furnished property are used in online advertising
After responding to the job ad, Tony was to meet Wilson's assistant "Abigail" at the flat to pick up the keys and start his trial shift.
He told BBC Scotland there was a lot of "back and forth" by text.
He said: "We didn't speak on the phone which was quite unusual, but I thought maybe this is just how things are now with the gig economy – you turn up, you do the job.
"There was no reason to think anything was dodgy at that point."
Before he arrived, however, Tony received a text from Wilson telling him Abigail wasn't going to make it. Instead, he was left with a code for a lock box where he found the keys to the flat.
He said: "I texted all the people who were going to come and view the place. I started doing the viewings and it was all pretty straightforward, showing them round this nice two-bedroom flat near the Royal Mile. It was a very easy sell.
"A lot of the people who were viewing were very keen on the property. I would say over 50% were students. They were all very interested because it was just a nice flat and it was a very good price as well."
After 11 viewings on the Saturday, Tony was paid £75 and invited back for a second shift on Sunday. Ten more people turned up.
He added: "I was quite enjoying the job, meeting these people and showing them around."
'Everything looked legit – until it wasn't'
The two-bedroom flat was just of Edinburgh's historic Royal Mile
Mary – who asked to use a pseudonym – is from the United States and is a recent business graduate at Heriot-Watt University.
She viewed the flat on the Sunday afternoon in the hope of moving in with her undergraduate friend, who is currently studying at the same university remotely from England.
"Everything looked really nice," the 22-year-old said.
"It was in great shape and very modern as well. And for the price it was being offered for, for us, we thought it was quite a steal."
She quickly paid Wilson the £2,300 to secure the property and signed a tenancy agreement but admitted skimming over the finer details in the documents.
"Back then, we had no right to believe it was remotely a scam, or anything that could resemble one, because we saw the flat, we were in contact with the person who showed us the flat," she said.
"Everything looked legit, until all of a sudden it wasn't."
Wilson went quiet for days after receiving the cash and stopped responding to emails. Mary and her friend soon discovered the inconsistencies in the paperwork and understood they had been scammed.
She said: "I don't have the most amount of money in my account. And the money that I did have, I got from working really hard as a waitress over the summer before my graduate job started.
"For me, it felt like a bit of an attack on my progress so far, and also my choice to be in this country.
"I've spent so much time and energy to try and stay here and it kind of felt like someone was telling me not to stay here for whatever reason."
'I felt sick'
Tony received thanks for helping people secure the flat
In the days after his shifts, Tony received a message of thanks from someone who thought they'd secured the property.
"The person who contacted me was staying in a hotel because they had nowhere to live basically," he said. "So I was quite pleased they got the place."
Then a few days later he got a text from someone else who'd viewed the property saying they had also been offered a contract for the place.
"I thought that was a bit strange but that maybe the other one fell through," Tony said.
"And then, a few days after that, someone else called me and said they had some questions and said that things didn't quite add up.
"That was when the alarm bells started to ring."
After failing to reach Wilson, Tony realised that he'd been an unwitting participant in a fraud.
He was in a tricky situation.
He said: "On one side, this criminal has my information, and then on the other side, all these people who viewed would think I'm potentially a criminal as well.
"I felt sick for a while. I had basically shown all these people around and I'd been complicit in a scam without realising it.
"I'd build rapport with these people and I was all very friendly and nice with them and some of them lost thousands. It was over two grand for the deposit and the month's rent.
"I felt like I'd sleepwalked into this. I just saw the advert, he'd lured me in with the promise of more work and I helped him rip off all these people."
Hamish, Tony and Mary have all reported the incident to the police.
BBC Scotland has attempted to contact the real owners of the short-term let in Old Fishmarket Close for comment. We were unable to reach the owner of the landlord registration number.
There is no suggestion either had any involvement in Wilson's scheme.
'Sofa-surfing to access education'
Edinburgh has experienced a growth in short term lets but also has shortage of affordable housing
Edinburgh has a set of conditions that allowed a scam like Wilson's to work so effectively.
While it has experienced a growth in short-term lets, it also has a shortage of affordable housing.
Rents have risen faster there than in any other part of Scotland – a one-bedroom flat in the city now averages at £799 a month.
The City of Edinburgh Council is gathering evidence to introduce a rent pressure zone in the city centre. It is also consulting on new planning rules for short-term lets but Scotland-wide legislation has been delayed.
Campaigners say the high rental prices mean students looking to live in the city while studying are "vulnerable to scams, profiteering landlords and unsafe accommodation".
Matt Crilly, president of NUS Scotland, called on the Scottish government to introduce a new strategy for student housing.
He said: "The current housing crisis in parts of Scotland has left many students homeless with students pushed to look on unregulated websites for accommodation and others staying in hostels and sofa-surfing just to access their education.
"With new students due to arrive at many universities in January, there is a risk the crisis will be exacerbated. We urgently need the Scottish government to deliver on their promise of a student housing strategy for Scotland and ensure every student has access to safe, affordable housing."
'Real struggle for property'
Thomas managed to spot Wilson's scheme before he handed over any money
While Hamish managed to get his money back from his bank, Mary is so far still out of pocket.
Meanwhile, law student Thomas Rofe managed to spot Wilson's scheme before he handed over any money.
But just a week later, he was scammed out of £450 after a fake landlord asked for money upfront to view another property. His mum sent the money but no viewing was ever arranged.
The 23-year-old is now renting a small two-bedroom tenement flat in Marchmont, where the kitchen is in the living room. It costs Thomas and his flatmate £1,350 a month.
"The more and more you look into, the more you hear of people falling victim to these things recently," he said.
"It does seem that people have noticed there is a real struggle for property, not just in Edinburgh but all over Scotland, and there are people who are willing to take advantage of that to gain as much money as they can."
Meta, the company that runs Facebook, said it was sorry to hear that Hamish was misled and that it encouraged people to report sophisticated scams to the police. 
A spokeswoman said: "We've dedicated significant resources to tackle the industry-wide issue of online scams by working to detect and remove scam ads and fraudulent behaviour. 
"We continue to invest in new technologies and methods to protect people, and have donated £3m to Citizens Advice to deliver a UK Scam Action Programme which raises awareness of online scams and helps victims."
A Police Scotland spokesman confirmed that an investigation was under way after officers received reports of potentially fraudulent activity involving flats on Old Fishmarket Close and elsewhere in Edinburgh.
#AceNewsDesk report …………Published: Nov.18: 2021:
Editor says …Sterling Publishing & Media Service Agency is not responsible for the content of external site or from any reports, posts or links, and can also be found here on Telegram: https://t.me/acenewsdaily all of our posts fromTwitter can be found here: https://acetwitternews.wordpress.com/ and all wordpress and live posts and links here: https://acenewsroom.wordpress.com/and thanks for following as always appreciate every like, reblog or retweet and free help and guidance tips on your PC software or need help & guidance from our experts AcePCHelp.WordPress.Com